18 Experiences Your Family Must Do in 2018
In honor of 2018 (and the 18 summer we get to spend with our kids before they fly the coop), I've compiled a list of places and experiences that should be on your bucket list.
1) Safari
Picture yourself cruising down the dusty paths of the African bush, you come upon a pride of lions, you stop for a look, a giraffe moseys behind your jeep as if in slow motion…something out of a movie? No, actual scene from the last time we were on safari. Unlike many things in life, an African safari exceeds expectations. Not only, do you get to experience the wildlife of South Africa, but you get to see it in action…lions challenging each other, an elephant mom scolding (trumpeting) her wobbly baby, a lion stealing a warthog from the mouth of a lioness, you get the idea. It's definitely number one on our Bucket List (even though we've been before) and always will be. It's just that good! When people ask us what our number one place for family travel is, South Africa always comes up first for everyone in our family!
2) The Grand Canyon
OK, I know Africa is far, but no excuses on this one. And, if you say, been there done that…have you been below the rim? It's a completely different experience watching the layers of time and geology unravel before your eyes in a stream of colors as you descend into one of the world's largest canyons. And though it's big, grand even, don't be too intimidated. For its size, the hike is relatively moderate.
3) Wildlife Conservation Volunteering
Make yourself part of the solution and have an amazing experience in the wild with your family by volunteering at a wildlife conservation center. We have done this in several places around the world, including in Costa Rica, but by far our favorite, mind-blowing experience was working at Elephant's World in Thailand, a fantastic place for a family adventure vacation. The center cares for injured and elderly elephants and as a volunteer, you get to plant trees on the plantation, pick and prepare food for the elephants and then feed and bathe them. Unparalleled fun and a good lesson in eco-tourism can support conservation.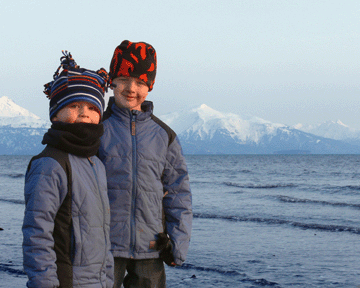 4) Alaska
Visiting the last great unexplored state in the United States not only offers adventure activities but amazing wildlife viewing. Several carriers offer flights from Phoenix to Anchorage making it easier and cheaper than ever to get there. Depending on the time of year (early summer or early fall are the shoulder seasons) you could RV down the Kenai Peninsula to Seward Bay and Homer where you can kayak within view of ice-capped mountains or head north by train to Denali National Park…just watch out for the bears!
5) Machu Picchu
The Incan civilization once controlled a vast territory covering most of the northern areas of South America and visiting the ruins is magical. But, get going; it's been stated that the ruins may be closed to the public or be extremely limited within the next five years. From Los Angeles, there are direct flights to Lima where you can hop a short flight to Cusco, an amazing city in itself with cobbled streets and colorful markets. Then, a magical train ride through mud hut villages at the base of the Andes (or a 3- to 7- day trek) takes you to the base of Machu Picchu – lost to the modern world for centuries and re-discovered by Western explorers in the late 1800s. Peru Is a family vacation the kids will never forget.
6) Amazon Rainforest
While you are in Peru, why not add a side trip to visit one the most diverse rainforest in the world…the Amazon. It's only about an hour by plane from Cusco to Puerto Maldonado where you can take a motorized canoe upstream to stay at a luxury lodge immersed in the lush jungle. Take morning hikes to canopy observation platforms, canoe through oxbow lakes looking for monkeys, crocodiles, capybara and more.
7) Grey Whale Encounter
Within driving distance of Arizona and California, lies the Baja peninsula (south of California) where, during the winter months, grey whales come to mate and give birth. On one of the longest migrations in the world, they travel from their feeding grounds in Alaska to Scammon's Lagoon and Magdalena Bay in Baja. This is one of the only places in the world where the animal seems to initiate the contact…the whales almost seem curious about the humans, approaching small boats (the only kind allowed into the bays for whale watching) within touching distance. It is regulated by how many boats can enter the lagoons at one time and how much of the lagoon they are allowed to enter – leaving the whales plenty of room to swim away if they do not want contact. And yes, you are allowed to touch "the friendlies" as they are nicknamed. If you don't want to drive all the way down, there are flights from Phoenix to La Paz, which is about 50 miles from Magdalena Bay.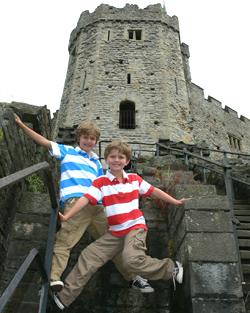 8) Live like a Princess or a Knight
Staying in a real castle can ignite a passion for history that you never knew existed and there are plenty of opportunities to do so in Ireland and Scotland. In Ireland, there are several luxury castles acting as hotel rooms, such as Dromoland and Ashford Castles, but in either place, you can also rent your own private castle for the week. Add to that the opportunities to horseback ride and learn the art of falconry and you will feel like you've leapt right into the Knights of the Round Table.
9) Washington D.C.
History oozes from every corner of Washington DC and visiting it all really helps kids (and adults) have a greater understanding of our history as a nation and the political process of today. The Smithsonian Institution is comprised of 19 museums with topics ranging from Native American heritage to Air and Space. Visitors are welcome to tour the Capitol building as well as the White House, but if you intend to do so, reach out to your representative months ahead of time for special passes.
10) Scuba
There's a whole world waiting to be discovered below the surface of the ocean…it's colorful, with crazy shapes and creatures…a Dr. Seuss looking land. And scuba, as opposed to snorkeling, allows you to get close and spend time in this other-worldly world. Kids can get certified as early as age 10, so it also makes a fantastic family activity. The warm waters and colorful sea life of the Sea of Cortez and the Caribbean both make a great place for a checkout dive with amazing sea life and they are both just a hop, skip and a jump away. If you're up for the adventure, the kelp beds off the coast of California also make for a unique, albeit cold, experience. Both our kids got certified at the age of 10-years old…Nathan through an online course and check out dive near out city and Seamus through Kids Sea Camp, a fun week-long scuba camp for families!
11) Vietnam
To most Americans, the word Vietnam brings to mind images of war; however, there's a whole different side of this country just waiting to be explored and the locals love to show Americans their land. In the north, immerse in colorful markets and French Ambiance in Hanoi before heading out to UNSECO World Heritage Site Halong Bay with its soaring limestone formations and distant villages. In the South, learn the Vietnamese perspective on the "American War" at sites like the Cu Chi Tunnels and around Ho Chi Minh (Saigon) before immersing in rural scenes along the Mekong Delta. And if you are all the way over their, a side trip to Angkor Wat in Cambodia is a must! Our TWK Vietnam Family Adventure Tour this summer does it all!
12) A Great Train Journey
Travel by train transports you not only to your next destination but back to an era where the actual travel was half the fun. It adds a romance and adventure to the journey that should not be missed. Here in the U.S. Amtrak runs passenger service across the U.S., but in other countries, trains are a mode of public transportation and thus much more accessible with better pricing and schedules. Some favorite train journeys are Beijing to Hanoi (3-day ride), London to Paris (via the Chunnel) and the train from Cusco to Machu Picchu with the Andes backdrop.
13) Roman Empire
History books will come to life on a visit to Italy, and your stomach won't mind much either. The combination of iconic historical sites like the Coliseum and the Roman Forum, with the foodie-focused culture, makes Italy a prime tourist destination and a great place for a family vacation. And there are ways to make it even more fun for kids (no matter their age)…think Gladiator School and Pizza Making Classes. Although the Roman sites are a huge draw, don't miss Venice with its waterway streets and tiny alleys.
14) Bioluminescence
Swimming in the ocean is an adventure in and of itself, but swimming in glowing waters brings it to a whole new level. Although it appears like the water is glowing, bioluminescence are actually microscopic animals reacting to movement. So, with each stroke you take, the animals begin to glow around you. There are many places in the world to experience bioluminescence including at times around San Diego. One of our favorite is on Vieques Island in Puerto Rico, which now re-opened to tourism, so your trip there would help in their recovery efforts.
15) Volunteer
Modeling volunteering for your children helps them develop empathy and a passion to better the world. Volunteering together builds family bonding which is why we always include a service day and volunteer time, usually through Re:Help Organization, a non-profit started by our kids, in each of our TWK Tours family trips. There are organizations right here in your hometown that are always looking for volunteers and will put your kids to work including Andre House and Watkins Homeless Shelter. If you'd like to incorporate travel to a foreign land with your volunteer work, there are plenty of organizations for that as well from one day within a trip visiting a local school (we build that into each of our TWK Tours trips) to five days building a house in Mexico to a long-term volunteer post.
16) Round 'Em Up
Staying on a real ranch is exciting and offers lots of opportunities to learn the tricks of the trade and have fun. Good news is that there are ranches like this scattered across the American west, so you don't have to go too far. Arizona has many opportunities to stay on a dude ranch. Spend mornings and afternoon riding horseback through the meadows and add a smattering of activities like leatherworking, archery, fishing, and woodworking and it becomes something akin to family summer camp.
17) Sleeping on the Water
Boats offer a way to get lost on the vast oceans and lakes and spending the night on board a boat is an adventure waiting to happen. There are lots of places to easily access boats for overnight charters including lakes and coastal cities. If you are willing to go a bit further abroad, one of our favorites is Fiji…the islands are easier, and cheaper, to get to than ever (there is a direct flight from Los Angeles daily) and they offer much in diversity. Take a small ship cruise to visit islands with deserted beaches for a "Castaway" experience and then on to the remote islands where visitors can immerse in traditional culture visiting tiny villages. We also had an amazing experience staying at a floating hotel in Thailand, one we now incllude on our TWK Thailand Family Adventure Tour.
18) Camel Trekking
There are many places you can ride a camel, including a few spots here in the United States, however taking a long trcamelbackl back to a Bedouin camp in the Sahara makes you feel like Laurence of Arabia plodding through the vast dunes. The vistas are incredible, think Yuma sand dunes dotted with lush green oasis and mud villages. The easy way to access this type of adventure is in Morocco in the Erg Chebbi desert.
So, there you have it. 18 ways to celebrate life and experience all this world has to offer in time for 2018!


on Twitter


on Facebook


on Google+