Bula: The Contagious Spirit of Bliss in Fiji
We started our journey on the island of Ovalau visiting the historical town of Levuka where an elderly gentleman greeted us with a "Bula, what is your name?" and a vigorous hand shake. We were escorted past what looks like an Old West town to the school for a traditional dance performance. After the dancing, the kids surrounded us with "Bulas" and offers to show us around the school. Their wide smiles and giggles erupting into laughter evoked a school girl silliness in all of us.
The next island we visited is Fiji's second largest Vanua Levu. I thought surely there would be a certain hectic-ness there that would drown the Bula spirit. Again, I was proven wrong. The small town of Savusavu was busy with construction projects and bustling store fronts; however, even then the locals took time to offer a big grin and a "Bula!" We joined Naveria Heights Fiji for a tubing adventure through the tall green mountains that grace the shores. The truck ride to the river where we were going tubing passed through many villages where locals shouted "Bula" and waved. At the river, we were treated to amazing vistas of layers and layers of green in unlimited textures…lacy ferns, spiky palms, fuzzy moss…as we bumped through rapids and glided along currents. Nearby, a local man lead us to a hot spring in his backyard. As we forded rivers and scrambled along a muddy path cutting through neighbors' yards, they each greeted us with a smiling "Bula!"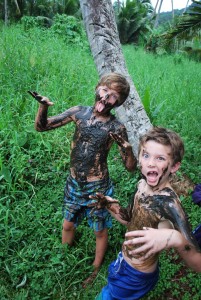 The next port of call was on the "garden island" of Taveuni. If it was even possible, the mountains got more green with verdant layers of plants, vines growing on vines, growing over trees. We hiked to a Buoma Falls where we leaped off cliffs and swam beneath the force of the water as it plummeted from about four stories and then enjoyed a picnic lunch. At lunch, local kids shyly peeked from across the stream, grinning when you caught their eye, and a local riding bareback on a horse galloped by with a "Bula!". Later that evening, we were treated to a kava ceremony, an ancient rite of greeting, performed by Naiselesele Village. The locals danced and sang and laughed and chatted. One girl, Agnes, told Seamus she liked him and asked him to dance over and over again. Older ladies from the village asked young men to dance as friends rolled in laughter. Their infectious laughter and bliss spread quickly through the 30 or so guests from the ship. And soon, everyone was joining in the fun. Nathan and I took some time to stroll through the small village, away from the festivities, and found that even beyond the surface the Bula spirit simmered. The local people had a community kitchen outside and waved us over. As we passed each house, someone from deep within would holler "Bula" or people would come rushing out to greet us with big smiles.
The next day we followed an amazing church service, where locals sung like a professional choir hitting perfect harmony, with below-the-surface encounters with corals and fish. Manny from Viti Water Sports certified Seamus (our 10-year old) for his Discover Scuba Certification in the pool on-board Captain Cook Cruises' Reef Endeavor, and in no time we are spending the afternoon discovering a whole different side of Fiji below the waves. The water is crystal clear and Manny takes lots of time to point out different animals and name them on a slate he carries.
Today, we are snorkeling at Manava Cay, a deserted island and are missing the warm, welcoming spirit of the locals islanders. Oddly, the fish do not offer up any "Bulas". However, the crew has maintained an amazing Bula happiness and desire to meet all our needs. Their genuine want to get to know you and make sure you are having a good time has made our time on board remarkable. And although there are no locals living on Manava Cay, we are still enjoying the spectacular scenery both above and below the surface and our Bula level has forever increased as we grin the day away.
To get there:
Fly Air Pacific (soon to be Fiji Airways) Fiji's international airline (www.airpacific.com or 1-800-227-4446) from Australia (Sydney, Melbourne and Brisbane), New Zealand (Auckland and Christchurch), United States (Honolulu and Los Angeles), Hong Kong and some Pacific Islands.
Pacific Sun and Northern Air fly from Viti Levu to Levuka, Savusavu and Taveuni.
Captain Cook Cruises operates cruises through Fiji's northern islands (as described above) and the Yasawa Islands.


on Twitter


on Facebook


on Google+