Indonesia: People of the Forest
Back in 1998, my husband and I quit our jobs and backpacked around the world…traded in our briefcase for a backpack as it were. Fast forward 18 years, after filming our television series Travel With Kids for more than 12 years, we started reminiscing and realized one of our most favorite places, and one which the kids had not yet visited with us, was Indonesia…the culture is colorful, the people so welcoming and always smiling and the wildlife off the charts! Since, we only had time for a short stop (sandwiched between our Travel With Kids Family Adventure Tour to Thailand and the one to Ireland), we decided Bali would have to wait for another day, but we could squeeze in a stop on the island of Sumatra, home of one of the most amazing orangutan rehabilitation programs in the world.
So, we flew into Medan – a city inhabited by a mostly-Muslim population with the call to prayer wafting from tiny mosques down every street it seemed.
And, after a very bumpy few hours along the road passing tiny villages and winding through palm plantations, which gave way to rainforest, we arrived in Bukit Lawang where we were met by Bobi, owner-operator of Bukit Lawang Eco Tourism. He told us how the palm plantations were encroaching on the orangutan habitat, along with the habitat of many other animals that call Gunung Leuser National Park – one of the most diverse places on earth – home.
He showed us some of that diversity as we hiked to caves…
and along rivers with incredible lush mountains, sometimes shrouded in mist….
…showing us animals ranging from army ants (sometimes the guides snack on them, but this one was let go)…
…to leaf bugs to monkeys…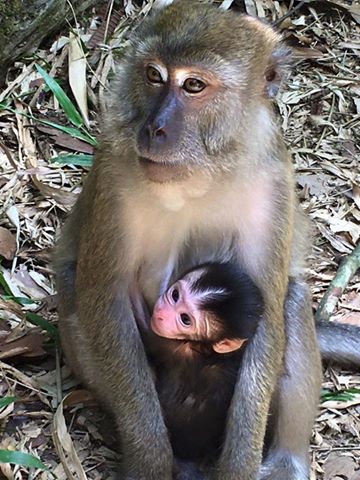 …and bats. And then, we met the star attraction of the rain forest here: the orangutan! Orangutans are known as the "people of the forest" and it's easy to see why. Their expressions and behavior are eerily human-like…itching themselves, pursing their lips, holding items in their hand to observe them or use them as a tool, making umbrellas out of leaves, etc.
Back when we visited in 1998, there was an orangutan rehabilitation center here and we helped a baby orangutan named Abu learn to climb. Now, the center had moved to release orangutans in a different part of the forest as this area has reached capacity and the apes, which were once semi-wild, are surviving successfully on their own. We find out that Abu is alive and healthy and usually doesn't come down where people are. But, some of the orangutans here, who were used to human interaction, sometimes come down from the trees to get a look at their old pals.
After watching one orangutan with her baby high up in the trees, we hike on. Then she decides to hike with us…or stroll along the path on which we are walking. The guide moves us along to keep us in a safe walking distance, but it's fantastic watching her move along…so humanlike! Baby keeps a safe distance swinging in the treetops above holding on by one arm while eating with the other…they are strong!
While the nature in Sumatra is out of this world, what we came away with was how friendly the people (not just the "people of the forest") were! The Indonesians we met were always smiling…
and joking around (our guide Rosie love to do magic tricks and tease the boys when they couldn't figure them out)…the weekends were time for hanging out along the river as families…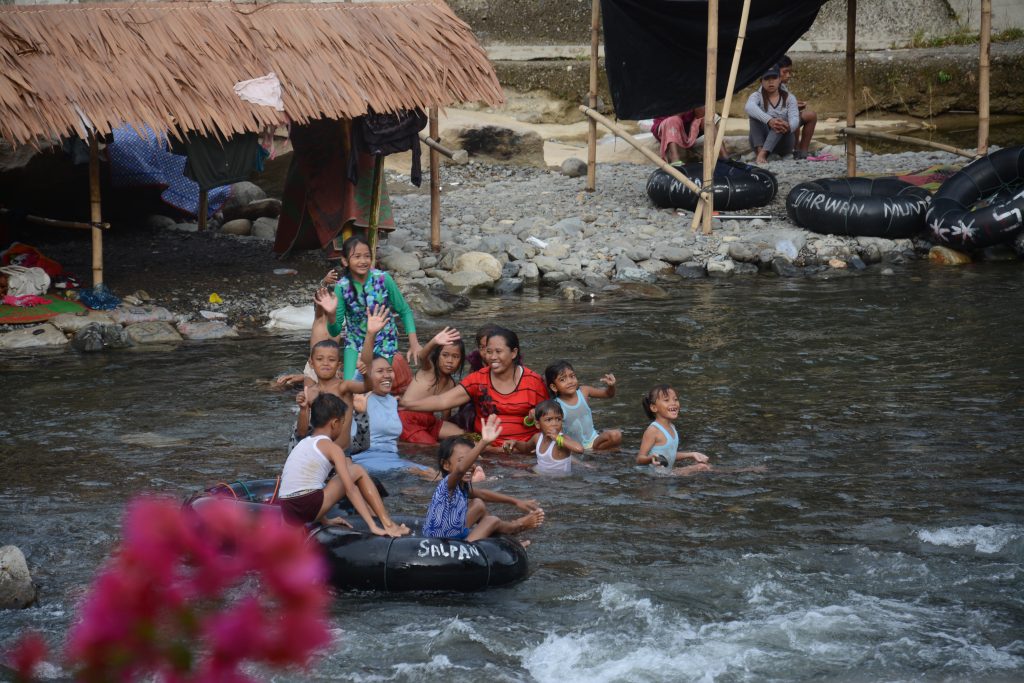 and our kids happily joined the fun with all the smiling locals!
Where to Stay:
We stayed at Bukit Lawang Hill Resort. It has four beautifully designed rooms surrounded in wood and other natural features that overlook the jungles around Gunung Leuser National Park and Bohorok River. You can explore the surrounding jungles with the amazing guides from Bukit Lawang Eco Tourism, who donates part of their proceeds to support the Bukit Lawang Eco Project. The spacious balconies at Bukit Lawang Hill Resort have hammocks for resting after a morning trek or it's a quick walk into town if you are still up for exploring. The staff there was so kind and the food was AMAZING! The cook made everything from scratch every day and choices included Indonesian food, Asian favorites and Western food!!
Getting There:
Bukit Lawang is on the island of Sumatra in Indonesia. The capital city of Medan is about a three-hour drive from Bukit Lawang. There is also a bus service to the town. Flights from Asian cities like Kuala Lumpur, Singapore and Bangkok are plentiful. We flew Air Asia from Bangkok and then on to Sril Lanka. There is also ferry service connecting Sumatra to other Indonesian islands.
Want to travel as family, but nervous to venture out on your own? How about joining a Travel With Kids Family Adventure tour? You get the experience and know-how of the Travel With Kids team with a fully planned trip (or a customizable private trip), advice on what to pack and pre-trip checklists. Plus share family bonding time as well as some kids-hanging-with-kids while the adults relax time! Check out our list of upcoming family adventures.
Travel WIth Kids Family Adventure to South Africa


on Twitter


on Facebook


on Google+