Roam Right Takes Travel Insurance to New Level with App
I have to say travel insurance, while a must in my mind, is not usually the most glamorous thing. You pay a fee for services you hope never to use (although I also must admit we have used them quite often…read on!). Insurance policies often read like a legalese version of War and Peace…going on and on with no mention of what makes you want to travel in the first place, the destination. But RoamRight's travel insurance mobile app changes all that.
In full disclosure, RoamRight is one of the show's sponsors, but even if they weren't I would be wowed by the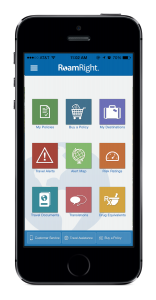 mobile app they have created. The app provides page after page of essential information on the destination you are visiting. The RoamRight travel insurance mobile app includes:
– travel information on a given destination
– safety and health considerations
– visa/entry requirements
– alerts about events/activities that could affect your travel plans
– the ability to securely store copies of travel documents
– translation of key phrases like medical terms in the language of the country you are visiting
– names of medications in different countries to make it easy to find what you need for those on-the-road sniffles and bumps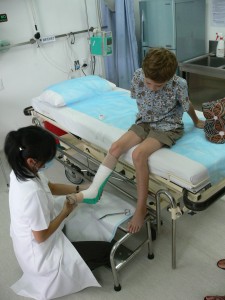 We could have used that medication list when Seamus broke his foot in Vietnam. But, even without the mobile app, it was essential that we had travel insurance. It covered our medical expenses for Seamus' doctor and covered the cost of re-scheduling our flights (we continued our trip with no problems and lots of fun)!
I spent some time today reviewing our upcoming destination information (Peru) and found it pretty thorough. Now don't get me wrong, a guidebook…and a Travel With Kids video…is still essential to help plan the trip…but having the destination overview information and security/health hazard information readily available offers a certain peace of mind. It certainly helps with trip planning to know what immunizations are required and what kind of electric plug to bring. And, I love the idea of having all my travel documents available at the touch of my smartphone screen while I'm on the road.
All in all, I'd say RoamRight has taken their already great travel insurance products to the next level with this easy to use mobile app that delivers extras by the touchscreen load!


on Twitter


on Facebook


on Google+