Travel With Kids Italy Family Adventure Tour: Gondoliers to Gladiators
June 15 – 25, 2018

This trip can also be booked as a customizable, individual family vacation at any time of year
Mama mia…journey through the sights, smells and tastes of incredible Italy! Start with a visit to one of the most unique city's in the world, Venice. Stay on-island, so that you can wander the quieter back alleys once the day tourists depart. Learn the art of Venetian mask making and how to row a gondola. Spend the afternoon in true local style during Cicchetti tasting – sampling local finger foods and wine (juice or Italian sodas for the kids). Next, head to the art capital of Italy, Florence, for a day tour of the famous art pieces, including Michelangelo's David. After our tour, head south to our base for the next few days, a restored farm house in the hills of Tuscany. From there, we will take day trips to medieval towns like Siena, visit local farms and wineries, go horseback riding, and learn to make pizza the Italian way and more. Next, we head to Rome where a unique tour gives us exclusive access to some of Rome's most famous spots: floor access at the Coliseum, early entry at the Vatican Museum for a peaceful visit to the Sistine Chapel before the crowds. Plus, learn to fight like a gladiator and more!
Itinerary:
Day 1:
Arrive in Venice. Transfer with group to hotel via water taxi basking in the beautiful architecture along the canals in Venice.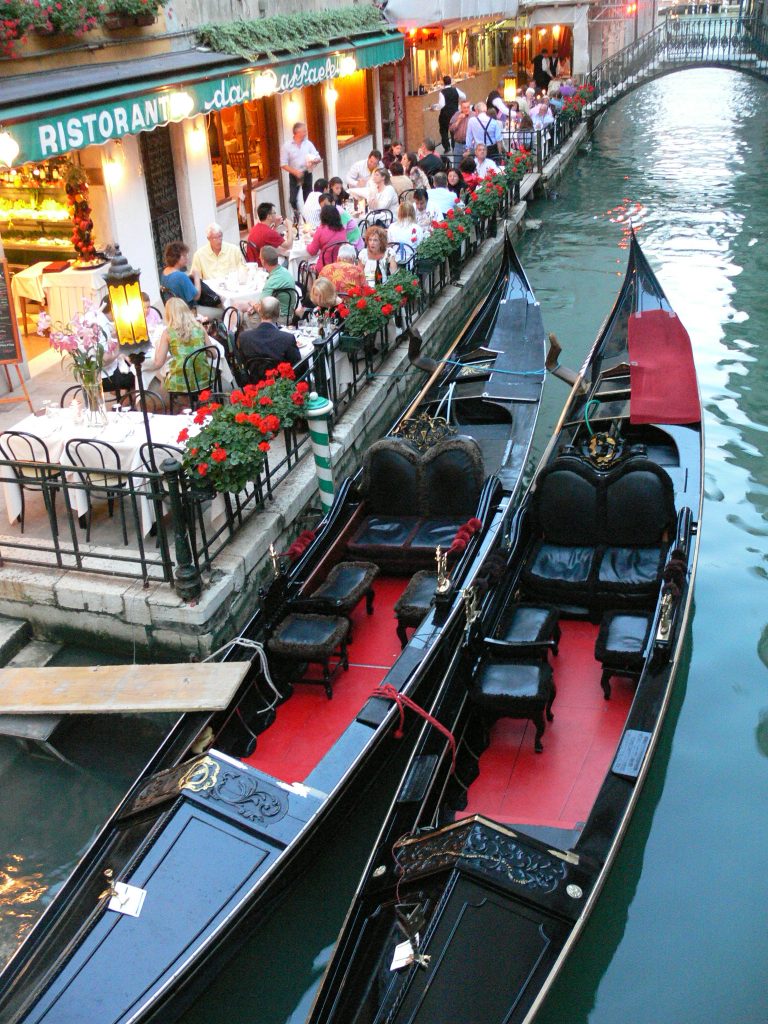 In the afternoon, join us for a welcome feast of cicchetti, little snacks the locals devour at sunset, and wine tasting (water or juice for the kids). We will visit three Bacari, local places that serve cicchetti and wine.
Overnight in a palace dating back to the 16th century. (Cicchetti Tour included)
Day 2: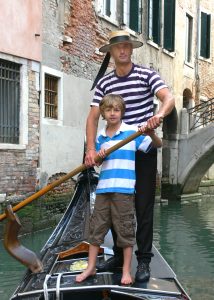 After breakfast, stroll through the back alleys of Venice to a local art studio where you will learn about Venetian masks – what they were and why they were used – and try your hand at making your own.
In the afternoon, take to the water for some Gondolier Training. Learn about gondolas and their gondoliers and then try your hand steering these long boats down the narrow canals of Venice.
Overnight in a palace dating back to the 16th century. (B)
Day 3:
After breakfast, transfer by water taxi to meet our luxury bus to Florence, the breathtaking Renaissance capital of Italy. Our private guided tour of the city includes stops at the Duomo, Accademia (home to Michelangelo's David) and many local workshops and hidden spots.
After the tour, we will depart the city for the quiet, rolling hills of Tuscany where we will stay in a restored 1700s farmhouse. En route to our farmhouse, we will stop for snacks and to taste some of Tuscany's famous wine.
Overnight restored farmhouse or similar. (B)
Day 4:
After a simple continental breakfast, head to the medieval town of Siena where we will explore with a family scavenger hunt to keep the kids engaged and learning about the history of this magnificent city. Stops include the tomb of St. Catherine and the Piazza del Campo, where the famous Palio (horse race) takes place every year with an option to climb to Torre del Mangia for amazing views over the city.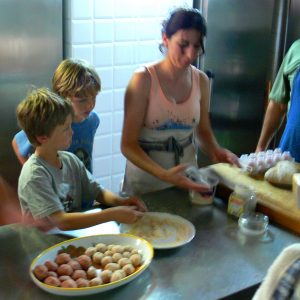 In the afternoon, we will visit a local organic farm where the kids can meet and pet farm animals while the adults get a taste of the local wine. Then, it's all hands-on deck for a pizza making class. Learn the secrets to making true Italian pizza and then devour your scrumptious creation!
Overnight restored farmhouse or similar. (B, D)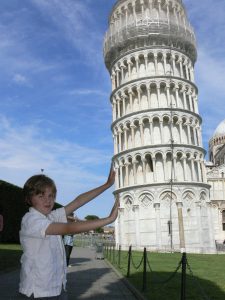 Day 5:
After a simple continental breakfast, we will head north to Pisa, made famous for its leaning tower. Take a one-hour boat ride on the Arno River and then visit the Leaning Tower of Pisa. Adults and older kids can climb the tower while younger kids can unlock the secrets of the Baptistry. Next, it's on to Lucca where we can ride bikes along the Medieval walls, which are over 500 years old and optionally have a picnic along the walls the way the locals do.
Overnight restored farmhouse or similar. (B)
Day 6:
This morning we head out to San Gimignano, the "Manhattan of the Middle Ages" to explore its winding, narrow streets and tall towers. Spend a half-day on a guided tour or stroll the streets on your own visiting Medieval attractions and shops. On the way back from San Gimignano, we will make a short stop at another winery…it's Tuscany after all!
In the afternoon, relax by the pool at the farmhouse, take a stroll through the surrounding countryside, or optionally go horseback riding through the rolling hills of Tuscany.
Overnight restored farmhouse or similar. (B)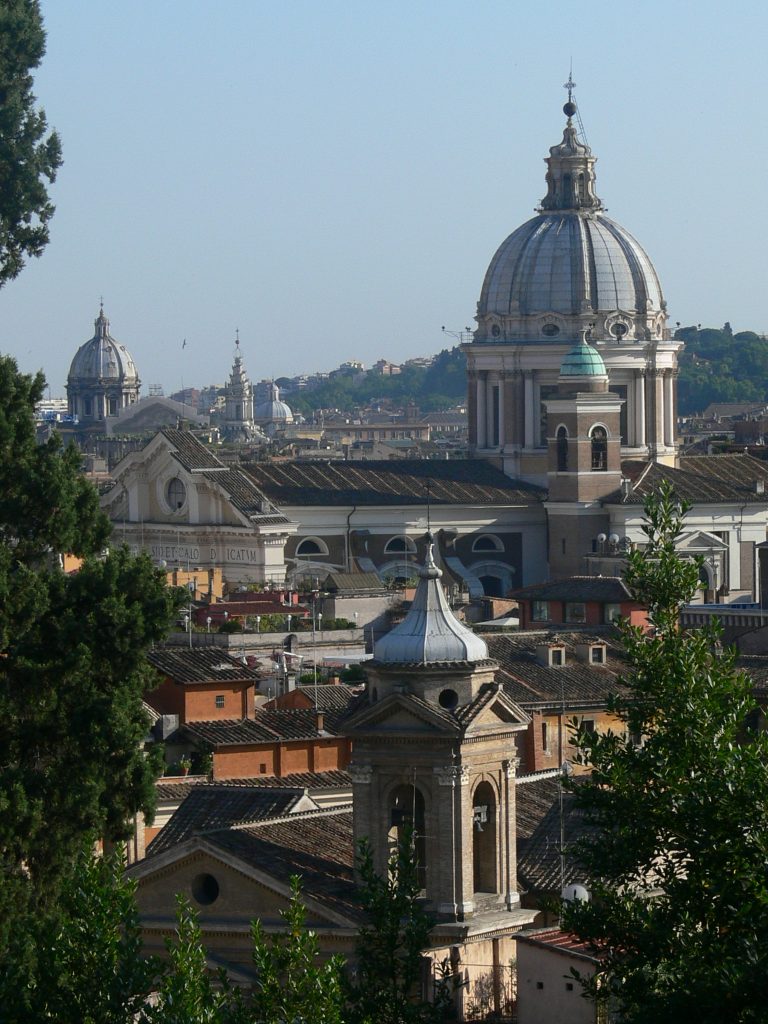 Day 7:
Today, we say goodbye to Tuscany and head south to the center of the Roman Empire, Rome! En route, we will stop at Bomarzo Park. Designed in the 16th century and only re-discovered in the 1950s, this park is filled with statues and art ranging from mythology to fantasy and is great fun for kids of all ages.
After checking in to our hotel, Casa San Giuseppe, a convent that has been converted into a hotel, you can spend time at leisure exploring one of Rome's best neighborhoods, Trastevere and join us for pizza at one of Rome's most famous pizzerias!
Overnight at Casa San Giuseppe or similar. (B, D)
Day 8: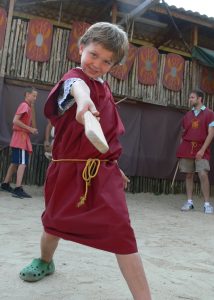 After breakfast, we will head to the world famous Roman Colosseum where families will take a scavenger hunt to learn the history of this iconic place. Great news: this tour includes access to the restricted arena floor so kids can retrace the last steps of a gladiator as he entered the arena. Afterwards, we will explore the Roman Forum and learn about the great philosophers of the Roman Empire.
In the afternoon, let those little gladiators loose at Gladiator School. Kids of all ages will enjoy donning gladiator robes and learning the moves on this training course. The final exam: staging a gladiator fight!
Overnight at Casa San Giuseppe or similar. (B)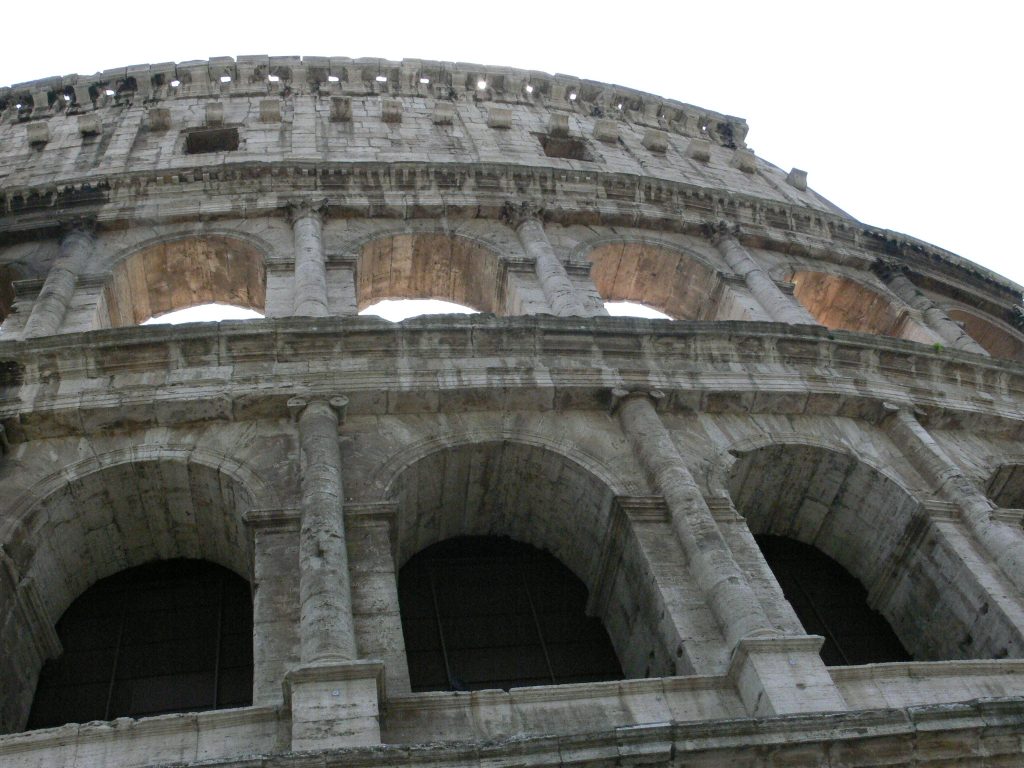 Day 9:
This morning we get started early for our VIP Tour of the Vatican (we get to enter an hour earlier than the general public!) We will visit the museums and, of course, the famous Sistine Chapel where you can see the Pieta that took Michelangelo 10 years to paint. Then, it's on to St. Peter's Basilica, the biggest and, some say, the most beautiful church in the world.
Spend the afternoon at leisure exploring this ancient city, or optionally join a mosaic making class to see how these amazing art pieces seen all over Rome are made.
Overnight at Casa San Giuseppe or similar. (B)
Day 10:
Spend a day at leisure in the Eternal City, going to see monuments you missed, sites from your favorite movies, or more. Or, optionally join a gelato making class!
In the evening, join us for a farewell dinner at a traditional restaurant…where the locals go!
Overnight at Casa San Giuseppe or similar. (B)
Day 11:
Time to say Ciao! Group transfer to Rome airport for those flying out with the group.
Join the fun on this 11-day family tour of Italy exploring the rich history, culture , and nature of this beautiful land! Escorted group tour departs on July 11, 2018 or book it as a family vacation on your own anytime. For more information, please fill out this Interest Form or email us at simmons (at) travelwithkids.tv.
Other 2018 escorted Travel With Kids Family Adventure Tours:
OTHER TWK FAMILY ADVENTURE TRIPS


on Twitter


on Facebook


on Google+