As we are all too familiar with, family travel can get expensive. Even that trip that sounds cheap at first, adds up when you consider you have to multiply it by four, five, six family members. Here are some of the best ways we have found to travel with kids in tow and stay on budget.
1. Travel in the off-season. Often times there is a reason on-season is "on"; however lots of times, it just happens to be when everybody traditionally goes to a destination, or for small distinctions of weather, or such. Shoulder seasons can greatly reduce airfare and hotel prices in destinations. Another ideal attraction of traveling in off-season is that there are less crowds. It greatly alters your travel experiences when you have to fight crowds and wait in long lines to visit attractions or hop on a bus or train. Just watch out for rainy seasons – you don't want to spend your whole trip huddled in your hotel room waiting for the unending rain to pass.
2. Get off the beaten path. Big cities and very touristy areas are the most popular places to travel, but they are also the most expensive. By traveling to lesser traveled destinations, you can save a lot of money and still have a wonderful trip. For example, a hotel in Bath or the Cotswolds, about 1 1/2 hours out of London, will cost about 1/3 of the price of London and you have amazing countryside, small town life and nearby attractions like Stonehenge. Plus, if you want to see the big sites of London, you can always take a day trip.
3. Use airline miles. Even if you don't travel a lot, you can accrue airline miles through a point system on a credit card (just be sure you pay the balance at every month – even traveling is not worth going into credit card debt for). If you have no miles, don't despair…most international airlines offer lower prices for kids ages 2 – 11 and under the age of 2, they can travel for as little as 10% of the fare or free depending on the country and route. Also check sites like TravelZoo.com for deals…we subscribe to their Top 20 weekly email and peruse it for prices. If you plan on visiting more than one country, you may look into a air consolidation firm like AirTreks.com who offer great deals on multiple stop air routes.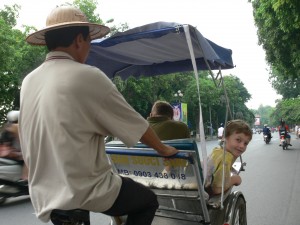 4. Go local. Local accommodations, restaurant, transportation, etc are much cheaper than the prices you pay to stay at chain hotels, eat at chain restaurants, or take tours booked before you arrive in the country. Another benefit to going local is that you immerse much more in the culture of the place you are visiting. Think about it, if you stay at ABC Hotel from home because the bed is exactly like the one at home, and the set-up and amenities are just like at home, and the people are trained to greet you the same as at home, why leave home? Staying in local guesthouses, eating at local restaurants and riding rickshaws and buses like locals allows you the opportunity to meet and interact with people who live in the destination and really get a feel for life there.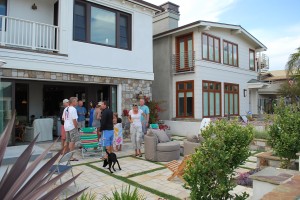 5. Stay for free with home exchange program. HomeExchange.com has over 40,000 members in hundreds of countries who post their homes in offer to exchange homes with other members. We posted our house on there and instantly got offers to exchange homes with people in Paris, New York, Scotland and more. As with the point above, Home Exchange allows you to better immerse in the local life. By staying in a home, you are in a local neighborhood, and the nice thing is you can "meet" your exchange partners ahead of time through email, Skype, Facetime, etc. So, they will tell the neighbors about you, virtually introduce you, and tell you about the neighborhood, local spots to eat, attractions best suited to you, and insider tips on the destination. Plus, HomeExchange.com is great for families because you are in a home versus a hotel – that means plenty of room to spread out, and the option to eat some meals in (See below).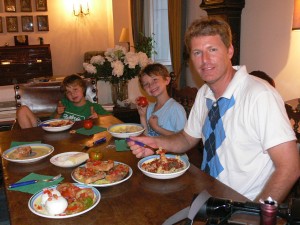 6. Eat in. Again, the multiplication factor of eating out with a family of four or five can make eating out expensive, especially in big cities in North America and Europe. So, eating a few meals in can help with the family budget. The best way to do this is through a Home Exchange (see above) or a vacation rental that has a kitchen or at least get a hotel room with a kitchenette and eat breakfast in. When you are eating out, ask your hotel staff or neighbors about local restaurants. They will cost less and give you the opportunity to taste local cuisine. We also make it a point to go to the local farmer's market where we stock up on fruits, breads and cheeses for lunch or eat at stalls. Not only does it offer the chance to try locals foods, you get to meet and interact with lots of people from the area.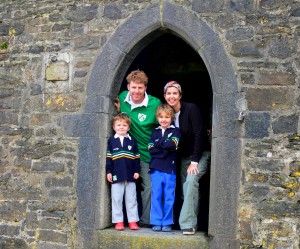 7. Schedule FREE time. Locals don't pay exorbitant prices to visit every attraction known to man every day, and neither should you. Yes, you want to visit the tourist sites, after all that's why you made the trip, but instead of packing your trip with day after day of hefty admission prices, pick a few must-sees and round it out with activities locals enjoy. It will be more relaxing for you and easier on the family travel budget. Think strolling through Italian piazzas, exploring real (no admission price) castles in Ireland, picnics next to sites like the Eiffel Tower, feeding pigeons in town squares and more. Often times, these are also the most memorable part of the trip!
However you cut corners, I do encourage you to plan that family vacation you've always dreamed about. Kids grow up in the blink of an eye and, to quote one of our family's favorite movies "Life moves pretty fast. If you don't stop and look around once in a while, you could miss it." – Ferris Bueller


on Twitter


on Facebook


on Google+