In The Car
Traveling with kids on long car rides can be a nightmare. We all remember doing it to our own parents…"He's touching me." "I am not!" "Are we there yet?"  These things can get annoying very fast, but there are ways to keep the kids busy (and we only use technology as a last resort…but one you should definitely resort to if necessary) and make the trip fun for everyone. Here are some other tips to get the most from your family road trip:
1. Slow it Down
Speeding down the road getting from Point A to Point B in the least possible time may be your old style…and believe me, I'm the one always trying to beat my last time between destinations…not competitive at all! However, driving slower ensures the safety of that precious cargo on-board and building in plenty of rest stops without a strict scheduled arrival time will allow plenty of time to stretch the legs, go potty (even though they went 30 miles ago), and see some sites you may usually zip right past.  Try to plan your trip to take advantage of your child's normal routine – ie. schedule the longest portion of your drive time when the child usually naps, make sure you are near a town at normal meal times, etc.
2. Stop…in the name of love (and sanity)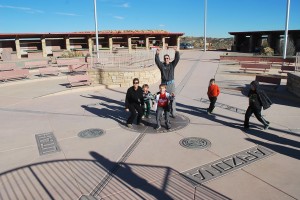 Plan out many breaks along the way to break up the trip and plan on making some unexpected trips as well. Sitting with the kids and planning out the trip (and stops) together, helps them understand the geography and culture of the areas through which you are traveling and will help them have patience with the length of the drive (as they know what to look forward to at the next stop).  Fast food restaurants make good stops for their playgrounds, or Google parks in each city and plan to stop for a "kid" break.  Remember, kids don't stick to schedules as well as adults, so be prepared to stop at places longer than planned, or stop at extra places just to alleviate a long, tedious section of the drive.  Also, remember to have kids use the bathroom at every stop, even if they don't feel like they have to. If you have a child that is potty-training, or recently trained, you may want to carry a portable potty, and toilet paper, for emergencies.
2. Pack the Entertainment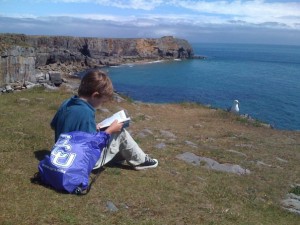 I pack each child a backpack. Or let me re-phrase that…I let each child pack their own backpack (under supervision of course – otherwise we might end up with the kitchen sink) filled with toys and games to entertain them along the way. By asking them to pack the bag, they get a sense of responsibility and I don't get "How could you not have packed…?" By supervising what they pack, I also ensure items are small and QUIET – helps the parents keep a bit of sanity. Here are some top choices:
– Coloring Books/Activity Books – Our kids especially like doodling and mazes so I try to find one that suits each child's tastes and abilities
– Small cars and planes
– Dolls (or a paper doll kit with lots of clothes) or mini-pet playhouses with characters
– Magnetic boards with scenes/animals/people – some even come in story board format so the kids can create their own story
– Travel size board games (look for magentic ones here too – so much easier when the pieces don't spill all over the car)
– Books on the destination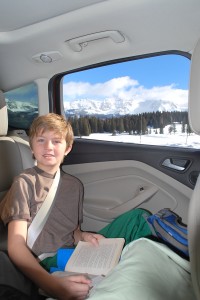 – Travel books with games and information about different regions through which you are traveling
– A map – it's fun for kids to track your progress via a map. It is a learning experience for them on navigation and it helps eliminate the "Are We There Yet?" syndrome
– And, yes, of course, technology. I use it as a last resort because I would much rather the kids be engaged in the scenery whizzing past the windows than the scenery on the screen in front of them, but I have no problem with them spending a portion of the trip engaged in movie or playing video games…it does make the miles fly past!
3. Keep them Well-Fed…
Long road trips will, of course, involve food. Whether it's meals eaten at rest stops along the way or snacks munched on the road, a full child is much happier than a hungry one. I always try to pack a variety of healthy snacks – carrot sticks, string cheese, fruit, cucumber slices, etc – as well as a few treats – like chips or sugar-y sweetness – for when the healthy stuff just isn't cutting it. Meal time can be a challenge with fast-food restaurants offering the main cuisine (and timely fix for tight schedules) along the highway.  If you want to avoid the fast food restaurants, one option to avoid the fast food trap is to pack a picnic before you leave home and schedule a scenic overlook or park as one of your meal time stops.  Otherwise, you could peruse family websites for the city/town you will be in at meal time to see if there are any restaurant recommendations.
4….and Rested
Some kids fall asleep as soon as the car starts moving, which can work for you or against you. Miles peel away with a peacefully sleeping baby on board. However, if said peacefully sleeping baby oversleeps, getting them back on schedule in your destination can be quite a challenge. Some parents lean the other way and try to keep their child awake on the long car ride, arriving in time for bed, but that can backfire as an over-tired child may have a hard time falling asleep. We usually meet somewhere in between…even with our school aged children, I try to encourage some rest periods on a long drive, and now that they are older, they realize how much faster the drive goes when they are asleep, so they actually try to go to sleep for an hour here or there.  Too avoid oversleep, plan plenty of breaks to stimulate the child and break up naps and plan plenty of games to engage the child in the car so they will not get so drowsy. To avoid no sleep, bring a favorite blankie or stuffed animal from home, hang a blanket or jacket to darken the window, and be sure to bring a pacifier if your little one is still using them.
5. Schedule Family Time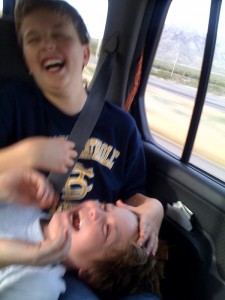 It's easy to plug the kids into a movie, turn up the tunes and feel like you are back on the old college road trip, but this is a family trip after all, so you want to spend time bonding as a family. I know it sounds silly to "schedule" family time on a road trip, but sometimes in our efforts to keep the kids happy and quiet, we forget to play the fun old-fashioned games we played as kids and get to know each other. There are plenty of family activity kits our there specifically geared to road trips with games to play on the road as well as games to help you reconnect, but when in doubt, the classics never fail…
– In My Suitcase I Packed (name the things you pack from A to Z with each person listing something and repeating all the items before them ie "An Apple, A Bear, A Cat…)
– License Plate Game (each person picks a couple of states and gets points for each license plate they see from that state)
– Slug Bug ( points for each Volkswagen Bug you see – can be expanded to include bus, train, tractor, etc)
– You get the idea…
6. Motion Commotion
Our older child gets car sick at the drop of a hat. The Road to Hana in Hawaii we our first time dealing with it…and that is not a place you want to be with a car-sick child and no remedy.  If your child is prone to motion sickness, have them sit in the center seat in the back so they have a clear view of the road. If they start to feel sick, open the windows for some fresh air and direct them to look straight ahead at the horizon (or as far ahead on the road as the landscape will allow). DO NOT HAVE THEM GO TO SLEEP, CLOSING YOUR EYES MAKES MOTION SICKNESS WORSE!  Pack some motion sickness medicine like Dramamine if you have a really motion sickness prone kid, but remember, you need to take this kind of medication HALF HOUR BEFORE you start to feel sick. It can also make kids very drowsy, which may make for a hyper child when you arrive at your destination.  Ginger candy or gum can also help prevent or treat upset stomachs.


on Twitter


on Facebook


on Google+