French Polynesia: Tahiti, Moorea and Bora Bora with Kids
Beautiful turquoise waters teeming with tropical fish, a fun and exotic Polynesian culture and nature like you wouldn't believe makes French Polynesia a terrific family vacation destination! Tahiti, with its cosmopolitan city of Papeete and huge resorts offers plenty of museums, markets and big attractions, but if you want to get a bit off-the-beaten path with the family, nearby Moorea offers vast jungles for exploring and a more serene atmosphere. And then there's Bora Bora…with its overwater bungalows, calm lagoon teeming with turtles, sting rays, tropical fish and other animals to encounter, and family-friendly adventure activities, it is the exotic family vacation destination of your dreams!
Tahiti With Kids: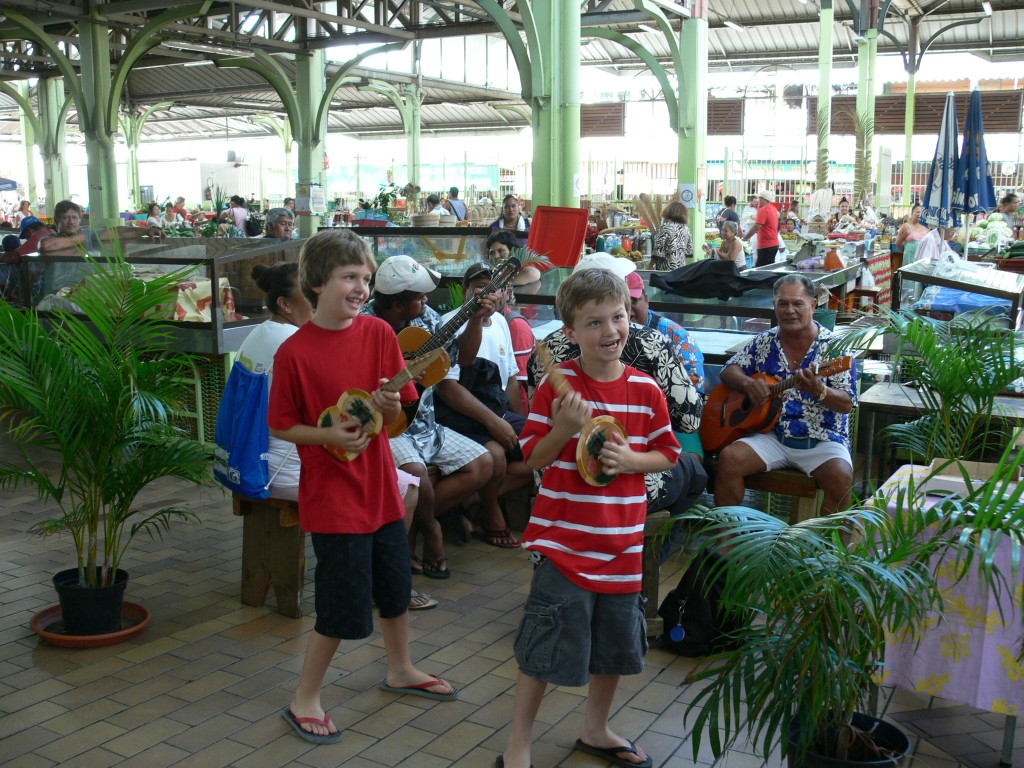 Tahiti is home to the capital of French Polynesia, Papeete, which has a very cosmopolitan vibe. With outdoor cafes lining the streets and designer boutiques standing next to bakeries, one might think you were in a beach resort town in the French Riviera. However, Papeete also has the crowds of a French town with over 100,000 residents in the urban area, which can turn some tourists, who are seeking South Pacific solitude, away. But it is possible to get off-the-track here as well, for those who seek it out. The Papeete Market here is worth a look with vendors selling all sorts of fresh seafood, fruits and vegetables as well as handicrafts. At night, a visit to the Les Roulottes Food Trucks offers visitors a chance to sample various cuisine that has influenced Tahitian cooking including French, Chinese and more.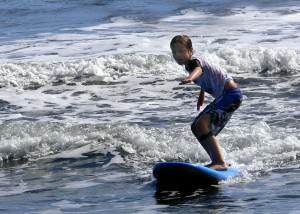 Tahiti is also a great place to surf as "the waves break in and out" (or towards shore and away from shore) according to the surf movie Endless Summer. Beginners have a chance to learn on some of the smaller breaks and it can be a great way for kids to be introduced to Polynesian culture. Surfing dates back to early Polynesian royals who surfed the waves on wood planks. Windsurfing, kayaking and outrigger canoeing are also popular water sports here.
Around the Island of Tahiti:
Because of its higher density of people and long history, the island of Tahiti has some excellent museums and attractions. Going counterclockwise from Papeete, here are some sites to visit.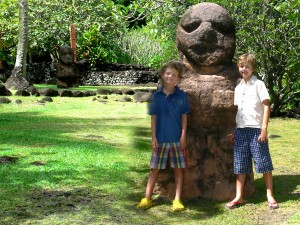 – Arahurahu Marae offers insight into Polynesian culture. These marae (there are several of them around the island) were places of worship for ancient Polynesians. Tucked into the lush jungle, this marae is one of the best restored in the South Pacific. A five-foot platform built of rocks is where the religious ceremonies took place (some of them involving animal sacrifice) and giant statues ward off evil spirits.
– Museum of Tahiti and Her Islands: This museum offers a look into Polynesian history and French colonialism. Exhibits include traditional clothing, tools, and boats used by ancient Polynesians as well as documents from early European explorers. Kids and adults will benefit from the wealth of displays and information here!
– Paul Gaugin, the famous French painter, spent much of his life painting on the island of Tahiti. The Gaugin Museum offers exhibits of the late painter's sketches and documents as well as reproductions of some of his more famous works. The gardens are beautiful here and worth a look around.
There are also waterfalls around the island that are lots of fun to visit and make for good family hikes. And don't miss a stop at Arahoho Blowhole where the kids will not only be able to see water being forced through the holes, but feel the force of it as it blows air through holes near the road!
Moorea with Kids: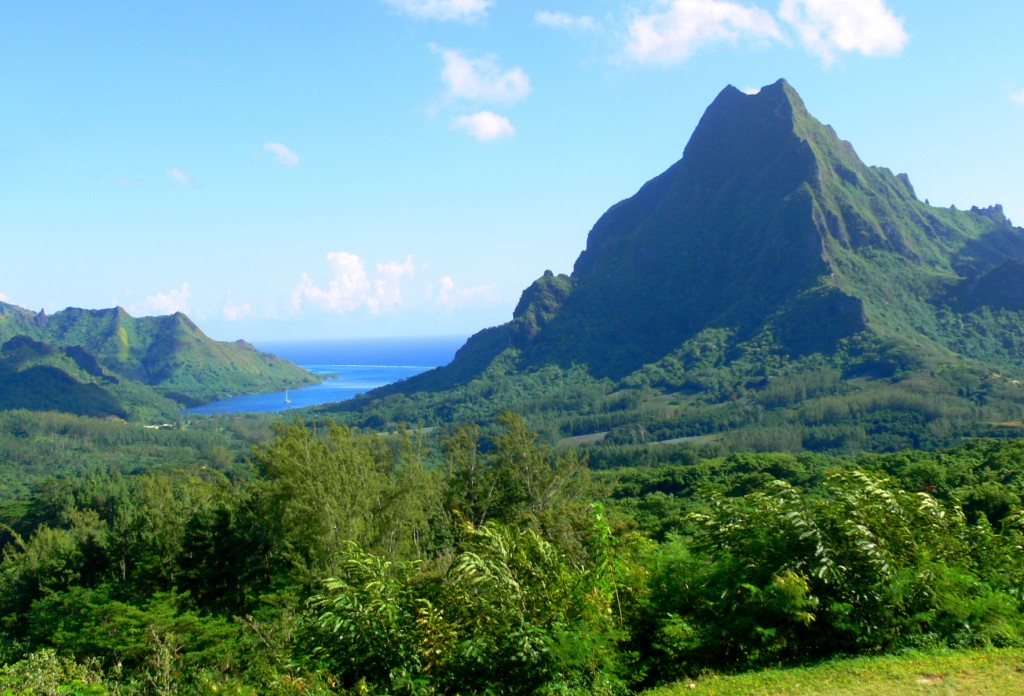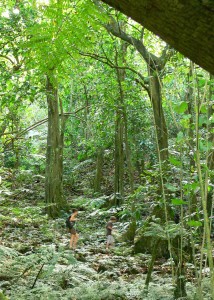 Located about a half-hour by ferry from Tahiti, Moorea offers a much different vibe. Moorea's huge verdant hills soar out of the water and are dotted with a multitude of waterfalls and offers fantastic hiking. Moorea's vast jungles and ring of sheltered lagoon equals lots of nature activities for families. If you use a guide to hike through the jungle, you will be well rewarded with information on all the different native plants and trees. The kids loved the "talking trees" – which you pounded to communicate through the jungle – and drinking water out of the vine of another plant. We stopped at Belvedere Overlook and hiked to another, more private, overlook and the views were outstanding!
In the ocean, Moorea offers incredible snorkeling with day trips offered to some of the lagoon's motus, or islets, where you will feel like Robinson Crusoe. These tiny white-sand ringed motus host thatched hut beach bars, most of which serve fruit and some seafood. Or pack your own picnic and camp out for the day. Just off shore, the snorkeling is fantastic with brightly colored corals sheltering all sorts of fish. And, nearby, a bit deeper in the lagoon, boat captains will drop you into the waters to snorkel with sting rays and sharks!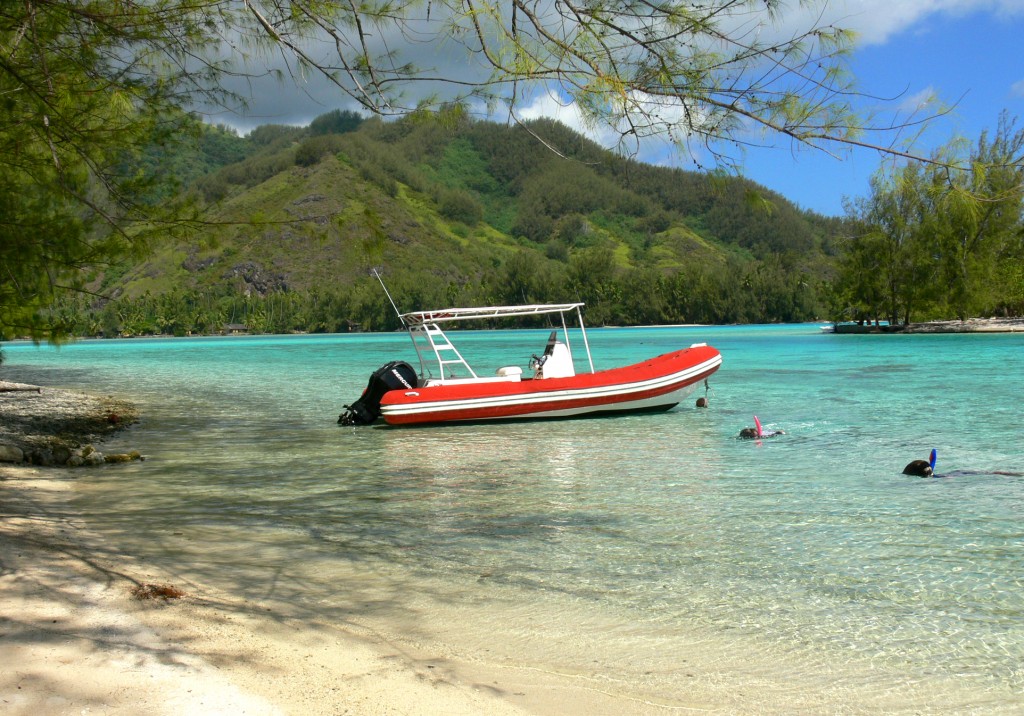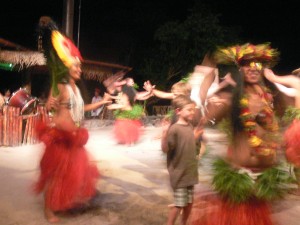 A great way to immerse in Polynesian culture, is to go to a luau, but often times they can feel like a tourist trap. However, Tiki Village on Moorea does an excellent job mixing tourist excitement with authentic traditions. They share the Polynesian history through several hands-on exhibits on things like opening a coconut, basket weaving, cooking (they show the pig – and vegetables – they put it in the underground oven) and more. The people who work there live there during the day and practice these Tahitian handicrafts and learn dance and song in an effort to keep tradition alive. After the tour, we dined on a fantastic buffet – offering the kids a taste of Polynesia without having to commit to a whole dish – and then watched a show. The show was more than just dancing though…it recreated the birth story of the royalty. The whole family had a blast – and even joined in the show – and learned a lot!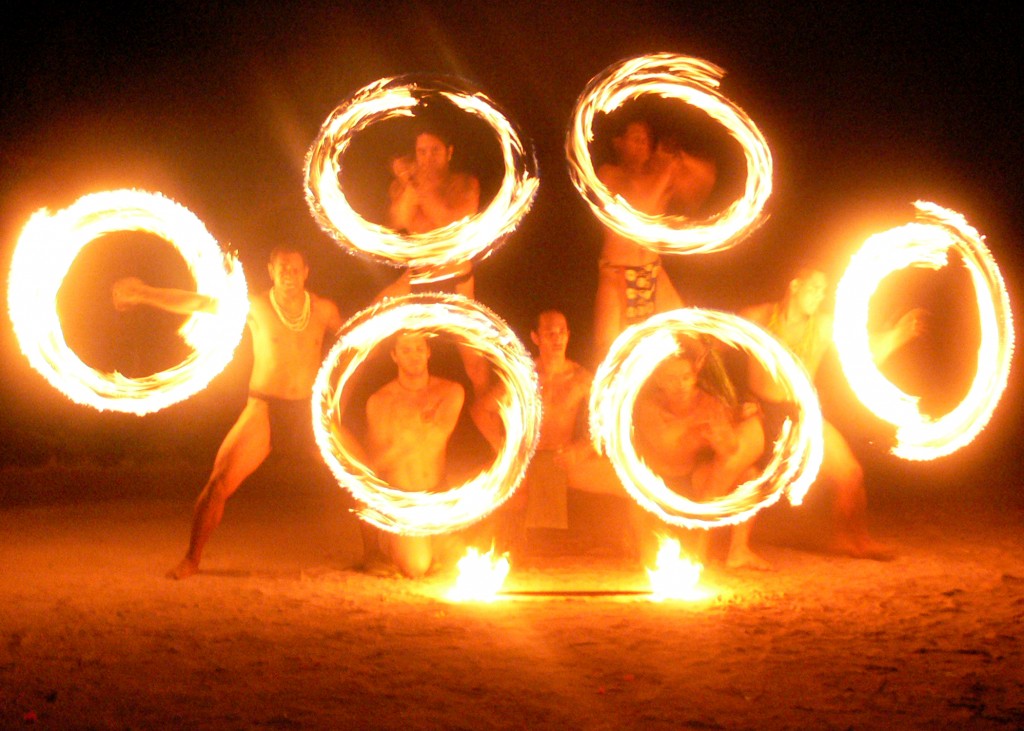 Bora Bora with Kids: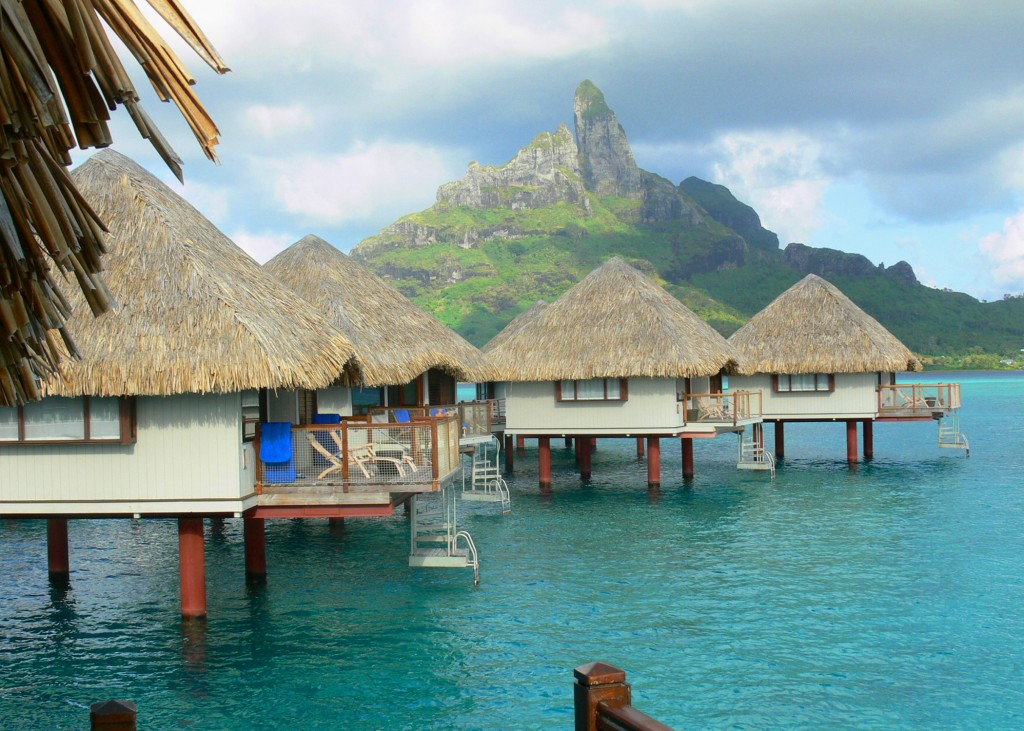 Ok, I know, most people think of Bora Bora and think honeymoon. However, the same things that drive honeymooners to seek out this exotic island – unique accommodations in overwater bungalows, a vast calm lagoon packed with adventure activities and animal encounters, and a fun island atmosphere – make a family vacation in Bora Bora a one-of-a-kind adventure!
Other than overwater bungalows, Bora Bora is most well-known for its huge lagoon! The calm shallow waters between the main island and the surrounding motu makes for kid-friendly snorkeling and the animal encounters will have them coming back for more. The turquoise waters…that seem almost fluorescent at times…backed by green peak of Mount Otemanu seem almost surreal.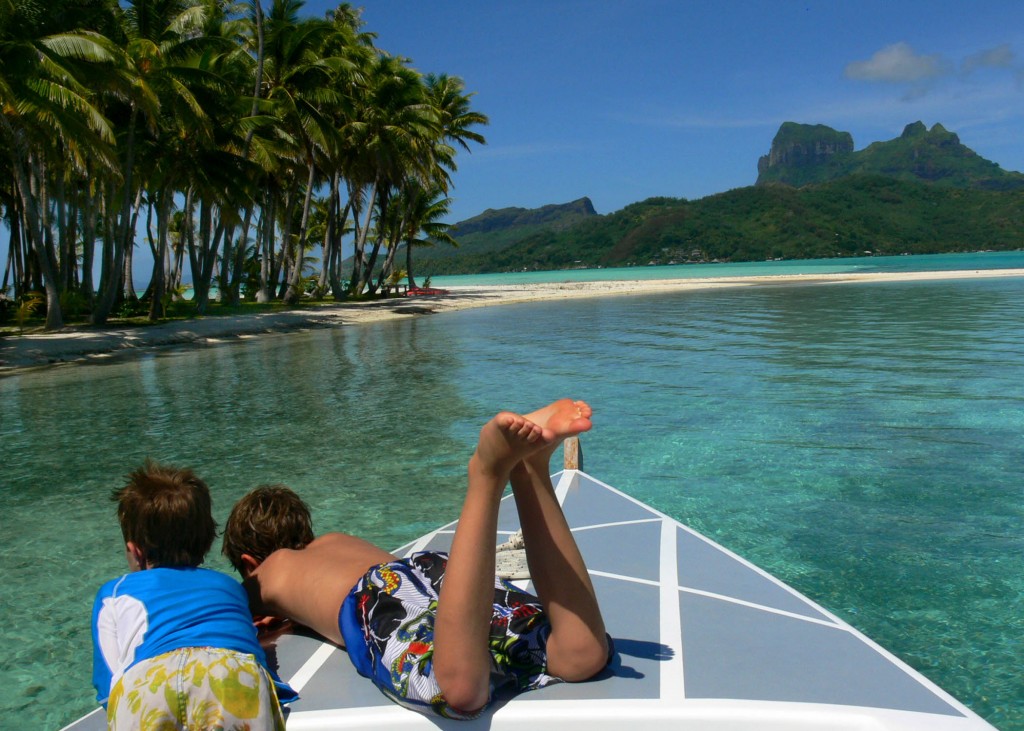 To explore the lagoon, and learn some Polynesian history, we took a sailing outrigger out with Stephan Lambert from Kainalu XT. He taught us about how the Polynesians used the surf and stars to sail these outriggers across the Pacific (to Hawaii and beyond). And, he gave us a good overview of the island life.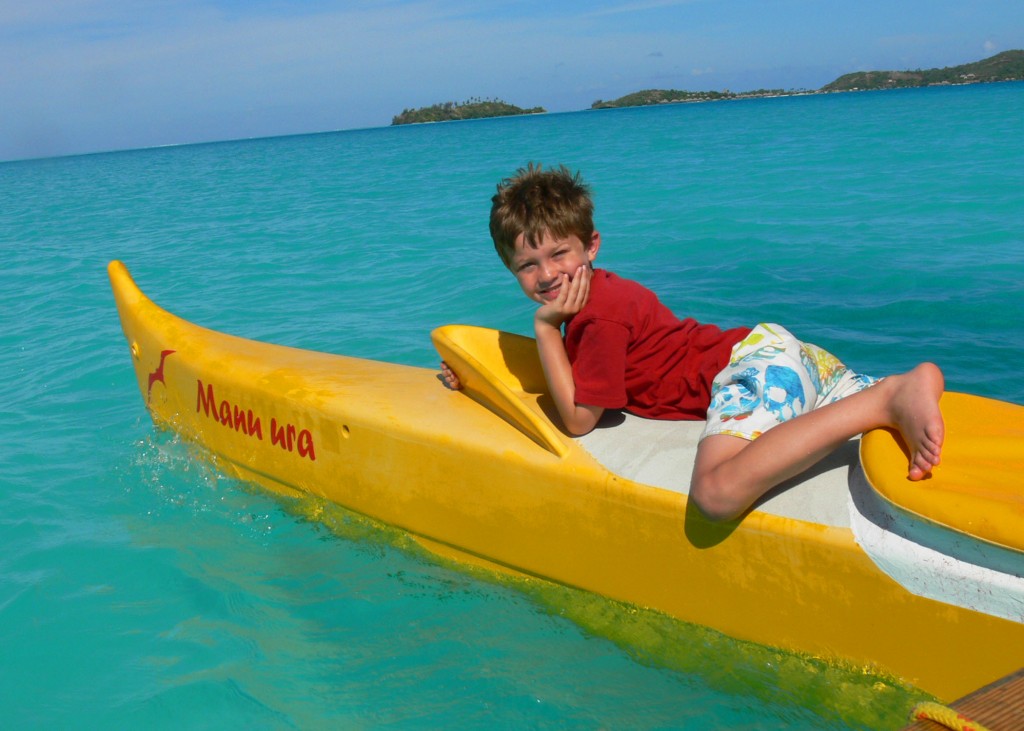 Then, we decided to experience the lagoon's waters three ways: snorkeling, helmet diving and scuba diving. First was helmet diving. We went out with Aqua Safari Bora Bora. And although the kids were a bit nervous about the weight of the helmet at first, once they got in the water, where they were instantly surrounded by tropical fish, they LOVED it!
Next we tried snorkeling both in the private lagoon of Le Meridien Bora Bora, where turtles from the Bora Bora Turtle Center, located at the hotel, swim freely.  While healthy turtles are free to come and go from the lagoon, sick and injured turtles are nursed back to health. The center also gathers baby turtles born on hotel beaches and shelters them until they are old enough to have a better chance of survival on their own. The calm, enclosed waters of the lagoon make for easy snorkeling for kids, but we see lots of cool animals including turtles, a huge octopus, unicorn fish and more!
Another exciting animal encounter was with the sting rays in Bora Bora lagoon. We took a full day outing to snorkel with sting rays and sharks and have a picnic lunch on a deserted motu and it was fantastic. The motu was crazy gorgeous with a white sand spit backed by palm trees sloping into turquoise waters.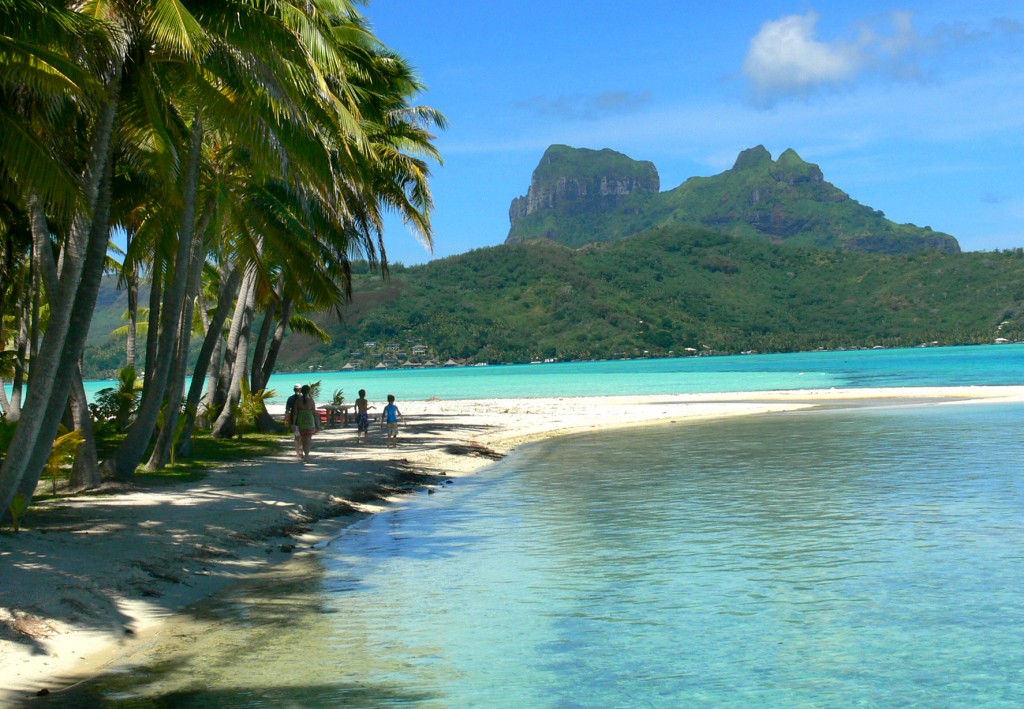 The snorkeling was spectacular. The kids were a bit overwhelmed at jumping in with the giant sting rays at first (they are very friendly, but get very close…sometimes even swimming right up on you). But, once they were in the water, they loved getting such a personal experience with them.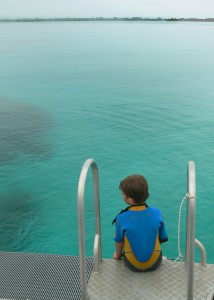 Then, we wanted to delve deeper, so we went for traditional scuba diving…Seamus was only ten at the time, so was not certified, so they took us on a discover scuba dive. The dive master stayed close to Seamus, while the rest of explored the massive corals and watched fish and eels dart in and out of them.
Getting to Tahiti and Around: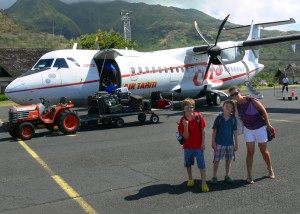 Air Tahiti Nui operates direct flights from Los Angeles (about 8 hours), Tokyo and Aukland. Air Tahiti provides interisland air transport (10 minutes from Tahiti to Moorea and about an hour to Bora Bora). Although the views from the plane to Moorea are spectacular, for the environment's sake, and for a cool experience, we recommend the Aremiti fast ferry to Moorea.
Where to Stay: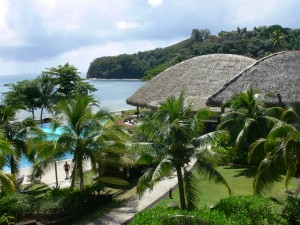 The Radisson Plaza Tahiti offers great proximity to Papeete while still offering a respite from the busy city. A short ride into town takes you to the food trucks and museums while the wide beach and beachfront pool offer a great place to relax at the end of the day. A first-class restaurant serves fantastic fusion cuisine under thatch roof rotundas. While a kid's club and baby sitting service offers adults some alone time. Families will enjoy activities like learning Tahitian dancing together.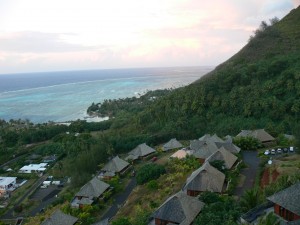 Snuggled in the verdant hills above the sheltered turquoise waters of Moorea, Legends Resort Moorea is a great place for families to stay. Spacious villas offer plenty of room for the whole family to spread out and full kitchens offer the opportunity to eat some meals in, which can make meal times with kids easier. Each villa is also equipped with its own Jacuzzi/pool and huge deck to enjoy outstanding views! A television and DVD player (with DVD library at front desk) can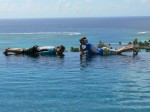 make for a nice family movie night or explore the surrounding gardens. A larger infinity edge pool in the communal area is lots of fun for the kids…and again, the views!! And the poolside restaurant offers fantastic meals as well as snacks like ice cream!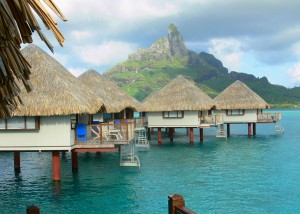 Le Meridien Bora Bora's overwater bungalows are what you think of when you imagine the coolest South Pacific hotel around! Glass floors allow guests to see the ocean – and fish…and in our case our kids snorkeling…below!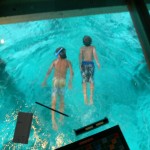 The beach here is stunning and fronts a private lagoon teeming with fish and other sea animals. The beachfront pool offers another option. And everyone in the family will love taking out kayaks, playing beach volleyball and more. Plus, the Bora Bora Turtle Center, located on property, offers close encounters and information about turtles and conservation efforts to protect them. Open air restaurants under thatch roof offer incredible seafood and Tahitian food options. And the kids will love dining right by the ocean!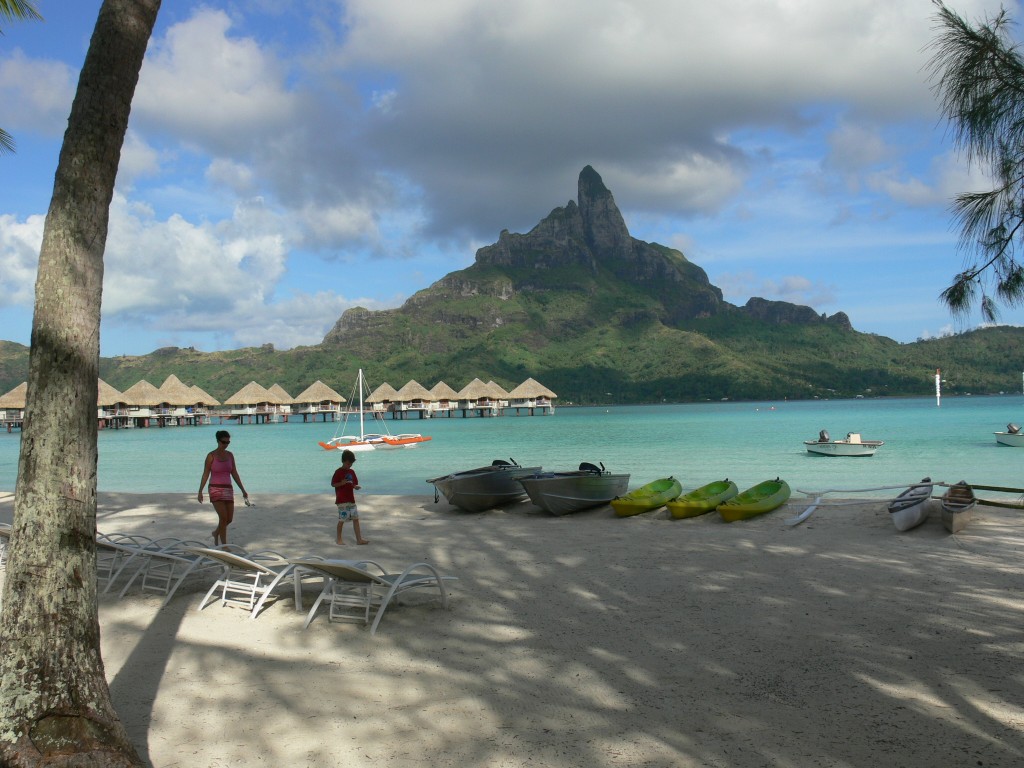 For more information, visit Tahiti Tourisme.


on Twitter


on Facebook


on Google+