China with Kids
With iconic tourist sites like the Great Wall and the Forbidden City, and rural landscapes straight out of a painting, China has been drawing tourists since foreigners crossed the Silk Road. All this history and culture also makes it a wonderful educational trip for families. And with traditions vastly different from Western culture and little English spoken outside city-centers, it will be a bonding experience the kids will remember for a lifetime.
Beijing: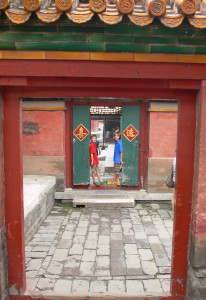 The capital city, which hosted the Summer Olympics in 2008, is a mixture of old and new. The Forbidden City is a major draw here as is the Great Wall (access points located within one-hour of Beijing), but The Bird's Nest,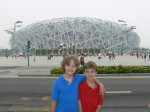 the swimming stadium erected for the Olympic games, captures its own share of visitors. Beijing is big, traffic chaotic, and little English is spoken, so it's best to get around by taxi cab (see below for tips on getting around). The Forbidden City, the ancient home of the Emperor, is located directly on Tiananmen Square so can be combined with a visit to this famous plaza. There are also several good museums surrounding the square. Allow yourself at least a few hours to explore the Forbidden City if you want to take time to appreciate the peaked roofs, intricate carving, colorful painting and artifacts. Kids will enjoy running through the back alleys and imagining life as it was in ancient China. If time allows, the Summer Palace offers another great display of Chinese dynasty architecture. At night Tiananmen Square lights up with people strolling, vendors selling glow toys and kites and much more. The Chinese Opera, a traditional show which is vibrantly colorful and entertaining, takes place at Lao She Teahouse near Tiananmen Square.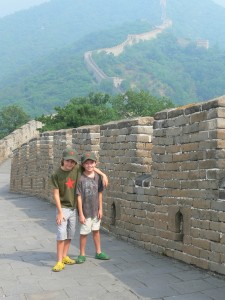 At 5,500 miles long, there are many place to visit the Great Wall, but the areas near Beijing are by far the easiest for foreigners (and the most crowded). Popular access points from Beijing include Badaling, which is close but can get very crowded, Mutianyu and Simatai. We went a Mutianyu, which was about 1 1/2 hours outside Beijing. A ski lift takes visitors from the base of the wall to the top allowing you to save your energy for hiking around at the top (yes, I know, we're lazy, but it did help with little legs to save the energy for the top). The kids were impressed by the turrets and enjoyed counting all the hills the wall wound up and down before disappearing over the horizon.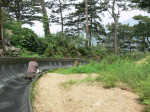 We left the wall by another surprise, which the kids LOVED, a dry luge! Guess they were getting ready for the Olympics. Visitors board a go-kart-like vehicle and ride a slide structure that winds through the forest from the wall.
Shanghai: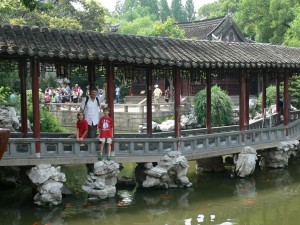 Much more modern-looking, and feeling, than Beijing, Shanghai hosts wide riverfront boardwalks, funky shaped highrise buildings, and lots of neon, but there is still history to enjoy here. The kids will enjoy the Yu Gardens with quiet pathways winding along rivers and past lakes and dotted with small buildings with traditional architectural design. The markets outside the Yu Gardens is teeming with merchants selling everything from Chinese Army garb to silk dresses and fans to cell phone cases and sunglasses. Bargaining is the norm here so when they give you the first price cut it in half and go from there. Don't miss trying the wonton soup here…you will probably have to wait in line, but its worth it. Another fun family-friendly activity in Shanghai Ocean Aquarium. Kids will love viewing jellyfish, sharks, penguins and more.
Hong Kong: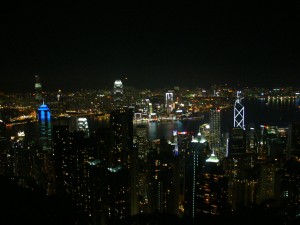 Once a British Colony, Hong Kong has a very different feel than other Chinese cities with its double decker trollies and British pubs. Remember if you visit Hong Kong, you will need a different visa (and a return visa if re-entering China) and they use different currency. Hong Kong is a modern city built around Victoria Harbor. Tour the harbor by traditional junk for a unique view of the city…especially nice at night when the lights and neon glitter on the water. Various floating restaurants offering superb seafood. Kids will enjoy taking the Peak Tram down from the mountain into the city. There is a huge mall with lots of shops and restaurants at the top. Strolling Hong Kong's back streets is also a fun way to pass time, and find some great souvenirs.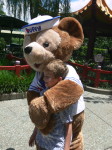 Spreading it's mighty wings beyond the Western Hemisphere, Disney has reached the shores of China in the form of Hong Kong Disneyland. Yes, it's a terribly long way to go to visit Disneyland; however it does give an interesting peek into modern Chinese culture through Squid on a Stick snacks, disorderly lines, and what characters are the most popular here (hint: It's not Mickey Mouse more like a giant teddy bear named Duffy).
Yangtze River: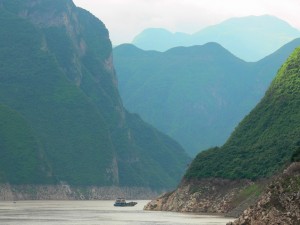 One of the most idyllic ways for families to see the Chinese countryside is by Yangtze River cruise through the Three River Gorges. With the construction of the Yangtze River Dam, there is concern that this famously scenic ride along the brown river through tall green mountains will be lost (much of it did get lost when the water rose upon completion of the dam including entire towns), but the as of now the cruise down the Yangtze is still a site to behold with dramatic cliffs plunging to the river and banks dotted by rural Chinese towns. We cruised aboard the Yangtze Explorer from Chungqing to Yichang (just past the dam).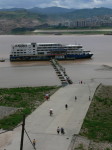 Along the way we had the privilege to meet both a family that had been relocated into modern housing (their house now under water on the Yangtze) and a family who still lived in their traditional house (higher ground) so we could understand the changes. We strolled through markets, learned Tai-Chi, toured the dam (after going through its massive locks). One highlight was the boat trip up the Little Gorges…Tuija boatmen poled, pushed, pulled our sampan (longboat) up the stream with cliffs soaring on either side and a bright green river traversed by ancient rope bridge (very high above…yikes!).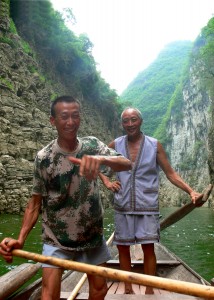 Getting There and Around:
In the city:
Taxis are the best way for foreigners to get around big cities in China. They are surprisingly economical. Since many drivers speak little English, your hotel can write the name of the place you want to visit on a card for you to show to your driver. Be sure to take a card for the hotel for your return as well. In Hong Kong, the underground system is labeled in English and Chinese and it is easy to use as well as the tram system there.
City to City:
The train system is well-used in China and makes for fairly easy travel for families with extraordinary scenery. Many of the trains (depending on the route) are modern and clean (depending on class of travel). The first class cabins (which we opted for) had four beds and a locking door (the second class "cabins" are open to the hallway – no door – we rode them pre-kids and were fine, but with kids we decided we would feel better with the extra security). The kids loved meeting all the locals and visiting the dining car. We also packed cards, games and snacks for the ride, but there were plenty of vendors passing through selling everything from fruit to toys (however Western brands are not common). Book train tickets well in advance as they do sell out. We booked our tickets through ACP Rail before we left. Many hotels and travel agents will book train tickets for you or there is a foreign ticket office at most train stations (but don't expect English). Buses ply the routes as well, but are far less comfortable. Chinese airlines like China Eastern Air fly between cities if you are on a tight schedule. For boat trips down the Yangtze River, see above.
Getting There:
Most international flights into China land in Beijing, Shanghai and Hong Kong. American Airlines runs direct service into all three. Because of seatback entertainment systems, airline travel is much easier with kids now then it has been in the past, so try not to fret about the flight. Just be sure to pack snacks and entertainment in the kids' carry-ons in case the on-board system is not working.


on Twitter


on Facebook


on Google+