Arizona With Kids
Every child dreams of experiencing the adventure of the wild west in Arizona, and with warm weather, exciting activities, gourmet dining and rich culture, everyone in the family will have something to "yee-haw" about! Although today, Arizona's tourism focus lies more on golf, upscale shopping and beautiful weather, there's still plenty of cowboy and Indian experiences to be had…even in the heart of Scottsdale, and definitely further out in the countryside.
Scottsdale/Phoenix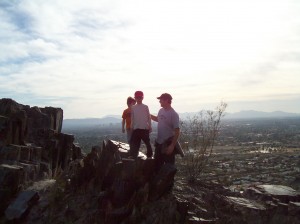 Located in the center of Arizona, the Scottsdale/Phoenix area offers a wide variety of fun activities for families. Old Town Scottsdale is packed with art galleries and outdoor cafes…perfect to take advantage of Arizona's notoriously sunny days. If the kids get bored, head to the Sugar Bowl for an ice cream sundae, a family favorite for residents and tourists alike. Got some tweens in tow, head to Scottsdale Fashion Square for designer shopping, movies and more. The kid in everyone will enjoy the Arizona Science Center in downtown Phoenix – its hands-on learning at its best with fun exhibits ranging from vibrating, whirlwinds explaining weather to spinning rides to demonstrate force. While you are downtown, stop in and see the Diamondbacks in action at Chase Field or the Suns playing at US Airways Arena. Ready to soak in the rays, head out to the Phoenix Zoo or World Wildlife Zoo where rides, interactive exhibits – like sting ray petting and giraffe feeding – will keep kids engaged. Golf more your swing? Scottsdale and Phoenix are loaded with courses for all skill levels. Or, take to the mountains around town – Camelback Mountain is fantastic for the skilled climbers, or for a family-friendly hike try Piestewa Peak – also known as Squaw Peak.
During the month of March, Phoenix enjoys warm weather and there's something fantastically fun and family-friendly happening on the greens of Arizona: Spring Training! Catch some rays while watching your favorite Major League Baseball team warming up for the baseball season. Kids will love how close they get to the action and may even get a ball tossed to them by their favorite player! More information at http://www.cactusleague.com/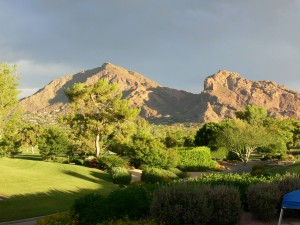 Wild West Arizona
When it's time to get your John Wayne on, you can visit Rawhide south of town where gun slingers put on fantastic family-friendly shows and saloons quench your thirst, and the little-ones need for chicken and burgers. For the die-hards, head south of Tucson to Tombstone. This infamous town was once a mining beehive and now a ghost town. Lined with wooden boulevards and gun-toting cowboys, you will feel like you've stepped back into territorial days. Nearby, Kartchner Caverns offers a glimpse at what lies beneath all "them there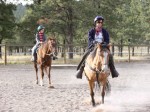 hills". Kids will love spotting all the fantastical rock formations like soda straw stalactites and moonmilk. Swing a bit further south to Bisbee for another underground experience – take a train deep into the Queen Mine. Kids will love donning hard hats with lights for this tour through Arizona's mining past – and looking for ghosts at the allegedly haunted Copper Queen Hotel. The tour from Tomb
stone to Bisbee makes a great long weekend for the family!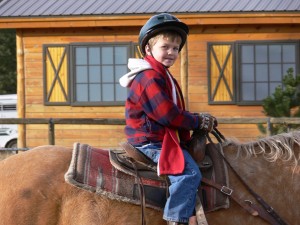 Looking for a more authentic Arizona wild west experience, how about a dude ranch? Arizona is packed with working ranches, many of them offer the chance for tourists to be a part of it. Learn to ride, herd cattle, work leather and wood, shoot bows and arrows and much more. Hidden Me
Tucsonadows Ranch is a great place for traveling families to reconnect. With no T.V.s and plenty of fun activities and gourmet dining, families will find time to talk – especially over s'mores by the fire every evening. Our kids loved taking care of, and riding the horses.
About 2 hours south of Phoenix, Tucson is the Phoenix's cool little brother. With a down-to-earth vibe, amazing outdoor activities and superb spa resorts, Tuscon is quickly hitting the tourist radar. Hiking in Sabino Canyon is a wonderful family activity. If you want to see more of the animal life, try the Arizona Sonora Desert Museum – don't let the name fool you, this is actually a zoo focusing on desert animals. Kids will love wandering down the desert paths and "tracking" all the animals in their kids' program. Got a aviator in your group, be sure to visit the Pima Air and Space Museum where kids can climb into old aircraft and get a sense of air history.
Northern Arizona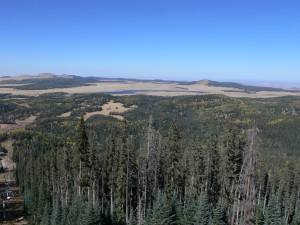 Did you know the northern part of Arizona has one of the largest spreads of Ponderosa pines in the world. In the winter, there is skiing at Snowbowl in Flagstaff and Sunrise near Pinetop and Greer. In the summer, dude ranches, fishing, kayaking and more lure families into the woody area north of the Mogollon Rim.
The major attraction in Northern Arizona is what the state is nicknamed for – the Grand Canyon. Kids will love taking the train from Williams, Arizona to the Grand Canyon – saloon-style waitresses serve western treats and watch out for those cowboys who are notorious for robbing the train.
At the Grand Canyon families will love the views across, especially from the glass platform that juts out over the canyon. You can hike in a bit, or for the more adventurous hike to the canyon floor where there are camping grounds and some cabins. Another incredible way for families to experience the Grand Canyon is white water rafting. Trips down the Colorado River offer amazing adventure and wildlife viewing, but be sure to book well in advance as there are limited trips available, so they fill up fast. Another family favorite in Arizona is Sedona – the red rock vistas are amazing! Kids will love exploring it by jeep tour…and don't miss slide rock in Oak Creek. As the name indicates, visitors slide down a series of rock chutes in the river.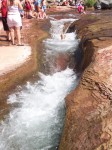 Indian Country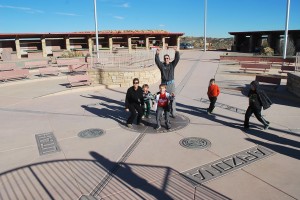 Northeastern Arizona holds the Navajo Nation as well as areas of Hopi Tribe. Visit the Navajo Nation Museum for a better understanding of the culture and check to see if there are any events – colorful festivals with incredible dances are a great way for families to experience Native American culture. The funky and colorful red rock formations of Monument Valley and Canyon de Chelly are fun to explore as well. See how many shapes you can find. Kids will also like standing with one foot/one arm in four different states at Four Corners – where Arizona, Colorado, Utah and New Mexico come together.


on Twitter


on Facebook


on Google+