Ireland With Kids
Rolling green hills traversed by single lane roads lined with old rock walls connect tiny villages where locals gather in the town pub to play traditional Irish music sessions.  On the surface it seems like not much has changed in Ireland; however the last decade has brought with it a wave of new industry and an economic boom, and bomb, that has a brought about a swing back to the traditional. Ireland is a vast and complex island, a place where Lewis Carrol's phrase "the more things change the more they stay the same" rings very true.  While Dublin is a very modern, cosmopolitan city, traditions remain strong with pubs blasting Irish music and an independent spirit that remains strong through generations.  Once beyond Dublin, however, Ireland is mainly rural countryside punctuated with towns that seem lost in time.  Many are saved that way for tourists, Killarney being a prime example, but even there an authentic Irish spirit prevails in traditional music sessions and Gaelic speaking locals.  To the northwest, where tourism is less of a magnet, the real culture of Ireland shines through in farm towns and rural lifestyles.  In between, the dramatic landscapes of the rugged Atlantic coast, the limestone crags of the Burren and Connemara and the beautiful peninsulas made so famous in film here provide a setting like no other.
Ireland Resources:
Packing List for Family Family Vacation in Ireland
Packing Ideas for Family Vacation in Ireland
Recommended Books and Movies about/set in Ireland
Dublin
As the capital of the Republic of Ireland, Dublin has a very cosmopolitan feel with large government and bank buildings and old parks and college grounds.  Dublin was the seat of the English government before Irish independence, so there are many reminders of the struggle for independence.  Visitors can tour Dublin Castle to get a feel for the style of English rule (although since its handover to Irish Provisional government in 1922 it now hosts national functions).  While our kids enjoyed some of the decor, they were most intrigued by the medieval ruins underneath the castle.  Another place to get a good feel for the Irish struggles is Kilmainham Gaol (prison), where England kept its captured rebellion leaders. Interactive exhibits do a great job relating the history of Irish nationalism, but the tour of the cells is by far the most poignant. For a break in the day in town, St. Stephen's Green offers wide open grassy places to play, ducks to feed and playgrounds.  Trinity Collegegives a bit of history in its buildings alone, afterall it was founded in 1592, but also by the Book of Kells, an illuminated manuscript dating from the 9th century, which is on display in its library. Just down the street, National Museum of Ireland – Natural History gives an overview of the history of the non-human creatures here with tons of stuffed animals on display. The kids loved looking at all the bugs and ocean animals, but remember these are real animals, so if you have a sensitive child, you may want to give this one a pass. To see real animals, in an even bigger park, the Dublin Zoo is an excellent choice.  It's located in Phoenix Park, which is a huge urban park, about twice the size of Central Park in New York.  The zoo hosts animals in natural looking enclosures, but with close-up access for visitors. The kids were amazed by how close they got to the leopard (who stalked inches from them behind a window) and by the "invisible fences" around the rhino and giraffe enclosures.  It felt like you were standing in a field with them!
Southwestern Ireland – Counties Kerry and Cork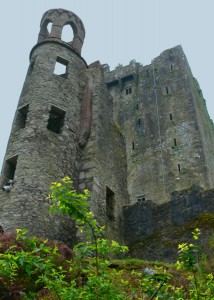 Ireland's southwestern area is one of its most visited.  Killarney and Cork make popular bases to explore the area.  Cork is near the Blarney Castle with its famous stone with the unique ability to give people the gift of gab. The kids were too small to bend all the way over to kiss the Blarney Stone, but the two attendants let them lay on their tummies to reach it.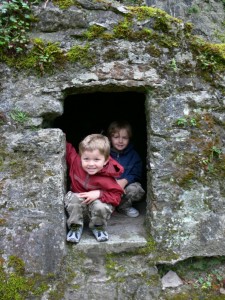 They had a lot of fun exploring the castle too.
In Killarney, we were lucky enough to be at a pub (yes, they are still family friendly) during a traditional Irish music session.  Irish musicians from all of the villages around Killarney gathered to play together. What's amazing is that it is somewhat random. They don't rehearse together, or plan out what they will play.  One musician just starts a song and the others join in as it goes along.  The crowd participates as well with songs.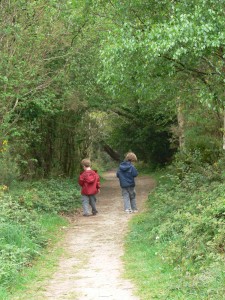 The kids had a ball dancing "the jig" to the music and learning about the instruments.  Another fun place for the kids was Ross Castle.  We took a horse and trap (like a horse drawn carriage) from town and then climbed through the old castle and skipped rocks on Lough Leane in Killarney National Park. Just outside Killarney there are two peninsula's that are famous for their scenery, Ring of Kerry and the Dingle Peninsula.  We chose to drive the Dingle Peninsula because it's a bit quieter.  The scenery was incredible and the quaint town of Dingle looked straight out of a film.
Western Ireland – County Galway, County Clare and County Mayo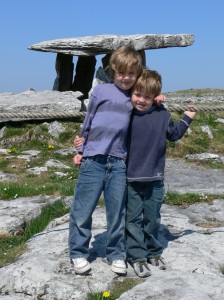 Western Ireland is famous for its unique landscapes from flat green fields punctuated by limestone rocks to soaring cliffs plunging into the cold Atlantic Ocean.  Ennis and Galway are popular bases for this part of Ireland.  Ennis is medium town with a population of just over 25,000 with a international demographic, many of Ireland's immigrants have settled here giving it a unique flavor.  From Ennis, we made a day trip to The Burren – a large, flat rocky area.  The white limestone formations look like beluga whales as they pop over a sea of green brush. Within this rocky landscape, there are several interesting attractions – all within a couple hours drive of Ennis.  Poulnabrone dolmen is a table-looking portal tomb built between 4000 – 3000BC.  It's not the most exciting thing for kids, but its a site to see along the way and where else are you going to see something built that long ago?  The kids will find Ailwee Caves much more interesting. The cave system, under the limestone karst of the region is infiltrated with water with an underground river, ponds and waterfalls. Tours wind down over 1000′ of passage past amazing rock formations and caves.  Also exciting for kids, but a little nerve-wracking for parents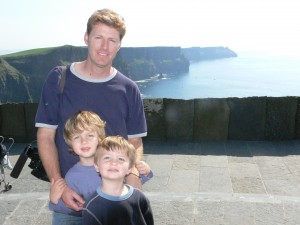 is the Cliffs of Moher. Soaring 400 – 800 feet from the turbulent waters of the Atlantic, the cliffs provide a dramatic backdrop.  They bend and twist along the coast for miles in each direction.  While there are some areas where the stone walls reach a comfortable barrier, there are places where it feels as though you could fly right off the edge. The scenery is not-to-be-missed, but keep a hold of the little ones!
Farther north along the coast, the Connemara provides its own unique, and exquisite, scenery.  Rolling green hills traversed by rock walls and dotted with sheep, this is the Ireland of movies. Connemara is punctuated by small Irish speaking villages that seem to be lost in time.  North of Connemara is Clew Bay, and the wonderful town of Westport. And Clare Island, the home of Pirate Queen Grace O'Malley!
Family-Friendly Places to Stay in Ireland
Ireland is a family oriented country, which means there are plenty of family-friendly places to stay.  Farmhouse bed and breakfasts are always a hit with kids as are smaller family-run hotels, who make you feel part of the family.  Here's a list of where we stayed while we were in Ireland.
Dublin: Bewley's Hotel Ballsbridge: Set in a 19th century school, this beautifully restored hotel was in a great location, in local neighborhood and within easy reach of public transport.
Killarney: Arbutus Hotel: Although there has been a hotel on this site for over 200 years, since 1926, the Buckley family has sought to redefine it with culture and luxury.  And they have succeeded. The warm reception area is filled with antiques – the perfect perch in front of the crackling fire and the employees make you feel you are one of the family.
Ennis: Dromoland Castle Hotel: With a history dating back to the 5th century and the descendants of Ireland's High King Brian Boru, the current building is a five-star resort complete with five-star amenities like an indoor swimming pool, championship golf course and tennis courts set in an incredibly restored REAL castle.
Westport: Seapoint House Bed and Breakfast: Set on a real working farm, kids will love this one.  The family that runs it is very friendly, the views over Clew Bay are unbeatable and the farm animals (sheep, cows, chickens) make it even better.
Belfast: Jurys Inn Belfast: In a great location just down the street from Crown Pub and a block from City Hall, Jurys Inn Belfast makes it easy to see all the sights that Belfast has to offer.
Getting to Ireland
Most international flights fly into Dublin, Shannon (in Western Ireland) or Belfast (in Northern Ireland).  Most of the large airlines fly into Ireland directly from Europe or the United States.  For the most frequent direct flights from the USA, try Aer Lingus, Ireland's national airline.  For cheaper flights from Europe and the UK, try Ryanair or easyJet. Beware of extreme baggage fees on the two cheaper airlines. Ireland is also accessible by ferry from the UK and France. Ferries from Wales go to Dublin, Rosslare and Cork; from Liverpool to Dublin and Belfast; from Scotland to Belfast; and from France to Cork.  Ferry lines include:
Getting Around Ireland
Ireland may seem like a rather small island, but narrow, windy roads make for long travel times. Be sure to ask locally about drive times and then add some time for missed road signs and wrong turns. The upside is: the drives offer breathtaking scenery and the locals are famously friendly!
– Air – The small size of the country makes air travel within it very limited. For flights, try AerLingus.ie or RyanAir.com
– 
Train
 – Limited service on nice trains
– 
Bus
 – Schedules, fares and tourist passes
– Car – The most popular way around the island. Remember to drive on the left! For rental deals, try 
Dan Dooley


on Twitter


on Facebook


on Google+