Explore the remote islands of Fiji immersing in culture at a lavo and meke (BBQ and dance) in a local village, exploring nature on hikes to waterfalls nestled in the jungle and steaming in hot springs, visiting a school, strolling deserted beaches, exploring below the waves on snorkel outings and more! Put Travel With Kids' decades of family travel experience to work for you in this exclusive Travel With Kids Family Adventure Cruise to Fiji's remote islands escorted by the Travel With Kids on-camera host family Jeremy, Carrie, Nathan and Seamus.
Interested in this family trip to fiji? Complete this Interest Form.
Cruise aboard Captain Cook Cruises' 65-cabin Reef Endeavor, which offers plenty of charm with bright cabins with wooden finishes, lots of deck space, a pool and Jacuzzi and more. Many cabins and staterooms are interconnecting and open onto deck areas for fresh air.
Day 1:
Arrive Nadi Fiji and board Reef Endeavor. Stress will melt away as you are greeted with Fijian "Bula" spirit, and a welcome drink. Set sail to Captain Cook Cruises' private island, Tivua Island where you can enjoy an afternoon snorkel and beautiful sunsets. Then, join the Captain and his crew for the Gala Captain's Dinner.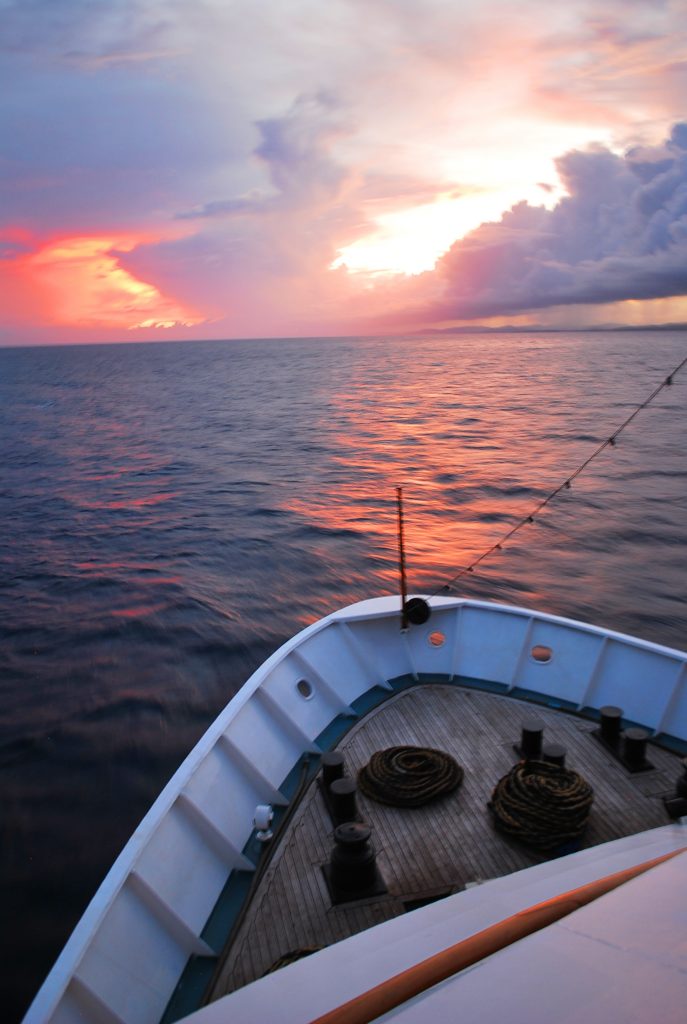 Day 2:
Explore Levuka on the island of Ovalau, one of the original settlements of the British Colonists. Stroll the waterfront promenade meeting locals selling all sorts of fruits and vegetables. In the afternoon, visit Marist Convent Primary School where you will meet local school kids and witness many Fijian dances.
Day 3:
After breakfast, participate in a traditional Fijian ceremony before touring a giant clam and turtle nursery.
Day 4:
In the morning we arrive in Savusavu where guests can choose to tour a pearl farm and peruse the markets
or hike to a river and go tubing…stopping to jump from cliffs and soak in hot springs – where the kids will love to take a mud bath – along the way! In the afternoon, relax on the beaches of Savusavu Bay.
Day 5:
This morning we arrive on Taveuni Island – the "Garden Island" of Fiji where we hop a bus and pass villages with lots of shouts of "Bula!" until we reach the trailhead for Bouma Waterfalls. After a short hike through amazing jungle scenery, cool off with a swim at the base of this spectacular waterfall! Enjoy a picnic lunch along the river before perusing the markets of Naselesele Village. In the evening, we return to the village for a traditional "lovo" – earth oven feast. After a kava ceremony – as outsiders we are not allowed to enter the village without the ceremony – we dine with the locals and then join them in a meke – dance.
Day 6:
In general Fijians are very musical and this morning you will hear their voices in action at a special choral church service at Wairiki on the western side of Taveuni. The island lies on the 180th Meridian, the international date line. After the service, our crew will take you to the famous Dateline Meridian where
you can literally stand with one foot in the past and one foot in the future on the international dateline. In the afternoon we visit Whispering Tide, a beautiful crescent of remote beach for swimming and snorkeling.
Cruising southwest from Vanua Levu we arrive at Nananu-i-ra on the northern coast of Viti Levu for our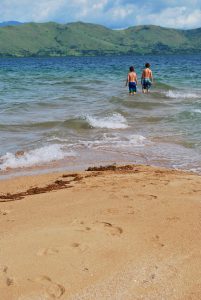 customary swim, snorkel and beachcombing. A lazy morning to enjoy our beach visit or an energetic hike about the mountain. After lunch there is our last opportunity ashore before we begin our homeward journey. This evening don your sulu (sarong) and join all the celebrations of our Pacific Island Night Finale. Pre-dinner cocktails and appetizers are served in the Ra Marama Lounge before our gala farewell dinner featuring the music and dance of the South Pacific.
Day 8:
Disembark at Nadi for your onward journey home.
**This itinerary is subject to change based on availability and weather. Pricing is subject to change based on currency fluctuation and availability.
Other 2018 escorted Travel With Kids Family Adventure Tours:
OTHER TWK FAMILY ADVENTURE TRIPS


on Twitter


on Facebook


on Google+