Located in what once was the Netherland Antilles in the Southern Caribbean, Curacao was originally inhabited by the Arawak tribe. The Dutch East India company established a base on the island in the 1600s. Curacao was awarded self-government in 1954, but is still a constituent country of the Kingdom of the Netherlands. It is an arid and warm island with fantastic tropical breezes.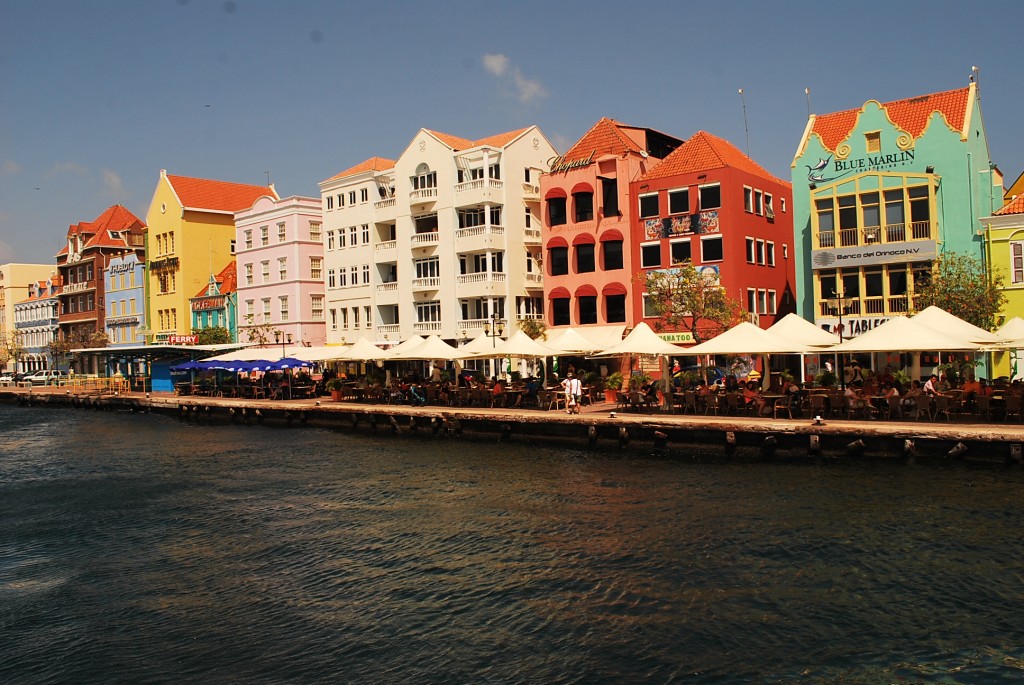 Willemstad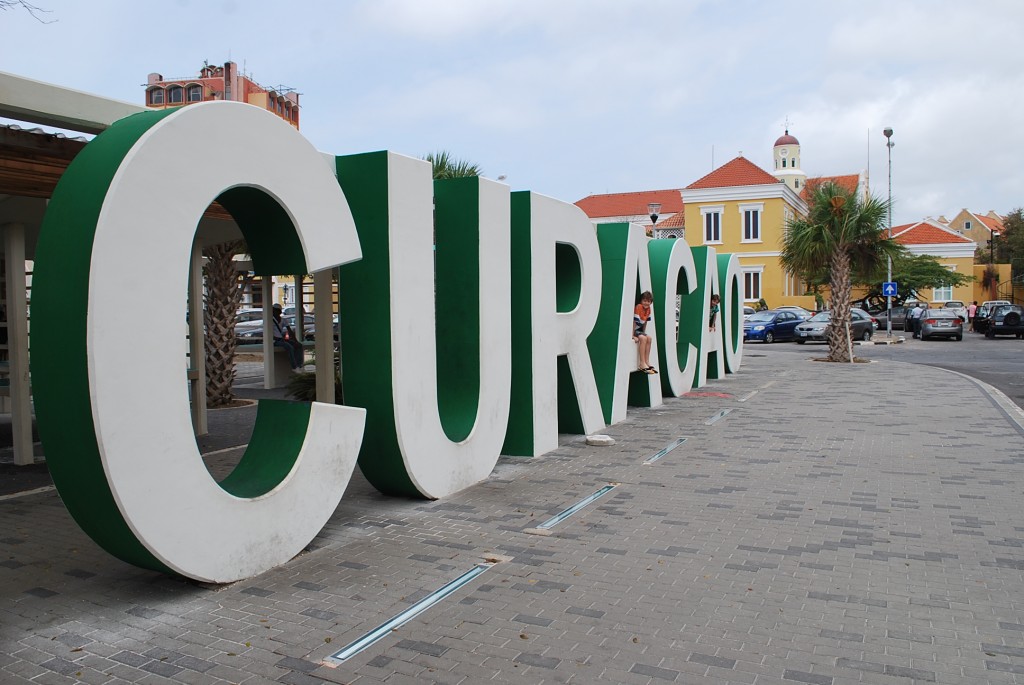 The old world feel of Willemstad's colorful buildings, cobbled streets and old fort walls is well worth a wander. This UNESCO World Heritage site is now lined with lively outdoor cafes, boutique shops, a fabulous craft market and more. It's fun to stroll around Fort Amsterdam and peruse the stalls selling everything from coconut carvings to spirit candles to kites. Don't miss the swinging bridge. The Queen Emma pontoon bridge, which connects Punda and Otrobanda districts, is about 200 feet long. It is a floating bridge that swings open to allow ships to go through  to the port. The kids will LOVE riding the bridge as it swings over, but keep in mind sometimes it stays open for 15 minutes or more, so if you are on a tight schedule ask a local (they know by the color of the flags) how long it will be open. Also, not to be missed: take a picture in the famous Curacao letters (or the one that spells Dushi, or cute).
Things to Do in Curacao with kids: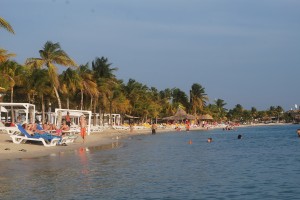 Beaches: Curacao's southwest coast is punctuated by many coves hiding pristine beaches and lined with crystal clear waters. You will feel straight out of Robinson Crusoe and may even have the beach to yourself. Like a little more service with your sand? The south coast closer to Willemstad offers wide, white sand beaches lined with restaurants, play areas, shops and more. For a listing check the Curacao Tourist Board site. We stayed on Seaquarium Beach, which was fantastic. The bay waters were calm and great for kayaking, swimming and snorkeling. Plus, next door is a fantastic aquarium and sea life interactive park (see below). The Curacao Sea Aquarium is on of the highlights to any family vacation to Curacao.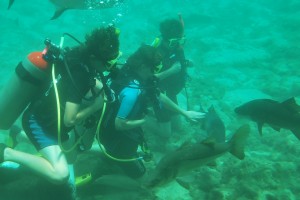 Curacao Sea Aquarium offers visitors a wide array of options to learn about and interact with sea animals. The mission of the aquarium is to education visitors, and locals, about marine life in the Caribbean, which they do through natural exhibits and opportunities for contact. Beyond the aquariums, which house colorful corals, fish, turtles and rays, the aquarium has special performances that introduce guests to different sea animals and gives information about those animals and conservation efforts to protect them. They also offer interactive experiences such as underwater encounters with dolphins, sharks and sting rays. We did two encounters, which the kids LOVED!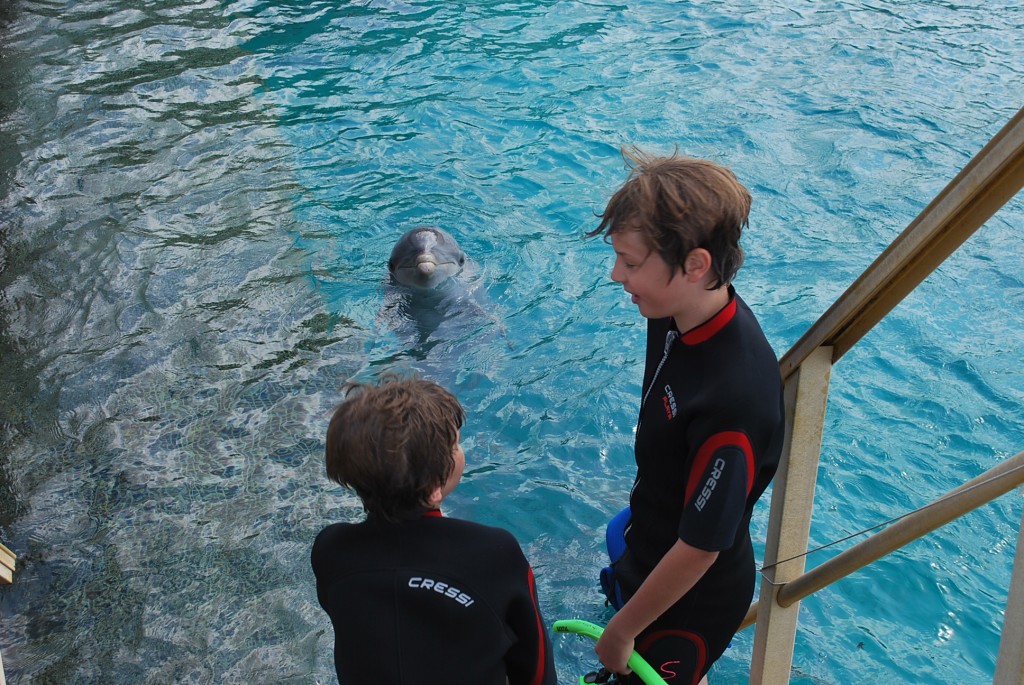 The Dolphin Academy gave us a chance to scuba dive with dolphins in the contained ocean environment. We learned about different dolphin behaviors, anatomy and conservation. The kids got to play trainer a bit and loved feeding the dolphins. It was amazing being underwater watching the gentle creatures glide all around us!
With Ocean Encounters, we went diving in one of the aquariums large tanks filled with sting rays, colorful fish and one gigantic grouper named Herbie!
The kids loved seeing the beautiful corals and fish and wanted to experience it in the wild, so we booked a scuba trip – another activity Curacao is famous for – with Ocean Encounters as well! With over 65 dive sites teeming with colorful marine life, unique rock formations, caves, ship wrecks and challenging drop-offs, Curacao is one of the Caribbean's top dive destinations.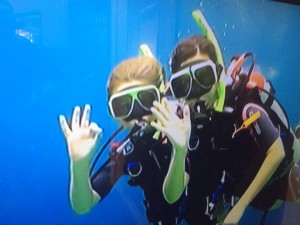 Kids can get certified to scuba dive as young as 10 years old, but even if you are not certified scuba diving is a wonderful family activity (Want to get certified as a family? Check out Margo Peyton's Kids Sea Camp). If no one is certified, you can still participate in a Discover Scuba Dive…so don't rule it out. It's a great way to experience the underwater world of the Caribbean. We took a two-tank dive and saw the most amazing coral – in Dr. Seuss like colors and shapes! Seamus loved the lion fish and Nathan had a blast drifting along a wall!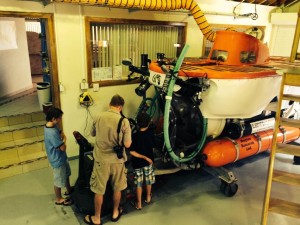 Speaking of a wall, there is a huge drop off along the coast of Curacao and we got the chance to explore it – and you can too – with Substation Curacao. We went down to about 500 ft. in a tiny research submarine. It was amazing to watch the colors fade from techno-bright to blues and purples.  Seeing the depth meter go deeper and deeper…it was quite an adventure and real highlight of the trip!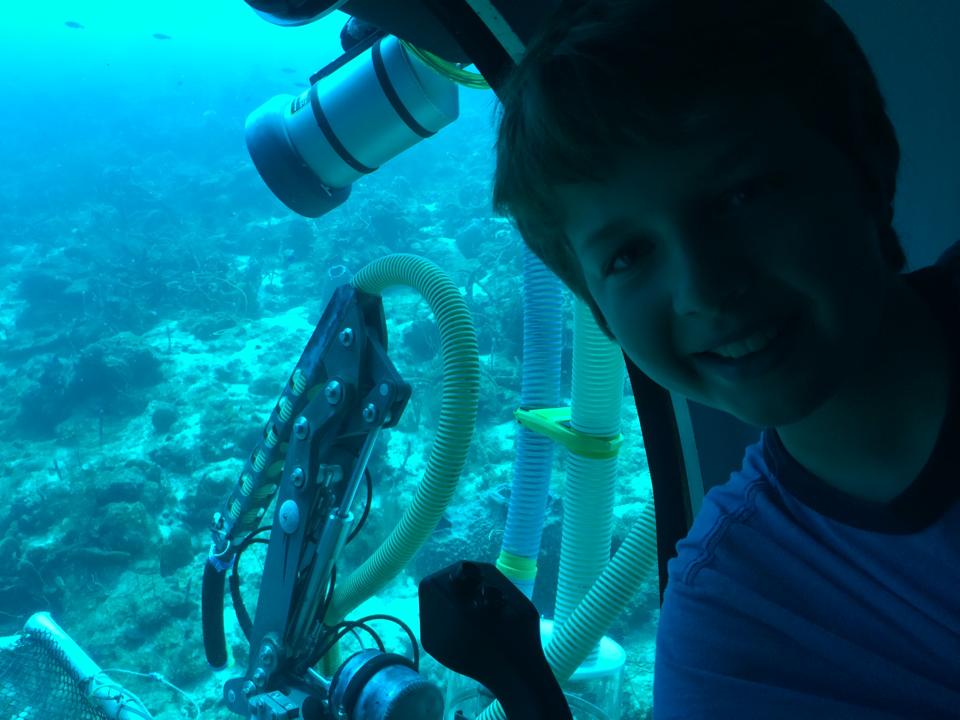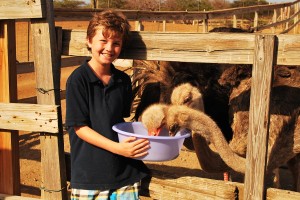 If dry land is more your thing, Curacao has activities beyond the beach. Stroll the "floating markets" of Willemstad – not really floating the seller stand in boats and sell seafood, but there are also craft stalls and boutiques for browsing.
Christoffelpark allows visitors to explore the scenic vista and spot a wide variety of flora and fauna. Guests can take easy strolls or more challenging hikes, or stick to the roads for some amazingly scenic drives. Kids will enjoy one of the park's safaris or exploring the caves here.
Our kids had a blast at Curacao Ostrich Farm where we took a jeep past hundreds of ostriches…stopping to feed some of them along the way. They also liked seeing the smaller animals and the eggs in the hatchery.
Getting There:
Curacao is located about 25 miles off the coast of Venezuela, Curacao is easily accessed by daily flights to North and South America and Europe. Taxis are widely available for a tour of the island or rent a car.
Where to Stay:
We stayed at the Royal Sea Aquarium Resort, which, as its name implies is situated right next to Curacao Sea Aquarium. The kids loved watching dolphins frolic right from our balcony. With two bedrooms, a living room and a full kitchen, there was plenty of space for the whole family and the option of eating in on activity-packed days. The beach on the lagoon side of the hotel offers calm waters where the kids can kayak and snorkel with no worries. The on-premise restaurant offers beautiful views and friendly service, but if you feel like branching out, you can walk down the beach to nearby restaurants. There is a dive shop, Ocean Encounters, just across the bridge that can book snorkel and scuba trips. But, if you want to just hang around the resort, they offer a full line-up of activities for adults and kids alike.
More information: Curacao Tourist Board


on Twitter


on Facebook


on Google+