Thailand with Kids
With giant golden temples, monks wandering around in saffron robes, elephants, jungles and extraordinary beaches, Thailand offers exotic travel in a warm, welcoming atmosphere and kids will love it!
Bangkok: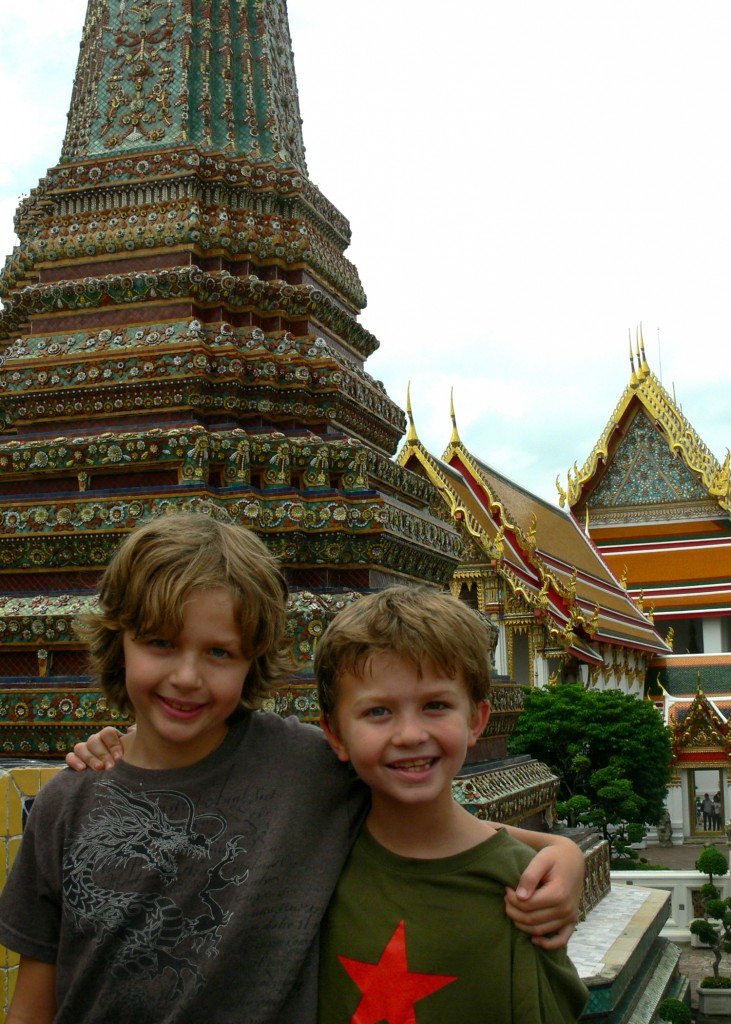 Situated in the Chao Phraya River Delta in Central Thailand, Bangkok is a huge city of over 10 million people and can seem a bit overwhelming at first. But, peel back the layers and Bangkok shows its true colors in the colorful temples, markets and kid-friendly attractions. Along with Ayutthaya, a palace complex to the north, Bangkok plays a big role in the history of Thailand. It was the capital of the Thonburi Kingdom and has all the magnificent historical sites to prove it.
Popular attractions in Bangkok include the Grand Palace and major Buddhist temple such as Wat Phra Kaew, Wat Arun and Wat Pho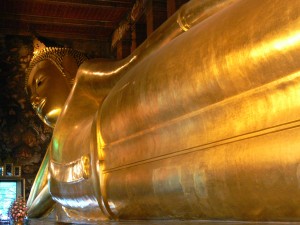 with its 125+ foot golden reclining Buddha. The intricately carved temples painted in bright colors and dotted with tons of golden buddhas will capture the kids' imagination. The Jim Thompson House also offers a great look at traditional Thai architecture and some of the silk prints for which Thailand is so famous.
The markets – especially along Khao San Road (which  is a famous backpacker's street and very carnival-esque, especially at night) and at Chatuchak Weekend Market, offer lots of fun. Also check out the Tailing Chan Floating Markets where visitors take boats through small canals to check out stalls selling everything from coconut cakes to carved masks and other handicrafts.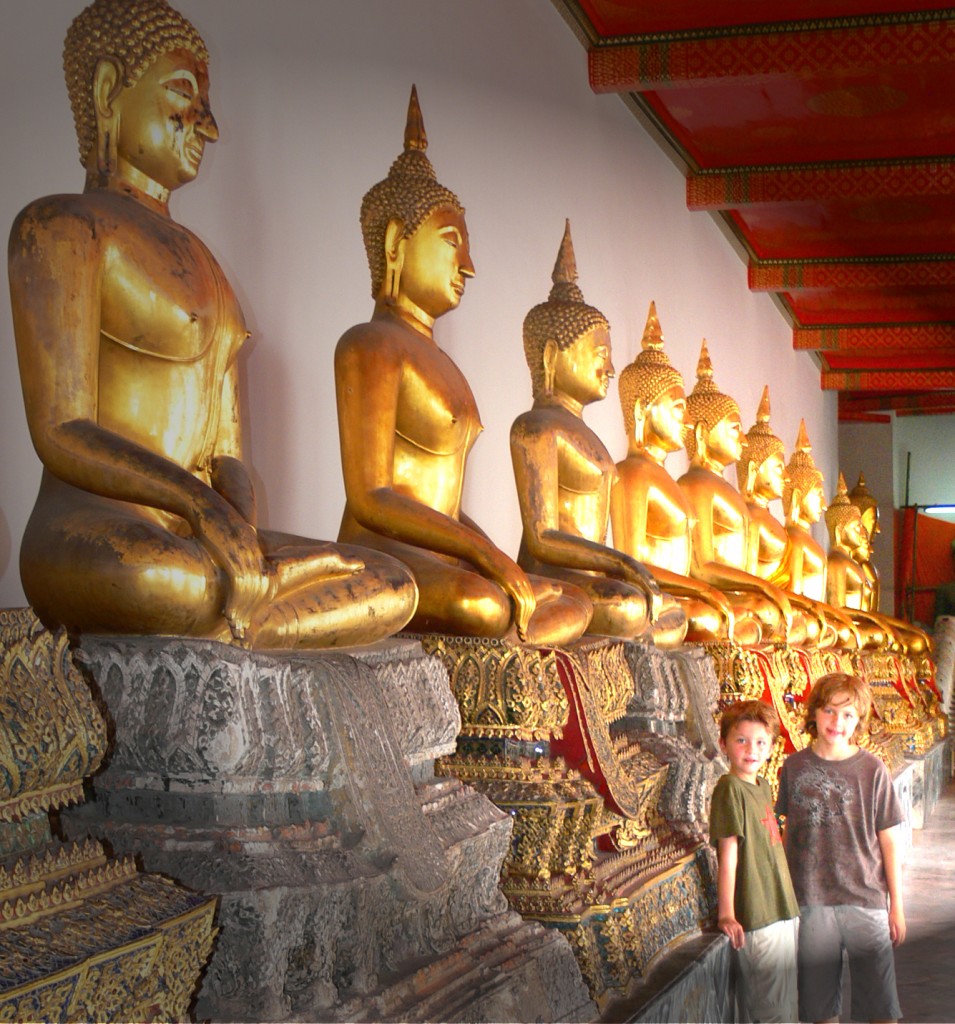 The many canals and rivers around Bangkok make boats a popular mode of transportation. You can take a tour or just take on of the water buses that ply the river. Kids will also enjoy taking a tuk-tuk – a three-wheeled open-air vehicle – through the Bangkok streets. Just be warned, Bangkok has notoriously heavy traffic!
Kids will also enjoy more modern attractions like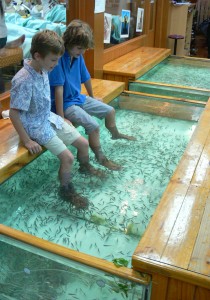 Siam Ocean World where they can take a fish spa (something available in lots of parts of Thailand) where fish eat dead skin from the feet of patrons.
Outside of Bangkok, Thailand offers wild jungles and beautiful beaches dotted with huge limestone karst formations. To the north of Bangkok, the jungles make for fantastic trekking and are home to elephants! Temple-filled towns like Chang Mai and Chang Rai are popular bases for trekking, volunteer projects, elephant conservation and more. To the south, tiny island like Koh Tao and Koh Phi Phi offer remote getaways while more popular tourist spots like Koh Samui and Phuket are so popular for their fabulous beaches, diving and fun atmospheres.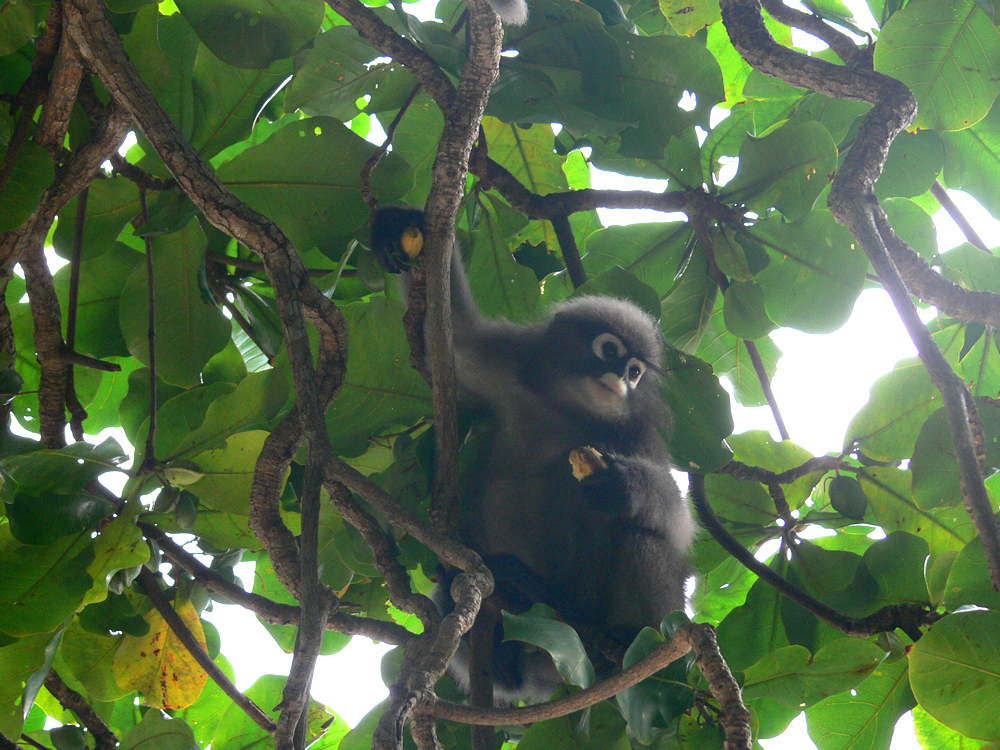 Jungles: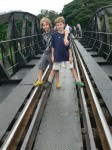 Although Chang Mai and Chang Rai are very popular jungle areas, the closest to Bangkok is Kachanaburi. Just northwest of Bankok, it is most famous for its bridge: The Bridge on the River Kwai. The book/movie is supposedly based on a bridge over Khwae Yai River near the town of Kachanaburi. Built as part of the Burma-Siam railway, by prisoners of war under Japanese supervision during World War II, this railway is also known as the Death Railway due to the massive loss of life of both prisoners and laborers who worked on it.
Ab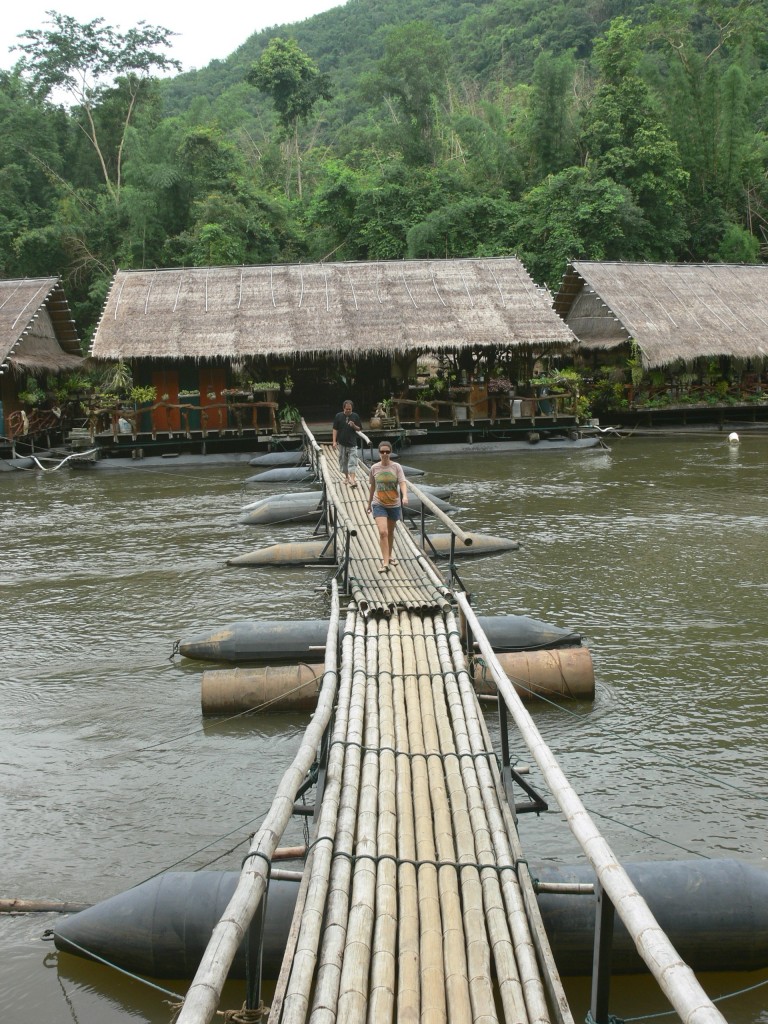 out 30 miles northwest of Kachanaburi town, up the Mae Nam Kwae Noi, lies the River Kwai Jungle Rafts Hotel, or Floatel. This eco-floating resort is snuggled along the banks of the river with walls of lush jungle on either side. The whole hotel floats above the river on pontoons and offers one of the most unique ways to experience the river here. The Mon heritage is reflected in the bamboo woven walls, wood furniture and gas lanterns hanging throughout the premises. Plus, at night local Mon people demonstrate beautiful traditional dance and music.
Follow the path into the jungle and you will find a Mon village as well as two famous residents, who sometimes bath right next to the bridge, elephants!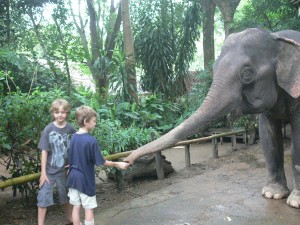 During the day, you can visit the elephants, take a boat up and down the river, hike or – one of our kids favorite activities – jump in the river at one end of the hotel and let the current sweep you to the other end and crawl out!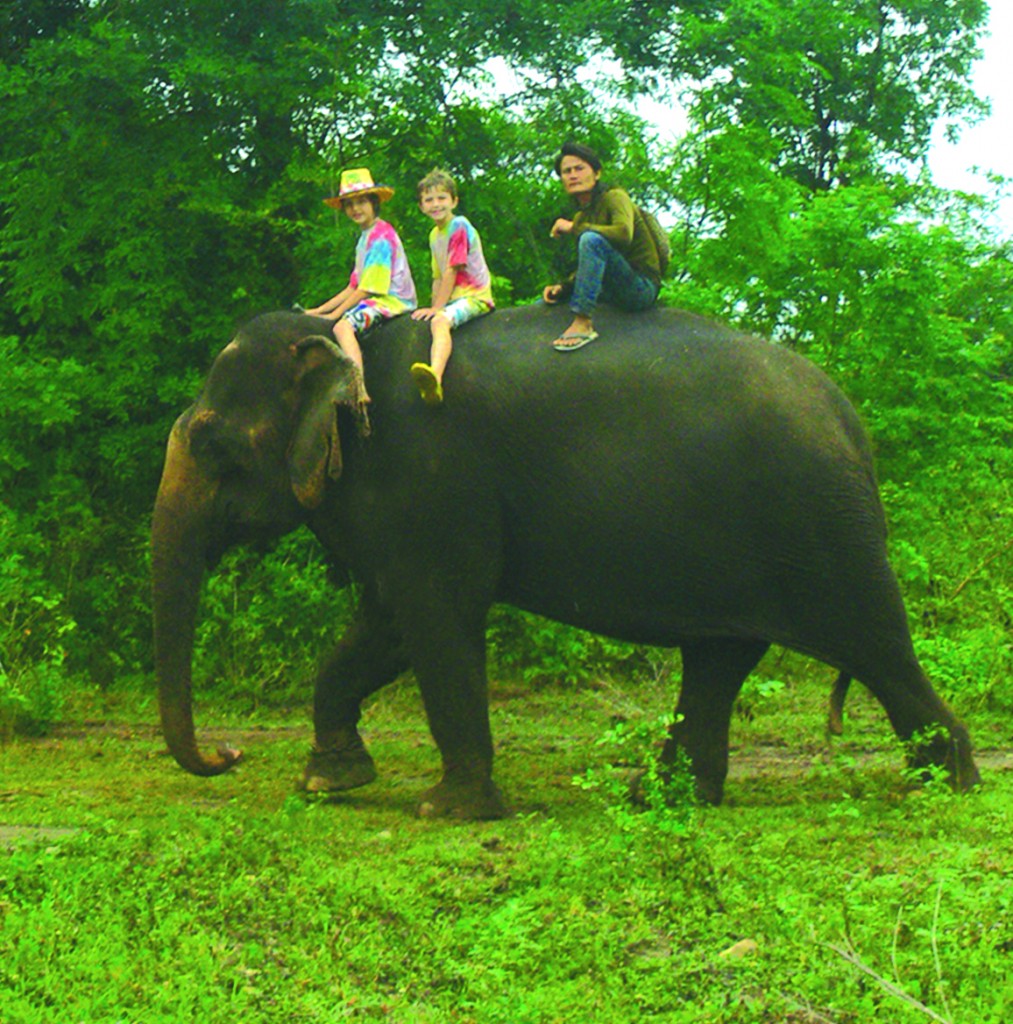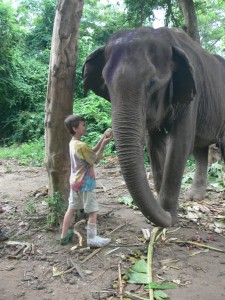 Head a bit northeast of the river and you will find ElephantsWorld.  Elephants are a revered animal here in Thailand and ElephantsWorld works to protect older and injured elephants. Often times in Thailand, elephants are used for work, or in the tourism industry for riding. Sometimes, the elephants are mistreated or used improperly by untrained individuals. ElephantsWorld takes those animals in and cares for them. Visitors to ElephantsWorld have the opportunity to help out. We stayed the night, so got to see a day in the life of one of their elephants. In the morning, we cut leaves and fruits for the animals and planted banana trees – elephants can eat over 500lbs of vegetation a day! We made sticky rice balls loaded with vitamins and fed it to the older elephants.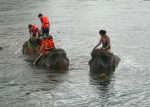 In the afternoon, we took the elephants to the river, rode them (without a heavy wooden saddle that is sometimes used in tourist resorts – we went bareback) in and gave them a scrub down. Later, we fed them squash and fruits and then rode them into the jungle where they sleep for the night. It was such an amazing experience…life-changing and highly recommended!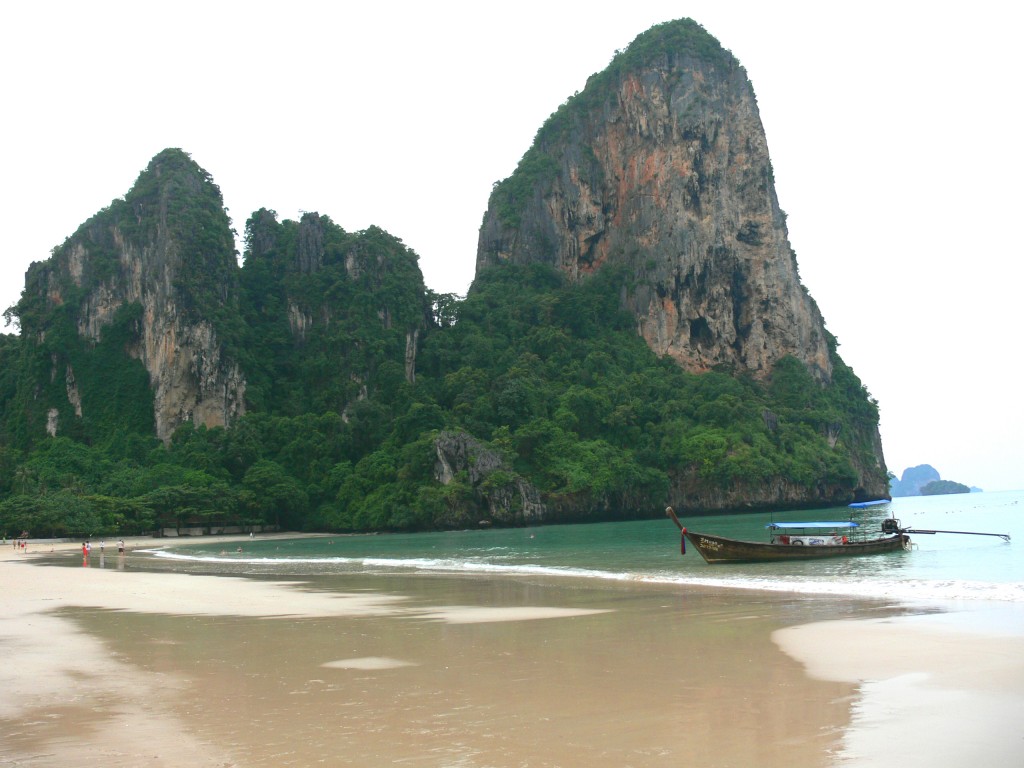 Beaches: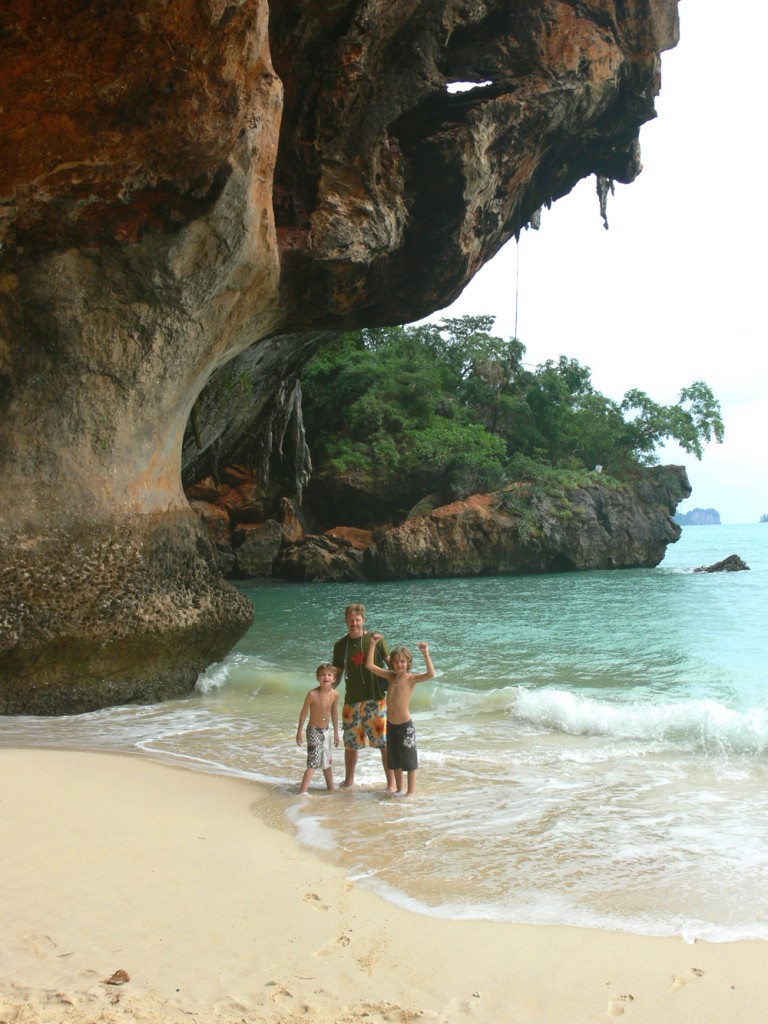 Thailand is famous for its white sand beaches, turquoise waters and especially its lumpy limestone rock formations that tower over the water. In the Gulf of Thailand, you won't find as much of the limestone formations, but you will find some amazing off-the-beaten path islands that scream Robinson Crusoe. Ko Samui, Ko Pha-Ngan and, to a lesser extent Ko Tao are popular getaways off the southeast coast. Ko Tao has few roads and excellent diving. Little beaches are tucked into coves along the coast and at low tide you can walk between them to explore. Ko Samui and Ko Pha-Ngan are much more built up.
Off the southwest coast, you will find the bulging limestone formations for which Thailand is famous. Ko Phi Phi is the most identifiable – near where they filmed The Beach. Phuket is a large and very touristed island in this area. There are huge resorts and beachfronts lined with bars and restaurants. Many people base themselves here to explore the area. Near Krabi, on the mainland, Railay beach and Ao Nang beach back up to each other to form a peninsula that offers an island-like experience that is a bit less crowded. We stayed at the 5-star Rayavadee Krabi, which was…well…5-star. Spacious villas overlooked lush gardens and white sand beaches.  The private cottages, some with their own pool, makes you feel like you are staying in a home – a very nice home – rather than a hotel.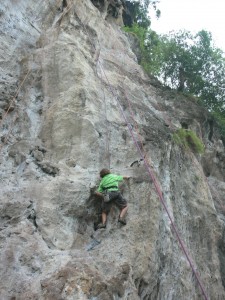 The kids loved climbing the rock wall next to the hotel (with ropes, helmets and other safety gear) – this area is very popular with rock climbers because of the big limestone formations – and hiking to a nearby cave. We also went scuba diving there and saw all kinds of colorful fish. In the evening, we could stroll Railay Beach to restaurants, bars and shops. And the kids loved sending their wishes away on a Thai paper lantern release.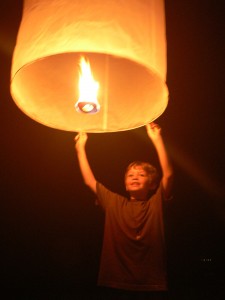 Getting There and Around:
Most large international carriers have flights into Bangkok. If you will be visiting more than one place in Asia, you may want to ask about a Circle the Pacific or Circle Asia ticket, which allows for multiple stops in different countries.
Thailand has a well established tourist transport system with regional flights, trains, buses and microbuses connecting most destinations. English is widely spoken and transport can be arranged by the many travel agents lining Khao San Road in Bangkok.
Where to Stay:
Navalai River Lodge, Bangkok – Nestled along the river and with a great view from the rooftop pool/deck, Navalai River Lodge offers a nice respite from the crowds of Bangkok while still offering easy access to public transportation and attractions. Rooms come with all the modern amenities and kids will love watching the koi fish in the lobby.
River Kwai Jungle Rafts Hotel, Kachanaburi – Floating atop the Mae Nam Kwae Noi river, this eco-hotel offers one of the most unique experiences around. The bamboo and wood architecture is reflective of the nearby Mon culture and kids will love jumping in the river and, of course, feeding the on-premise elephants!
Rayavadee Krabi, Krabi – Parents will love the spacious villas and bungalows at this resort and kids will love exploring the beaches and jungles surrounding it. First-class amenities are ample here and you will definitely feel pampered every step of the way.
Taa Toh Lagoon, Ko Tao – We stayed at this rustic resort before kids and loved it! It has wood and stone bungalows overlooking a beautiful bay, an on-premise dive school and restaurant (try the "No Name" chicken!) and more. Many people are there to learn to dive (open water dive courses only cost about $275), but others are there to just relax and hike, swim, snorkel, etc. While accommodations are simple, you can't beat the views or the price: A family bungalow on the ocean starts at $42/nt. Double rooms in simple wood bungalows go for $11/nt!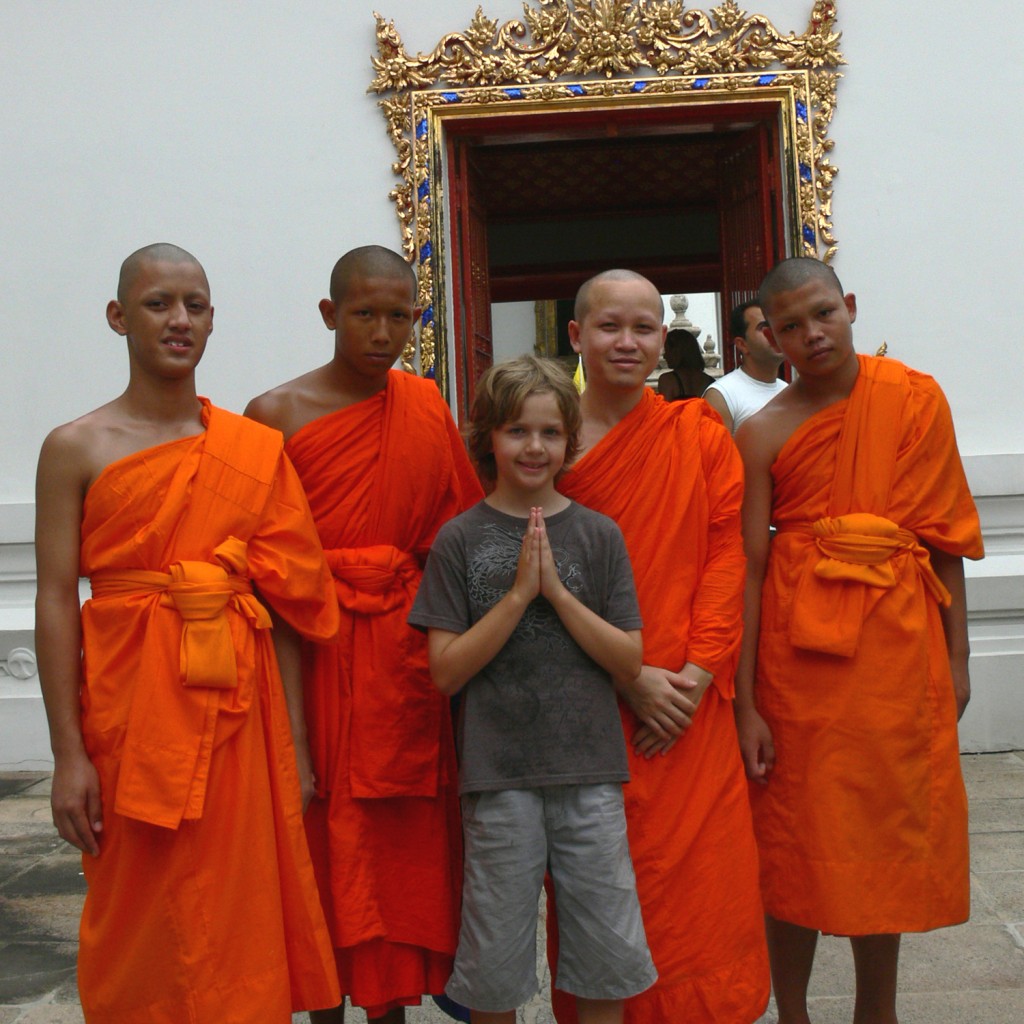 on Twitter


on Facebook


on Google+