South Africa with Kids
Located at the southern most point of Africa, South Africa offers visitors a unique combination of reflective history, wild nature, adventure activities and family-friendly fun. At approximately 1/4 the size of the U.S., South Africa is big and travel options are very diverse.
Safari:
Kruger National Park –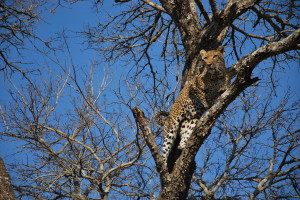 The best known of Africa's safari parks is Kruger National Park located in the northwest of the country. Kruger is huge and packed with animals and has options to suit all sorts of budgets. You can take self-drive safaris or stay at a full-service game lodge. One of the nice things about Kruger are the smaller individual reserves that border the park. They benefit from the proximity to Kruger (no fences separate many of these preserves from Kruger), but they can offer unique options on wildlife viewing.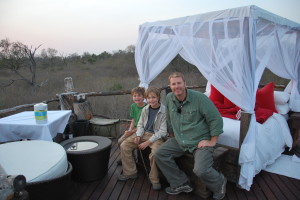 We stayed at Lion Sands Game Reserve, and saw lots of animal interaction including lions with cubs, lions treeing a leopard (he got away), rhinos fighting for territory and much more. We also stayed one night in a very unique offering they had: a tree house in the middle of the bush. They dropped us off to a very elegantly decorated platform in the bush. They fixed us dinner, lit our lanterns, then they left. We did have a radio for emergencies. That night was extraordinary: we heard impalas scaring, saw a hyena walk by just below us (about 25 feet below us) and witnessed an amazing sunrise.
Madikwe Game Reserve –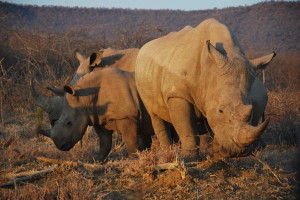 About 4 hours northeast of Johannesburg, Madikwe Game Reserve is a much newer game reserve than Kruger. One definite bonus for families is that Kruger is malaria free (although if you travel during South Africa's winter, which is North American summer, this is not as big of a concern). The park is much smaller than Kruger (think about 1/50 of the size), but still has lots of animals. While we didn't see leopards there or as many lions, we did get to see a lion with its dinner, lots of elephants and rhinos, wild dogs, wart hogs, giraffes and much more.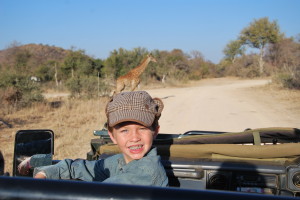 We actually had an elephant tromping through the bush near our balcony at Madikwe Safari Lodge while we lounged near the small pool. The lodge also has a great program for kids with an on-premise eco-lodge and kids activities like learning to make snares and shoot sling shots.
Isimangaliso Wetlands Park –
Located north of Durban on South Africa's southeast coast, Isimangaliso (also known as St. Lucia Wetland Park) is a great place to do a self-drive safari. We saw warthogs, rhinos, kudu, and more from the comfort and flexibility of our own car. It's also a great area to see hippos, which we saw plenty of by boat from St. Lucia. In St. Lucia, we also got to trek around a town of locals and really immerse in Zulu culture.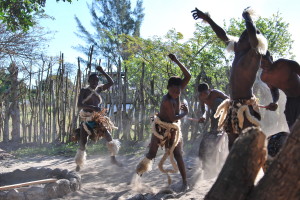 The boys got to meet a group of boys learning traditional Zulu dances, and later hang out on the river's edge (after their lessons were done) with them keeping a careful eye out for crocodiles and hippos of course!
We booked our trip, including both safaris, with DSA Vacations. They were very knowledgeable about South Africa (owner Terry was born and raised there) and understood the special needs of families traveling there (owner Terry also takes his own children back every year). For more tips on a family safari in Africa, click here.
Johannesburg:
We flew into Johannesburg and although there is not much for tourists in the city, there are sites to see nearby making it a great place to get over jet lag. We stayed at Sandton Sun, which was nice because it had a huge mall for quick forays when recovering from jet lag, but was also close to more African sites. J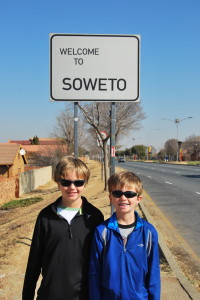 ohannesburg has witnessed much change over the past century and visitors can learn about this somewhat turbulent history first hand with a visit to Soweto (South Western Townships). We booked through Tour D'Afrique and our guide was fabulous. He lived much of the history of the school children uprising in Soweto and took us through the town now, showing us important sites like Regina Mundi church, Hector Pietersen Museum, Nelson Mandela House and more.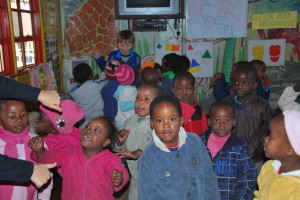 He also took us through the temporary settlement of Kliptown with a local teenager giving us the rundown on life there – a tour that has had a profound effect on our kids and motivated them to help raise money and awareness for kids in poverty. Going back farther in time, the Cradle of Humankind offers visitors a look at some of the earliest humans which were discovered here.
Cape Town: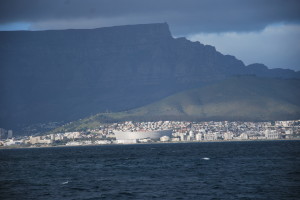 With its clapboard beach houses and quaint parks, Cape Town is worlds away from Johannesburg. Its waterfront setting gives the place a beach town feel even though it is a big city. And there is still a lot of history as well as nearby nature and adventure activities. We stayed near the harbor at the Southern Sun Waterfront Cape Town. We could see world-famous landmark Table Mountain from our window (we later took a tram to the top for panoramic views of the coast). The number one historical attraction is Robben Island where Nelson Mandela was imprisoned for almost 30 years. Take a ferry from Albert and Victoria Waterfront (which is a harbor mall area with lots of cool shops and eats) to the island (about 45 minutes) and tour the cells with a guide who was once an inmate here. We learned lots from the guide who had first-hand knowledge of life in the prison.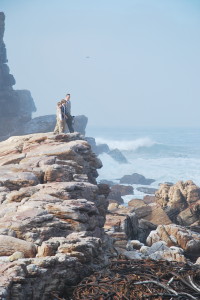 South of Cape Town lies the Cape of Good Hope, the most southwesterly point of Africa. Cape of Good Hope hosts a colony of very frisky, somewhat rambunctious (and can be aggressive) baboons that are fun to watch along the road as well as a colony of African Penguins who waddle and honk just feet from you on Boulders Beach.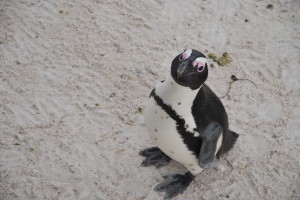 At the tip of the Cape pose for a picture at the most southwesterly point and watch as two oceans collide (actually happens nearby but the effect even here is marvelous).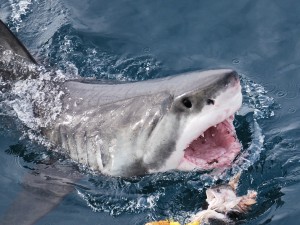 In addition to penguins, the waters around Cape Town are known for another endangered species, the great white shark. Shark cage diving is a very popular activity around here and sees guests from 4 to 84. We went out of nearby Gansbaii with Marine Dynamics and it was a blast…something the kids still gush about! I have to admit I was a bit nervous at first…Was this family-friendly? But, our guide assured us these would not be the youngest patrons he had taken out and it was all very safe (in fact, he said you are less likely to be killed by a great white shark bite than by a falling coconut!)

So, we climbed down in the cage (which was securely fastened to the side of the boat) and it was AMAZING! The sharks glided past the cage seemingly as curious about us as we were about them. Some were huge and some were small, all were graceful. We actually decided to stay near Gansbaii at Grootbos Private Nature Reserve so we had time to soak in the beautiful coastline here. We saw whales, explored caves, went horseback riding and learned about Grootbos' amazing farming project for local women to learn to grow and market their own food.
Another fun and adventurous activity near Cape Town lies north of town in the sand dunes where families can take to the slopes Africa-style and go sand boarding. We headed out with Downhill Adventures who have us a great overview of the natural history of the dunes and the importance of conservation before strapping on boards and sliding down the dunes. The kids had so much fun and said it was much easier then skiing or snow boarding.
SEE THE FULL HALF-HOUR EPISODE AS SEEN ON PBS, HULU, ITUNES AND AMAZON
Durban: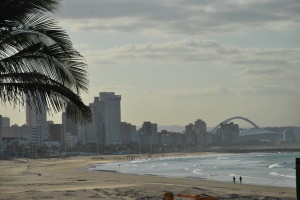 Located along the south coast, Durban has a sizeable Indian population giving it a much different feel from the rest of South Africa's big cities. It's modern and cosmopolitan here. The kids enjoyed the vast waterfront boardwalk with skateboard ramps, carnival rides and water parks. Our room at Southern Sun Elangeni & Maharani overlooked the boardwalk so we could watch the activities well into the evening and join when we felt like it.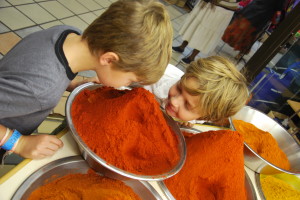 The whole family loved the crazy market with the smell of curry and other spices wafting down aisles packed with goods from African masks to Indian saris to mixers and speakers. And, Seamus (our younger one) became a fan of Indian food!
Oudtshoorn: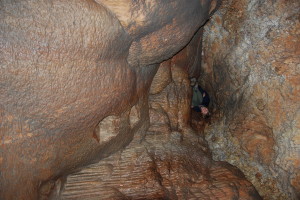 Located east of Capetown and north of the Garden Route, Oudtshoorn hosts lots of history and lots of family fun. Known for its large ostrich population, and the ostrich farms which drew settlers here in 1800s, Oudtshoorn offers more than just feather fluff (although you can get wing to arm with ostriches at one of the many farms here). While we enjoyed lounging in the beautiful gardens of our hotel, Rosenhof Country House, there were so many kid-friendly things to do we had to get up and going!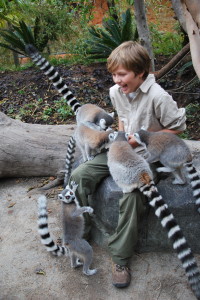 One of the kids favorite activities is Cango Caves – 2 mile cave system of which visitors can climb, squeeze, shimmy, and leap about 1/2 a mile of. From tiny corridors and tight-squeezes to massive cathedral-like openings, the caves rock formations are incredible. If you are claustrophobic, you may want to choose the regular tour instead of the adventure tour – there are spaces about the size of car window you have to crawl through on the latter one. Just down the street, Cango Wildlife Ranch offers families a good look at African animals like big cats, birds, monkeys and more. The kids loved the cheetah encounter (you have to be over 50″ tall for this one so they don't consider you prey) and Lemur Island where lemurs crawled and pranced on them. Another cool encounter takes place in the wild plains outside Outdtshoorn where visitors can meet meerkats. It was amazing seeing these shy creatures emerge from their dens in the morning and watch how they interact together.
Garden Route:
If you really want to go where South Africans go on vacation, you've got to hit the Garden Coast. East of Cape Town stretching from Mossel Bay to Jeffrey's Bay on the south coast, the Garden Route offers scenic vistas from flower-covered hills to dramatic sea cliffs dotted by charming towns and a much-less touristy feel. We stayed at Plett Bay, about smack in the middle of the Garden Route and enjoyed lots of family-friendly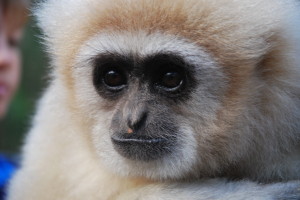 activities including encounters with monkeys at Monkeyland Primate Sanctuary and birds at Birds of Eden next door. The kids loved learning about and helping to care for elephants at the Elephant Sanctuary in Plett Bay and getting to know cats at Tenikwa Wildlife Awareness and Rehabilitation Center. They even got to take a serval cat for its walk (on a leash – it was recovering from a broken hip).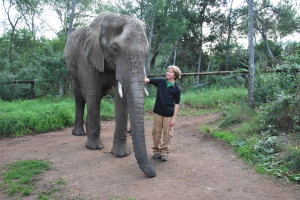 Resources:
DSA Vacations: Very knowledgeable about South Africa and family travel
Family Safari Travel Tips: http://www.travelwithkids.tv/top-10-tips-for-safari-with-kids/
Recommended Reading:
Long Walk to Freedom: Autobiography of Nelson Mandela
DK Biography: Nelson Mandela (kids)
No Future Without Forgiveness by Desmond Tutu
Biko by Donald Woods
Cry, the Beloved Country by Alan Paton
The Power of One: The Novel by Bryce Courtenay
The Last Train to Zona Verde by Paul Theroux
Recommended Viewing:
Long Walk to Freedom
Invictus
Cry Freedom


on Twitter


on Facebook


on Google+