Travel With Kids California
With wide beaches, lots of amusement parks and outdoor activities galore, California is a great vacation destination for families. From the sun-soaked surfer lifestyle of Southern California to the family-friendly amusement parks of Disneyland and beyond to the artistic vibe of San Francisco in the north, California has a wide range of style.
Things to do with kids in Los Angeles: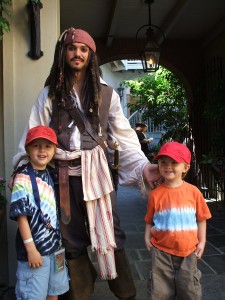 The biggest family destination in California has to be Disneyland and its newer sibling California Adventure. The original park maintains a vintage charm and attention to detail that will always set it apart. The little ones will love riding Peter Pan and Dumbo in Fantasyland…and it's a small world is fun for the whole family. Our boys loved riding Pirates of the Caribbean and Indiana Jones. Buy a park hopper pass, and gain access to California Adventure just across Downtown Disney. Don't miss Soaring Over California and the adrenaline pumping California Screaming roller coaster and Tower of Terror. Older kids may enjoy the bigger roller coasters of Knotts Berry Farm or Magic Mountain.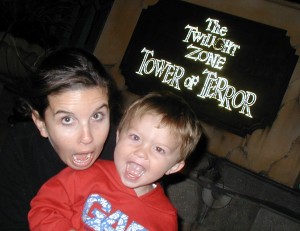 Beyond the amusement parks, kids will love finding their favorite stars on the Hollywood Walk of Fame. At Grauman's Chinese Theatre, our boys had a blast stepping in the footprints of their favorite actors. Look for Harry Potter's wand and R2D2's footprints!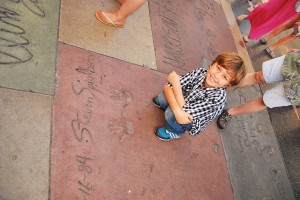 At the Hollywood Museum, the boys were thrilled to find costumes and props from some of their favorite films. They even got to hold an Oscar. Also in Hollywood, be sure to stop to eat where the stars do at Pink's Hot Dogs. The kids loved building their own hot dogs – although Pink's has a list of great combos, many of which were created by famous actors. Look for Nathan and Seamus' pictures on the Wall of Fame!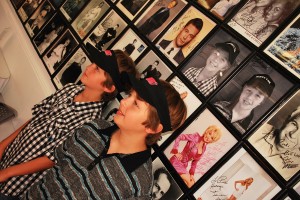 Movie magic comes to life at Universal Studios where our kids loved the Jurassic Park ride, The Mummy and the Simpsons ride. The back lot tour is fun for the whole family – it's amazing going from London to New York City to a western town in just a couple of blocks. Universal Studios also has some super shows featuring special effects and animal actors. And kids will love meeting all the costumed actors walking around!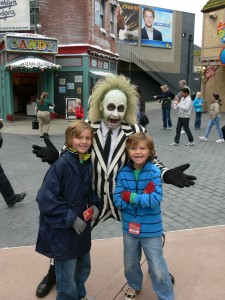 Kids will also love the California Science Center, which hosts an aquarium, lots of hands-on activities and is home to the Space Shuttle Endeavor. Want to learn more about Los Angeles natural science – learn the history of the earth here at La Brea Tar Pits where tar still bubbles up from the ground and scientists are constantly finding new fossils from Ice Age type animals like sabertooth tigers!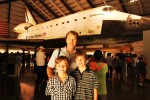 Out on the coast, Venice and Hermosa offer lively surf scene and Santa Monica Pier has a fun, mini-amusement park complete with old-fashioned wooden roller coaster and arcade games.
Things to do with kids in San Diego: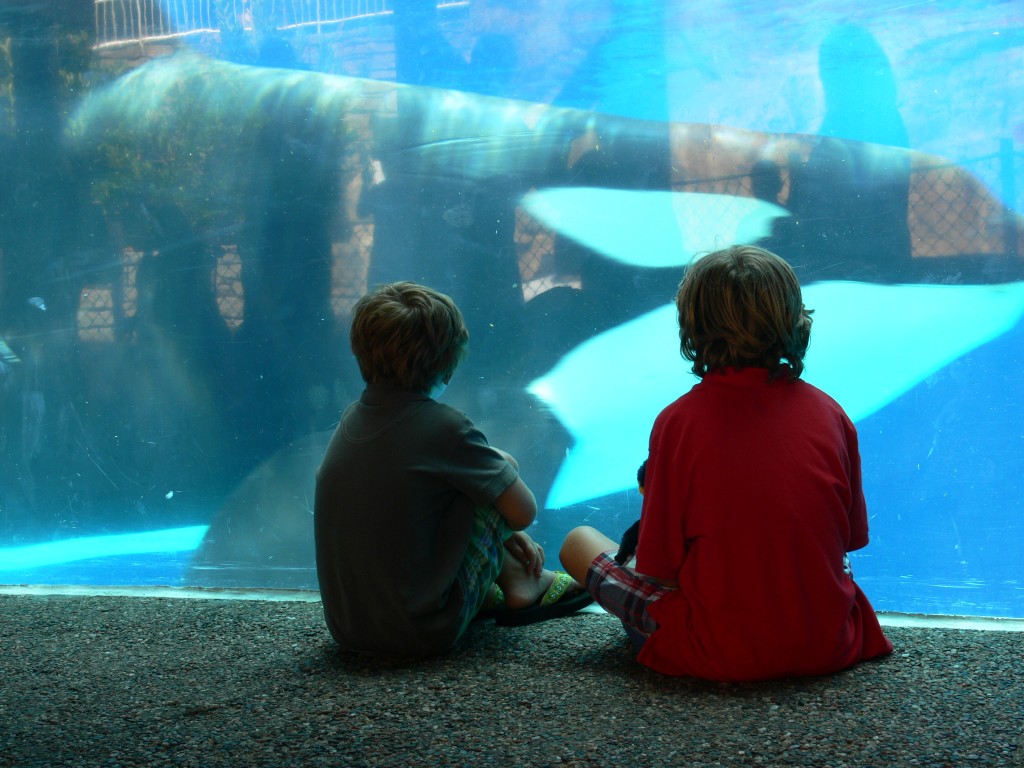 San Diego is a fabulous family destination. It's smaller than L.A. so it's much easier to get around to all the fun family activities. SeaWorld is one of the biggest family attractions in San Diego. Kids will love all the animal shows including dolphins, sea lions, walruses, and of course, Shamu the orca whale. Our boys loved feeding and petting sting rays and dolphins and crawling through ice caves in the beluga whale and polar bear exhibit.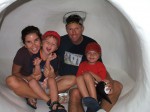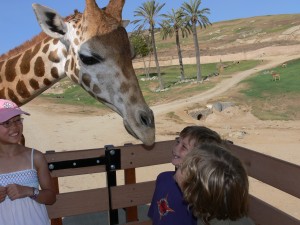 Another fun family animal outing is the world famous San Diego Zoo. Take a tram or sky ride over the zoo or a private golf cart tour with a zoo keeper to see the thousands of animals on the almost 100 acres. The pandas were a hit with our kids along with the hippos. The San Diego Zoo is in Balboa Park which has great walking and cycling paths and lots of fun museums like the Reuben H. Fleet Science Center, the San Diego Air & Space Museum, the San Diego Automotive Museum and the Museum of Man. You can make a whole day just strolling through the park with stops at your favorite museums. Also operated by San Diego Zoo, the boys also had a ball at San Diego Wild Animal Park. We took a photo safari. In an open air jeep, we bumped across open savanna spotting rhinos, ostriches, antelope, zebra and – the kids favorite part – we got to hand-feed the giraffes!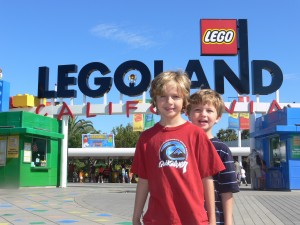 Another fun amusement park for kids in San Diego is Legoland. Although the rides aren't as fast and furious as at some of Los Angeles' theme parks – many of them are kid-powered, which means you pedal or do something to make the ride move – kids have a blast. Kids of all ages will love seeing the huge Lego buildings and watching master builders at work. Look for Nathan and Seamus playing volleyball in Lego City – they made "Nathan" and "Seamus" people last time we were there! Attached to Legoland is another of San Diego's  fun family attractions – SeaLife Aquarium. The tanks hold lots of different animals ranging from sharks to jellyfish to clownfish with great descriptions and facts, and they had a fun game for the kids to play relating to the facts at each tank. The kids loved all the Lego structures in each tank too!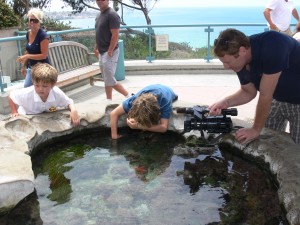 Out on the coast, Scripps Aquarium is a family must-do. With tons of tanks and touch pools, the kids will love learning about the marine life. Try to plan around one of the diver talks where a scuba diver actually answers questions from the tank while he feeds the animals. Nearby, in La Jolla Cove, families can discover marine life on their own, by snorkeling. The water here is super clear and there is lots of life in the rocks and kelp beds. More adventurous families, can kayak out to snorkel with lemon sharks.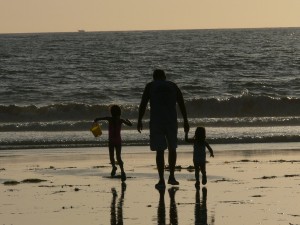 San Diego is lined with amazing beaches. Mission Beach is always packed and the scene along the boardwalk makes for excellent people watching. Surfing is great all along here, but especially up near Pacific Beach. There are surfboard rental places and surfing schools readily available. Bike rental shops also abound and you will see lots of kids biking, skating, and riding scooters along the boardwalk – many heading to Belmont Park, which has a huge wood roller coaster, arcade games and fun rides as well as a Flowrider for those wanting to surf without the ocean.
The most family-friendly San Diego beach is probably Coronado Island's beaches, and the town is perfect for families. Our kids had a blast searching for signs of Hotel Del Coronado's famous ghost after we had burgers on the deck overlooking the ocean. The beach along here is wide, perfect for building sand castles and frequented by families. In town, Orange Boulevard is packed with restaurants with outdoor patios and unique shops. Don't miss Moo Time Creamery where kids can make up their own ice cream flavors with unique mix-ins. Also popular for families on Coronado Island is renting a four wheel bike for a tour of the island. You can also rent these in San Diego harbor near Sea Point Village, which has fun, quirky shops. The harbor has some great maritime museums.
Things to do with kids in San Francisco:
Built on a hilly peninsula jutting out into a bay, San Francisco has a unique and colorful atmosphere. Take ride down the crooked street in the world. Kids love taking the trolley around town as well.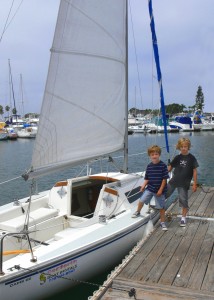 Fisherman's Wharf offers lots of fun things for families to do. At Pier 39, kids will have fun on rides like the carousel and  the 7-D Experience. Keep an eye out for the sea lions that sun themselves on the docks. Or, little marine biologists will love the Aquarium of the Bay and its 20,000 sea creatures. Kids especially love the tunnel through a tank. Hyde Street Pier hosts San Francisco Maritime National Park. Little aviators will love exploring all the ships docked there including the historic 250-foot long Balclutha. Across the bay, the Alcatraz Island calls visitors for a short stay. Take a ferry from Fisherman's Wharf for a tour of the world famous prison, including exploring the cells. Or head over too Angel Island for some hiking. Or, take a ferry over to Sausalito for some lunch and shopping. Boat tours also leave here for a tour of the bay including going under the Golden Gate Bridge on speed boats and sail boats. It's also fun to ride bikes or take the open top bus across the Golden Gate Bridge.
Nearby, Ghiradelli Square offers sweet savorings! Although the chocolate factory is not here anymore, the sweets store and ice cream store are sure to garner screams of delight from the little ones. Or, take the cable car from there to the original Swenson's Ice Cream. For more adventurous eaters, head to Chinatown for some of most amazing dim sum you have ever tried. Our kids love dim sum because they get to pick what they want from the trolleys that roll by.
On a sunny day, check out Golden Gate park. It's huge grassy expanse is home to a wide array of museums and attractions. Little kids will love riding the carousel in Koret Children's Quarter – one of the oldest playgrounds in the world…and still lots of fun! On a rainy day, head to the California Academy of Sciences for a tour back in time. The museum offers interactive exhibits great for kids. Don;t miss the soaring rain forest and coral reef exhibits. Another option for a rainy day is the very hands-on, do-touch Exploratorium, which houses over 600 exhibits on topics ranging from weather to electricity to natural sciences. Kids love the shadow room and the tactile room.


on Twitter


on Facebook


on Google+