Castaway and Loving It!
In the movie "Castaway" with Tom Hanks, we focus on his struggle to survive not only nature but his own thoughts and desires. The incredible scenery of the backdrop, Monuriki, part of Fiji's Mamanuca group, fades to the background, as we watch his demise and root for his rescue. But Monuriki, and nearby Qalito Island, home of Castaway Island Fiji resort, is one place I wouldn't mind being ship wrecked!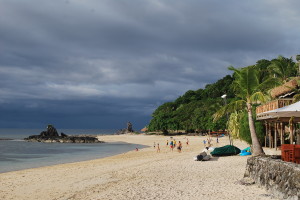 Located about 10 miles from Fiji's main island of Viti Levu, Castaway Island Fiji feels like a remote outpost in the South Pacific. But with 66 spacious bures (bungalows) scattered along a picture perfect white sand beach and through the lush jungle beyond, three gourmet restaurants, two pools, and plenty of water sports and activities to entertain the whole family, you definitely will not be skimping on amenities like Tom Hanks' character.
We took a South Sea Cruises transfer out to the island, which gave us a chance to view a couple of other Mamanuca Islands along the way. It took about an hour and a half to reach Castaway Island, but with the fresh sea breezes and Captain's Lounge services, it felt like just a few minutes. We were met on the beach by about ten staff members and half the child guests singing and playing guitar and shouting "Bula!" (Hello in Fiji). And quickly adjusted to life on a small deserted island…eat, snorkel, hammock, swim, sleep, eat…repeat.
Day 1
We arrived about 11am and had a quick lunch before hopping into the water to check out the clam and coral re-population projects operated by Mamanuca Environment Society, an organization chaired by Geoffrey Shaw, Castaway Island's Managing Director. They took us on a snorkel tour of their work and the scenery was incredible! Their giant clam and coral cages, which protect these delicate animals in key growth stages, are tucked into huge stands of corals in colors across the rainbow and shapes straight from a Dr. Seuss book. We watched a shy eel peek its head from a cave and several sting rays glide past. After snorkeling, it was time to stroll the beach and swing in the hammock as the kids engaged in a rowdy game of rugby.
Day 2
After the kids' pick-up game of beach rugby, they gained a new found interest in the sport, so we headed to the nearby village of Solevu on Malolo Island to watch a rugby game between village and resort teams.  To respect Fijian culture in the small village, we dressed in traditional sulus (large swaths of material wrapped around your waist like a sarong) and offered a gift to the chief's representatives and participated in welcome ceremony where we drank kava (a root smashed and sieved with water to make a drink that numbs your tongue – and your brain if you have too much of it). After the ceremony, we were led to the chief's royal ceremonial bure to learn some island history and invited to stroll the village at our leisure – a privilege not offered to all outsiders. After that, we watched as the teams leapt, dove, tackled, ran, kicked and generally pounded each other for control of the ball. Back at the resort it was swim time, beach time and hammock time followed by dinner at Sundowner where gourmet pizzas are cooked in a wood-fired oven and topped with unique blends of ingredients – the Indian pizza was a big hit with cashews, tandoori chicken, lentils, and more.
Day 3
Castaway Island conjures images of Tom Hanks' habitat in the movie "Castaway", and rightfully so as the island on which it was filmed is just a couple of waves away. So, we joined Executive Chef Lance Seeto, a friend and another family we met, 3 Aussies, for a lobster picnic on the beach. The views above and below the water were amazing and the boys loved exploring the island and pointing out spots from the movie (we had watched it just before our trip). They especially enjoyed holding "Wilson" (his stand-in anyway) and posing in front of "Help Me" written in coconuts (the local "boys" have kept it straightened up since the movie). In the water we hung out watching two cuttlefish who seemed content watching us right back. And then we tucked into scrumptious lobster and prawn with fantastic homemade tartar sauce, salad, fresh fruits and more…a delectable day for sure! Back on our own beach, we finished the day kayaking and searching for crabs.
Back on Castaway Island, Chef Lance showed the boys traditional methods to shred a coconut and make coconut milk to create Kokoda, which is similar to ceviche, but uses tropical fruits and coconut milk.
That evening we dined at "1808" where Seeto served up course after course of his own style of gourmet delights perfectly blending Fijian and Asian methods and tastes and featuring local organic produce, freshly caught fish and hormone-free meat.
Day 4
On our final day at Castaway Island Fiji, we headed back to the village of Solevu to visit the school where the rugby tournament was held. The school had over 100 students ranging from Kindergarten to Class 8. Our boys had fun meeting all the students, writing on the chalkboards, playing school, and most of all…of course…at recess where the "Kindies" showed their rugby prowess by tackling our kids who easily doubled them in height and weight.  As we left, the Class 7 and 8 kids showed off a different talent by singing with precision harmony. We spent the rest of the day on perfect island time…eat, snorkel, hammock, swim, sleep, eat…repeat. Too bad Tom Hanks didn't swim over here from Monuriki (although he did visit during filming we're told!). Ahh…paradise!
To get there:
Fly Air Pacific (soon to be Fiji Airways) Fiji's international airline (www.airpacific.com or 1-800-227-4446) from Australia (Sydney, Melbourne and Brisbane), New Zealand (Auckland and Christchurch), United States (Honolulu and Los Angeles), Hong Kong and some Pacific Islands.


on Twitter


on Facebook


on Google+