Family Camp: Bonding Beneath the Waves in Honduras
Once a popular vacation for families in the '50s and '60s and revived by camp movies in the '80s, family camps are seeing a renewed interest. In film, the camps are filled with parents learning to merengue while daughters dance in the talent show ("No one puts Baby in a corner") or kids running wild and playing pranks (think National Lampoon), and everyone making memories, and friendships, to last a lifetime. Being deprived of a childhood camp experience myself (my brothers got to go and I didn't…still holding it against them), I thought it was more than time I check out this long-lasting summer tradition and this year I found the perfect camp for our family: Kids Sea Camp.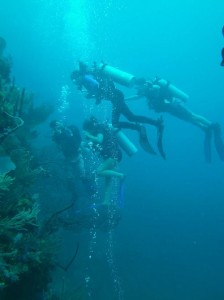 Established and still run by Margo Peyton 17 years ago, Kids Sea Camp offers families the chance to explore the ocean together through scuba diving. The camp offers scuba groups for all levels, certified or not, as well as other family-friendly activities…the kind that build memories for a lifetime. I was sold. But where to go? Kids Sea Camp hosts camps in about a dozen locations in the U.S., Caribbean and South Pacific, but one caught my eye. The Bay Islands in Honduras have long been a draw for adventure travelers and backpackers and long been on my list of places to go. So, we scheduled Kids Sea Camp Utila.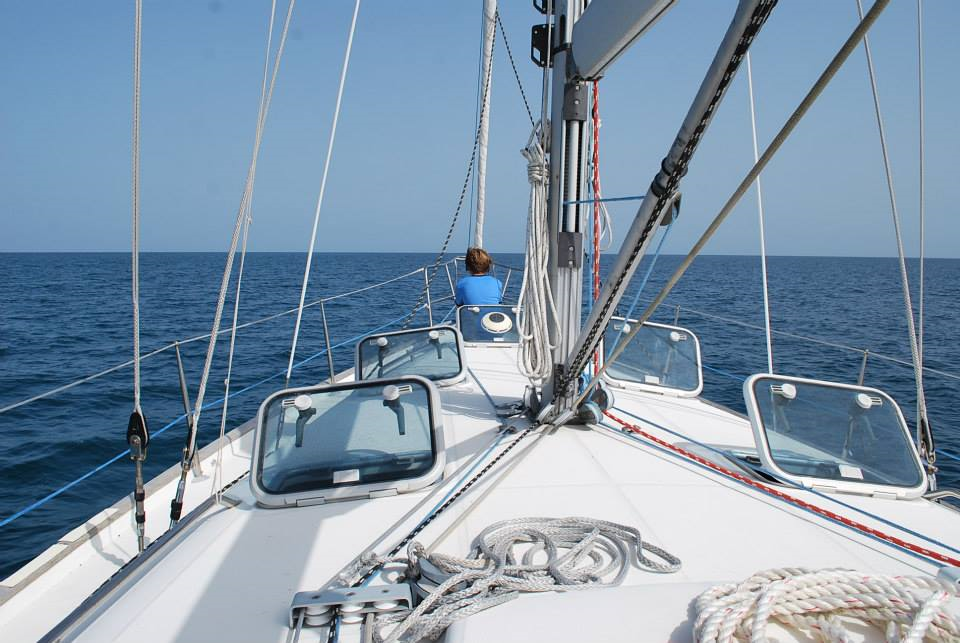 We arrived by overnight sailboat from Belize where we had been filming, feeling much like Jack Sparrow clinging to the mast as we cut silently across the water to an old wooden dock in Utila harbor. Most of the other families would be coming in by air from the mainland as part of their Kids Sea Camp package, but because we were filming nearby we decided to find our own transport to the island and what an adventure it turned out to be! We departed about noon and the kids played pirates on the foredeck of our 41′ sailboat for awhile. We ate lunch with flying fish jumping from the waters around us and just before an amazing sunset, we were joined by dolphins, who played in the water by our bow. Seamus and I slept on the deck, our closing eyes not much darker than the skies above (without the powdered milk look of the Milky Way of course). The morning light had us up early along with more dolphins to accompany us to the island, which was already on the horizon. Our captain had not been to Utila before, so he waved another sailor over and asked "directions" in through the coral.
The smallest of the major Bay Islands, Utila is flatter and has a laid-back feel. There are not many cars on the island, most of the transportation is by golf cart or ATV. We were met in town by Laguna Beach Resort who took us by boat to their resort. On the tip of a long peninsula, the resort feels like its own deserted island – with the added benefit of modern comforts and excellent service – but its just minutes from the main town on the island. Laguna Beach Resort, run by the welcoming Bodden family, is a wonderland for kids, tourists and travelers. With coral reefs just minutes away, a pool, restaurant, overwater bungalows and extensive dive shop facilities. The lagoon itself is packed with exotic sea life. We were met by Coco the dog who followed us to our room and became a pet to our kids. Each cottage has its own dock reaching out over the white sand and calm waters of the lagoon. The kids loved watching fish and rays right below the dock. We loved watching the sun change the mangroves and lagoon waters to a pale shade of orange every evening.
Day One, Kids Sea Camp did an orientation where all the families got to meet each other. Kids were separated into groups by experience level. Then, we were fitted for gear – which was kept in our cubby right on the dock making for easy organization – and assigned a boat (one for adults, one for teens, one for 10-12 year-olds). The kids who were getting certified for the first time (and the younger kids doing Seal Team and Bubblemaker courses) hung back at the pool to master their skills and when they completed could join the younger kids' boat.
The kids had so much fun stretching their independent sea-legs (under close supervision of course) and competing with adults for what they saw on their dives and songs to sing as we made our way back to the dock. And there was a lot to see!
The corals around Utila are fabulous with huge canyons and coral heads in a vast variety of shapes and colors.  Creatures range from tiny Flamingo Tongue Snails inching along fan corals to well-hidden sea horses to huge Eagle Rays gliding near the drop-off to pilot whales and (the week before we got there) whale sharks (Sing along if you went to Kids Sea Camp: Yellow whale shark!)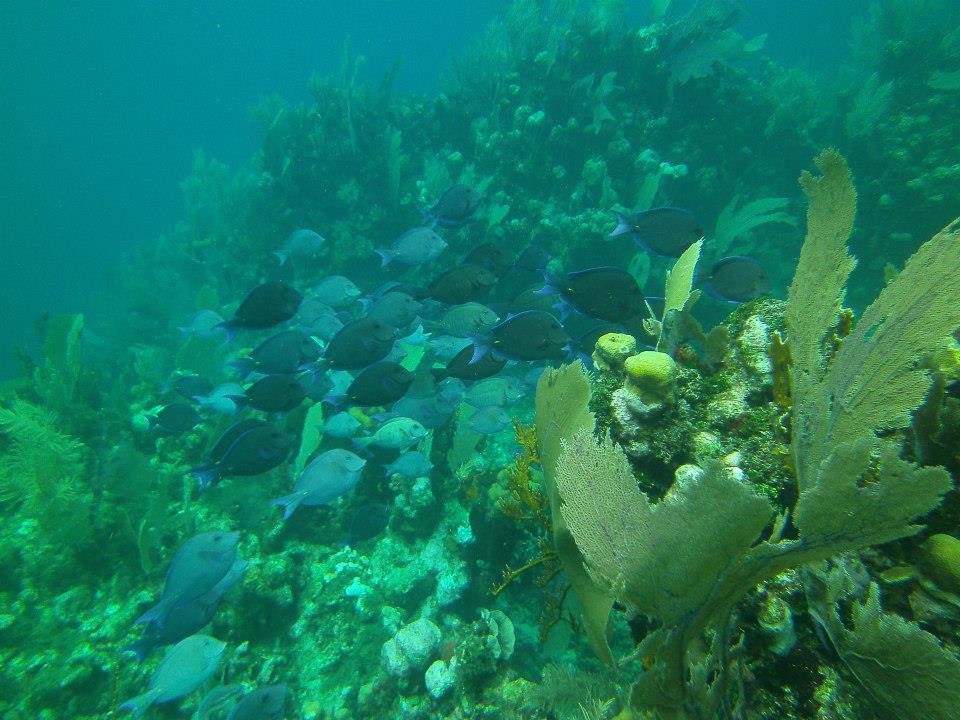 Each afternoon the resort offered fun land activities like horseback riding, ATV rides, nature walks and town visits (one of the favorites was a day on board the resort's luxury live-aboard yacht the Caribbean Pearl II) or you could opt for the family dive. I loved watching the kids underwater. Seeing their eyes pop behind the shroud of their masks as they discover a little animal or taught me tricks underwater (scuba karate moves and underwater gymnastics were a hit on the kids' boat dives), filled my heart with joy. Every dive I came back and said, "The best creature I saw today was my kids." And they had a lot of cool creatures to compete with!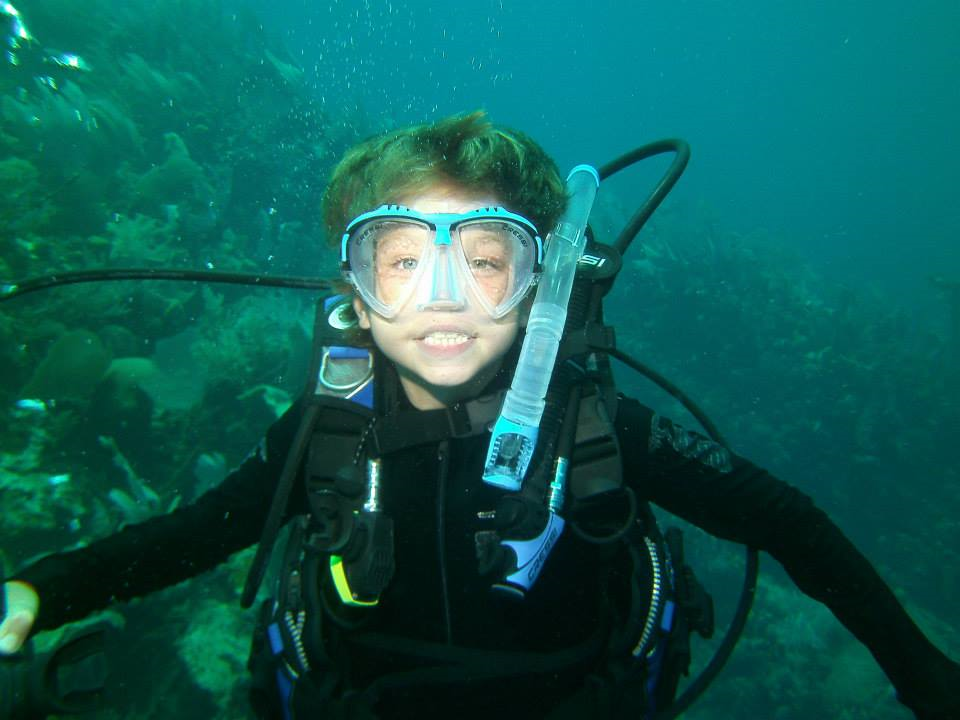 One of the highlights for the kids was the PADI Zombie Apocalypse Diver course created and run by Woody Tinsley. He was also one of the dive masters on the kids' and teens' boats…and the kids LOVED him! All the instructors and dive masters were friendly and went way beyond the call of duty in assisting with equipment and making sure everyone had a wonderful dive, but Woody stood out because of his magnetic kid-friendly (or maybe he's still a kid himself) personality! During his course kids learned rescue diver and safety procedures that come in very handy in real life diving, but they never realize they are learning because the course is so fun. Underwater they perform rescue tasks while being "attacked" by "zombies" (dive masters) and at the end…well you can see what happens to them as the apocalypse takes its course.
Another course the kids loved – and that came very handy (excuse the pun) under water is the SeaSigns course. Basically, the program uses American Sign Language to create underwater gestures so that you can communicate beneath the waves. The kids caught on really fast and it was nice to finally understand what they are trying to tell me when we're diving!
SeaLife Cameras were provided to guests to take amazing underwater photos and videos. We have used other cameras before, but the SeaLife unit was very easy to use and captured amazing footage.
Evenings were spent at the Laguna Beach Restaurant where families sat together and traded stories. Kids played with their new friends, looking for crabs and night, watching movies and having a real summer camp experience, but half of this camp is underwater. After a week of diving 2 -3 times a day (four if you were motivated, and many were), the kids were still not ready to head home. They made incredible friends and have fabulous memories both above and below the waves. As we boarded the small plane back to mainland Honduras, they asked, "When can we do this again?" And that says it all!
More information:


on Twitter


on Facebook


on Google+