Guest Post: One Crazy Amazing Month in Europe
Post by Travel With Kids guest family: The Holloways by Robin Holloway
When my husband and I began telling other people about our plans to take our two young kids to Europe for a month last summer, we got some interesting reactions. Most people agreed it was an amazing opportunity, but questioned our sanity with our three and six year old daughters as our traveling companions. We got comments like, "You're brave," or "I could never do that," or "Won't they will be too young to remember the trip?" I can't say that I didn't wonder why we were doing this a lot of the time, but the European vacation was amazing. Difficult and stressful at times, yes, but amazing!
A bit of our backstory: Over a decade ago, my husband and I lived and taught at an international school in Prague, Czech Republic for two years before we bought a house, had kids, etc. During that time we traveled to as many places as we could, but we also decided we wanted our future offspring to explore the wonders of the world. We wanted our own kids to be little global citizens, just like the international students we were teaching.
That sounds pretty idealistic, I realize, but we were willing to follow up on this fantasy when my husband had a work opportunity abroad this past June. Our European family adventure began with two weeks exploring London and all the rich history there. In that amount of time, we were able to see many amazing sights in the city, handle the public transport like locals, and even make a day trip out to the lovely town of Bath.   We also got into our family travel rhythm and learned what was reasonable to do with kids at these ages (i.e., a double decker bus ride to an historical site plus a playground visit) and what was too much (i.e., all day excursions with multiple tube stops and lots of walking).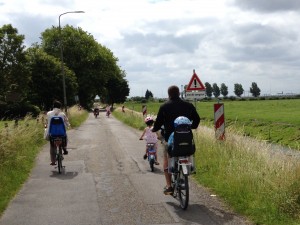 After London with kids, the remaining two weeks was planned around visiting friends with whom we used to teach in Prague. We flew to The Hague, Netherlands where we visited a former colleague and her family. Staying in a suburban part of The Hague was a wonderful respite from being in busy London. The girls were delighted to play with other kids their ages as well as see some new toys. We were very fortunate that our friends showed us around cycle-friendly Holland, and we were able to experience gorgeous bike paths, flowery canals, and amazing playgrounds for kids just as locals would.
We then had a few nights in big cities: Amsterdam and Paris. We opted to focus on a "Playground Tour of Europe" and forgo museums with long lines or mature subject matter. My husband and I were lucky to have been to Paris before so we were content spending a lot of time at the Champs du Mars at the Eiffel Tower rather than at museums that we had visited before we had kids. Even if we hadn't done so much traveling before kids, I would have still kept a child-friendly agenda. I didn't know if or when I would be back in Paris or Amsterdam with my kids, but I felt confident they would get back there sometime in their lives to appreciate the wonderful art and history for themselves.
The final week of our trip was spent in a lovely little village in Provence, visiting more friends from our Prague days. The village was amazing, peaceful, and in the heart of the lavender region, however it did not have much for the kids to do. Fortunately, our neighbor had two kids who were delighted to have some American playmates, but didn't speak any English. We also had the luxury of a car, which allowed us the freedom to explore, the ability to bring lots of stuff along, and have the kids nap if needed!
So in one month we visited one continent, three countries, five cities, and traveled by plane, boat, underground, train, taxi, stroller, and shoulders on an amazing family adventure. Were we insane? Perhaps. Was it brave? Kind of.   Will our kids remember this trip? Absolutely. They may forget details of the trip or famous sights or even the cities we visited, but they will have an appreciation for the world around them and the confidence to adventure outside their comfort zones. This will be an adventure that we will be talking about and remembering through our stories and photos for a long, long time.
Now for all those people who thought we were crazy or those that wished they could do what we did, here are some family travel tips we learned along the way:
Get your kids (especially ages 5+) involved in the planning by reading library books, looking at maps, talking about the trip, and of course watching Travel With Kids shows! My girls watched the London and Paris episodes over and over, and my oldest was annoyed when we couldn't follow your itinerary exactly!
Stay in apartments or houses. We had great luck with VRBO and AirBnB (HomeExchange.com is another interesting way to stay for free and meet some of the neighborhood residents before you arrive), and having separate rooms for sleeping and a kitchen for snacks and meals made the trip much easier. Also think about the tradeoffs of large cities vs. small towns. Big cities have lots of attractions but can be harder to navigate with little legs. Small towns are more mellow but there may be less to keep kids occupied.
Happy kids = Happy parents. While we expected our kids to adjust and adapt to a lot of adult-centered activities, we found that the more kid-centered fun we could work in each day, the happier we all were. Seeing your kids joyful and embracing life is worth missing a famous piece of artwork or historic site. And not only does Europe have amazing playgrounds, but there is something magical about seeing your child play alongside kids of other nationalities. (We also adapted a daily ice cream rule. We never would give our kids ice cream every day at home, but it seemed reasonable when we were asking them to travel the world.)
Remember that when you travel with children it is not a "vacation." It is work, just like being at home taking care of your kids. But why not spend time with your kids in another country? You will have to adjust your expectations and goals of the trip, but you will also get the privilege of seeing the world through your children's eyes. We will never forget the moment my oldest daughter lost her front tooth in Trafalgar Square, or getting to see our girls bond more as sisters and playmates on this trip.
Finally, the best part of traveling abroad for me is the growth and confidence that comes from it. Travel makes you more humble and open-minded, which are two traits that I definitely want my daughters to develop. But that kind of growth doesn't come without a price. It's hard at times, and we have to be ready for rough patches (like my youngest taking a couple hours to get to sleep the first week) and growing pains (like my oldest missing her friends back home terribly) to truly grow and learn from these amazing adventures.
________________________________________________________________________________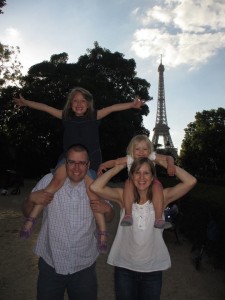 In between dreams of her next international adventure, Robin Holloway is busy raising two daughters, running an occasional half marathon, and teaching ESL at an elementary school. She and her family live in Portland, Oregon.


on Twitter


on Facebook


on Google+