#ExperiencesNotStuff: 31 Experiences that make Great Family Gifts
Every year thousands upon thousands of gifts are exchanged, and if your house is anything like ours…many of the gifts sit in the corner unopened or after being played with once, or you spend the next weeks of vacation shuttling back and forth to the store to return, exchange, by extra parts for, new batteries for…etc…said gifts. And, since each member of the family is, well, different, the gifts don't exactly promote family harmony.
That's why a couple years ago we started re-focusing our gift buying to experiences. By giving the gift of experience, you promote your children learning something new…whether it's an adventure activity, a new talent, a sport, or just something fun. Plus, giving experiences is paramount to promoting family time. After all, someone has to take little Timmy horseback riding right? In our minds, it's a win-win.
So, we've compiled a list of experiences that make for great family holiday gifts…most of them we have tried with our own kids and have been well received. Read on for our #ExperienceNotStuff holiday gift ideas! Check back as we will be adding to the list of experiences to try each week between now and the end of December.
1) Take Trip Together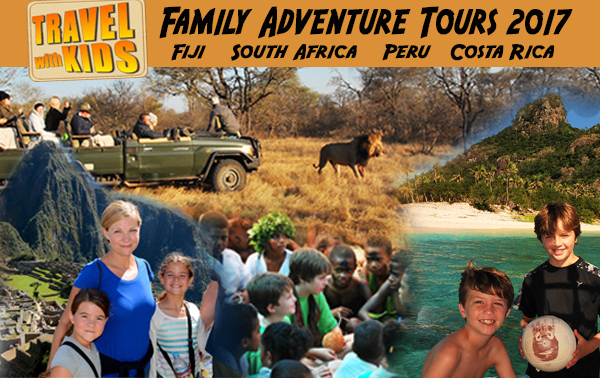 Of course this one has to top our list…we wouldn't be Travel With Kids otherwise. But, you don't have to take one of our family tours to exotic destinations (although we'd love to have you…this summer we are offering family tours to Peru, Fiji and South Africa) to fulfill this one. Plan a trip to a nearby attraction. Most states have tourists that come from all over the nation, even all over the world, to visit local attractions. See what all the fuss is about by exploring it with your family. Think back to your own childhood…I bet many of your most cherished memories are from travel time with your own family.
Interested in this one? Join on of our family-focused TWK Family Adventure tours! This year, we are taking families with us to Fiji, South Africa and Peru!
2) Zip Lining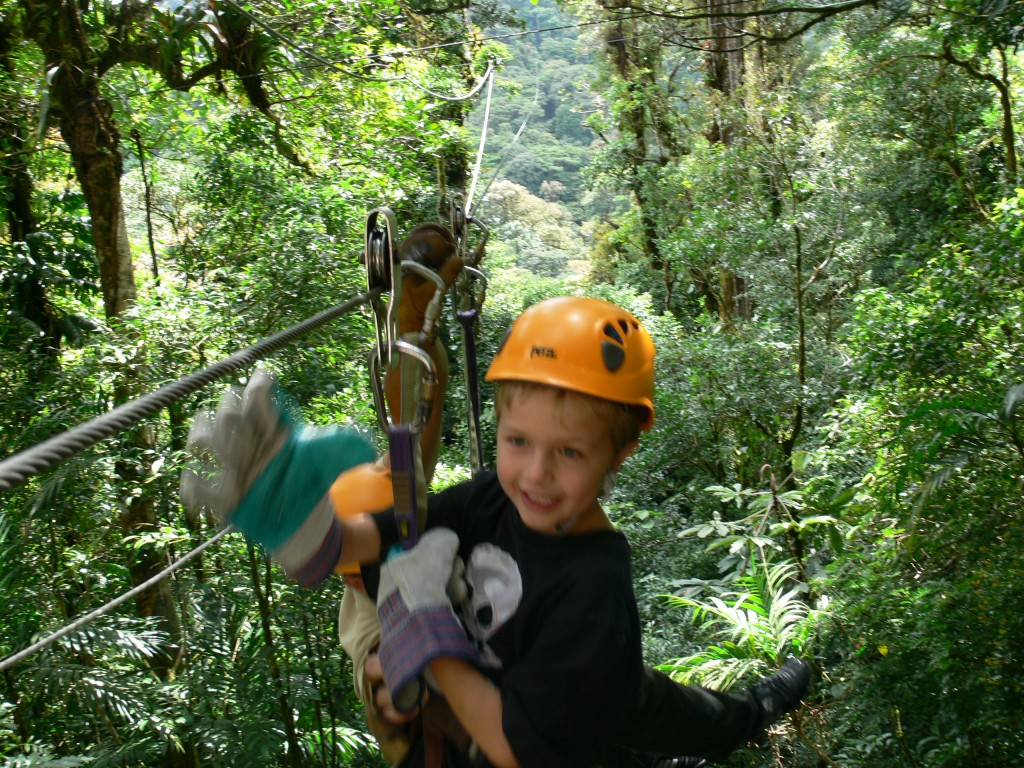 Zip lining = high-flying fun and there are zip-lining destinations all around the world…possibly even in your backyard. The kids will love to join you high above the trees and watch as you overcome any aversion to heights (that's me!) as you glide through nature. We tried it for the first time in Costa Rica, but have been many times since then and the kids LOVE it!  Here is a list of places to try zip lining in the United States.
3) Horseback Riding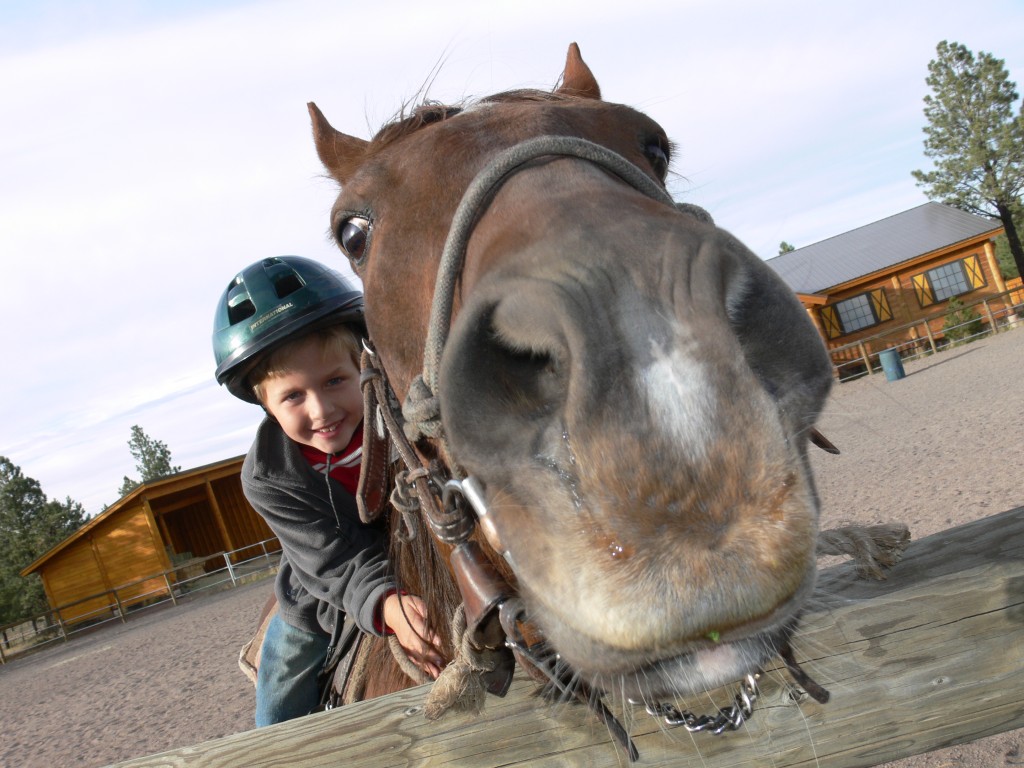 Most kids love horses, and exploring the countryside by horseback can be great family fun! One of our first family horseback riding experiences was in Jamaica where we trotted along the beach and into the waves, but we've been everywhere from Italy to Alaska to Arizona, and it's always a great way to explore and have a family adventure. Here is a list of great places to horseback ride in the United States from a company called Equitours…although this company offers very cool multi-day horseback tours, you can check out their list and book a day trip if you would rather not do an overnight trip. Even if you don't see something close to you, most states have some sort of horseback riding facility.
4) Kayaking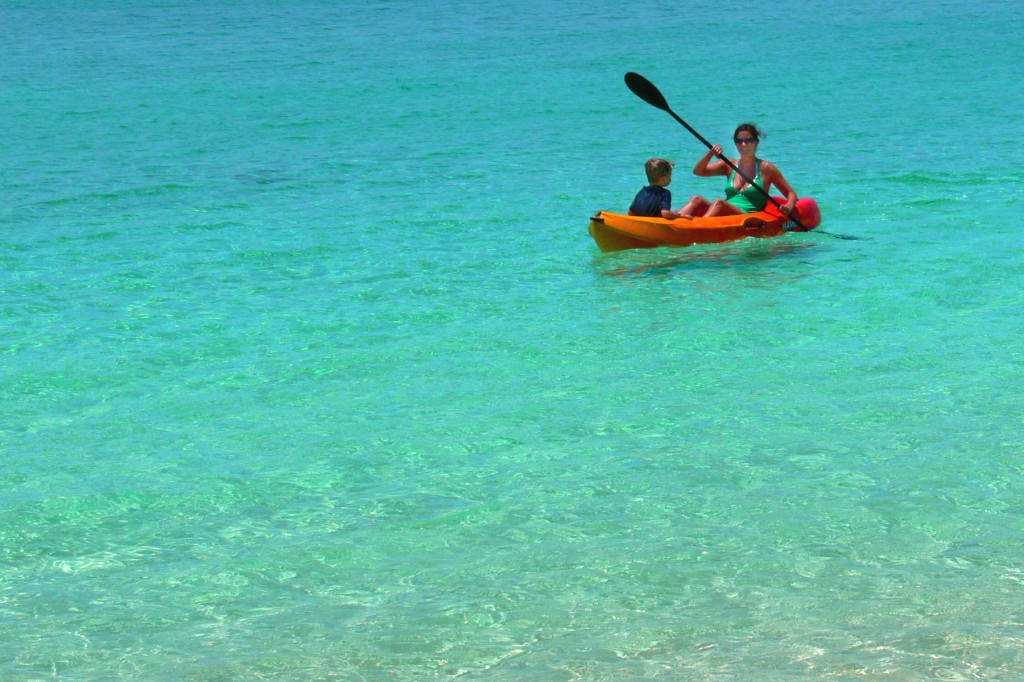 Double kayaks makes taking little ones out kayaking easier than ever and being so close to the water on a boat means you get an up close look at the sea life. Plus, because the kayak is so small, you can steer through mangrove forests and up small rivers for a real backwoods adventure experience. Our kids loved taking kayaks out in the Bahamas and paddling to little islets nearby and in Zanzibar and paddling through the mangrove forests to find hidden coves. Here is a list of the top 10 places to kayak in the Americas, but there are many more spots to try it…even in your own backyard.
5) Musical Instrument Learning to play music is a skill that will stick with you throughout life and the best time to learn is when you are young. However, that doesn't mean you grownups are off the hook. Learning an instrument together with your child makes for a great bonding experience and something for you to share together throughout life. Whether you rock out on guitar together or bop out some holiday duets on the piano, kids will appreciate the time spent together.
6) Speed Racer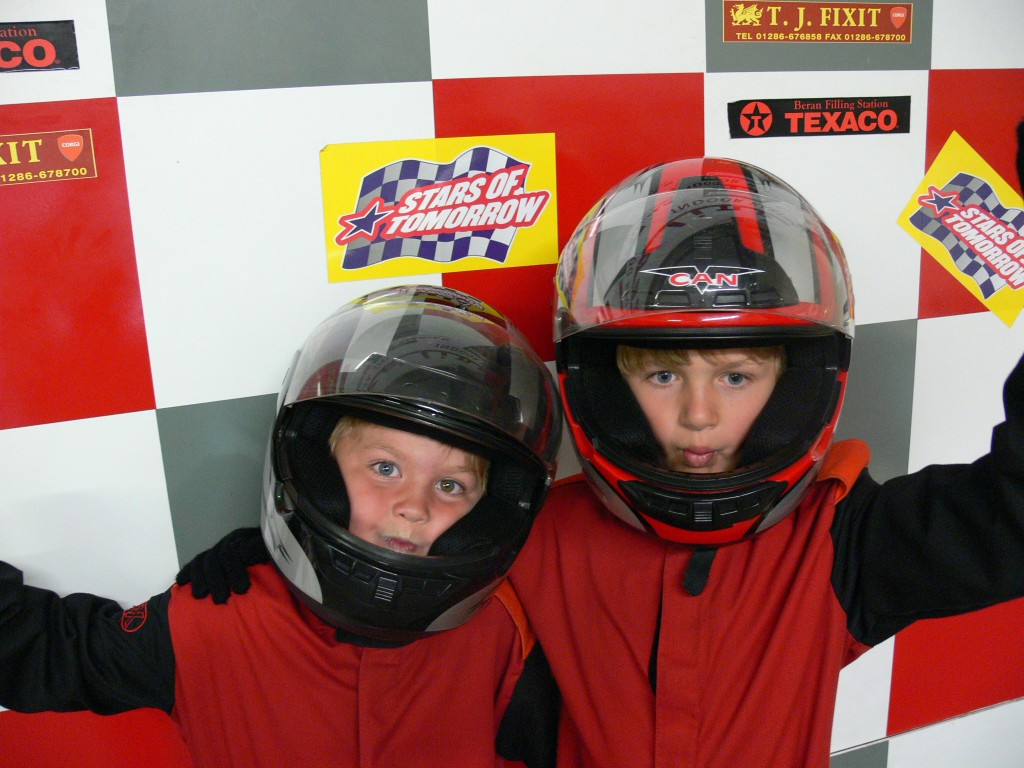 Even kids who are too young to get behind the wheel of a real car have the need for speed and that can be fulfilled through a number of racing experiences. Whether you have the next Danica Patrick or Jimmie Johnson, they will love hitting the track with you, with them in the driver seat. Our kids first tried go karting in Wales, and it's something that can be found in most big cities around the world. Or, if you have bigger kids, you might try a Nascar or Formula One racing experience…who knows maybe they will realize why they get to school on time every day (lead foot Mom or Dad :-))
7) Cooking Class Your little chef will love learning to cook alongside Mom or Dad. Most kids love to get their hands dirty…and cooking is a yummier way to do that. Cooking together also helps the kids learn about healthy eating and encourages them to try new foods…after all, they will want to try their own concoctions right? Our kids still talk about how much fun it was to learn how to make meatballs and tiramisu in Tuscany, Italy and traditional ways of preparing food (starting with cracking open and toasting the coconut) in Fiji.
8) Whale Watching
Most kids love ocean animals and relish the chance to get out and see one and many coastal towns offer just such a chance. We have been whale watching in Alaska, Hawaii, California and Mexico, and our kids were in awe of the beauty of these gentle giants breaching the surface, but our favorite whale watching experience has to be visiting the "friendlies" – grey whales – of Scammon's Lagoon in Baja, Mexico. Here, the whales converge on bays to birth and mate and visitors can take small pontoon boats right up to them…being so close to the water also means you get a really close look at – and sometimes even touch – the whales. Here's a list of the best places to whale watch in North America.
9) Falconry Have a kid that's into medieval times or maybe just loves birds? He or she will love learning the art of falconry. During falconry presentations, kids will learn about the birds and how they were used – and in some places still are used – for hunting. Most falconry organizations will also give kids the chance to fly a falcon off their arm! Our kids were able to do this in Wales and Ireland and marveled at the speed and accuracy of the birds. There are many places in North America offering falconry experiences, including this one in Hershey, Pennsylvania…and while you're there be sure to ride their exciting roller coasters at Hersheypark and, of course, taste the chocolate at Hershey's Chocolate World!
10) Sailing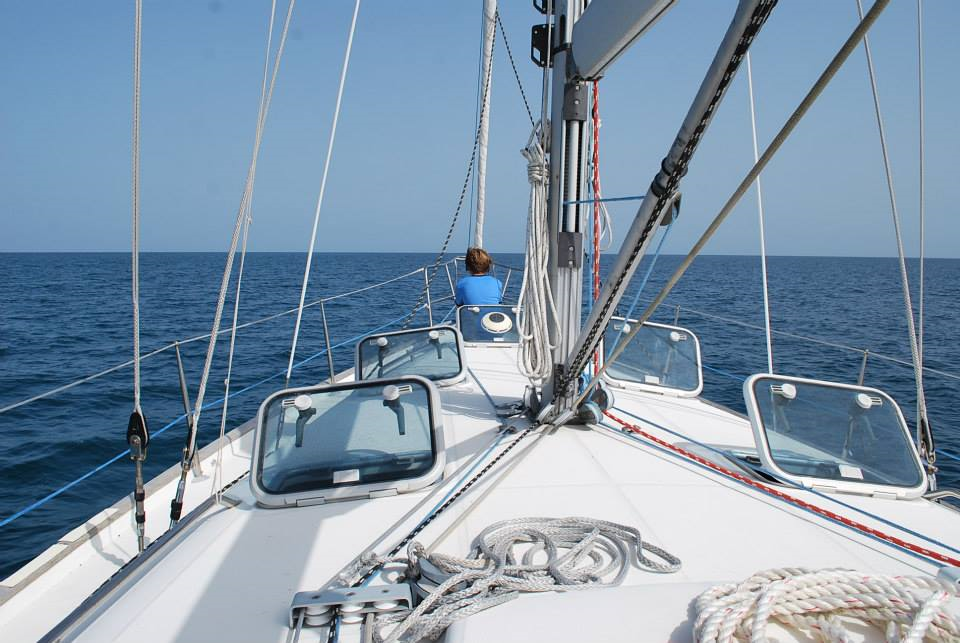 Learning to harness the power of the wind can make kids feel pretty super and being out on the water, wind in the sails, free to go wherever the wind takes you can make your kids feel large and in charge. Whether it's tooling around a small bay or taking on ocean waves, sailing makes for an amazing family adventure. Our kids loved learning to sail in Mission Bay in San Diego, California on small boats on our own as well as helping to sail big catamarans between the Greek Islands in the Mediterranean.
11) Geo Caching Kids love to find things and love the adventure of following clues to get there and, bonus for you, geo caching is a free activity! Just download an app to your phone that will give clues to where someone has hidden a secret cache. When you find it, follow the instructions…usually they ask that if you take something from the cache, you leave something for the next person. This a fantastic family activity!
12) Listen to the Music If you don't have the time to learn a new musical instrument, appreciate someone else's talents instead by attending an opera, a symphony, a rock concert…whatever rocks your boat. We've taken our kids to everything from a Jimmy Buffett concert to a Chinese opera to live performances by local bands like Roger Clyne and the Peacemakers here in Arizona. The benefit to the local angle is often times they get to meet the performers after the show…something that engages and inspires budding musicians.
13) Safari
I know not everyone can get to Africa to go on safari (although you can if you join us on our Family Adventure Tour to South Africa this summer!), but many zoos and wild animal parks now offer a safari-like experience taking kids out in large jeeps into vast enclosures that simulate life in the African bush. And even though we have been on safari in Kenya and South Africa, our kids still love going on "safari" in San Diego Wild Animal Park and other zoos. This is a great way for the whole family to learn about animals together and can help inspire new conservationists! If you want a more wild experience, but can't go too far from home, check out this list of the Top 8 Safari Type Experiences in the United States from our friends at Huffington Post.
14) Habla Lingua Nueva Learning something new together shows your kids it's OK to take risks and promotes family bonding. Not only do you spend time in the classroom (or online) together, but you have a built in partner with whom to practice! In every destination we visit, I encourage our kids to at least learn how to say greetings and pleasantries like please and thank you. But, it wasn't until they figured out we could have private conversations in public together that they really took to learning Spanish!
15) Dog Sledding Dog sledding is a great family adventure. With the big sleds, you can fit a lot of people together while racing at high speeds across the snow. It's a fantastic way to explore the snowy wilderness and the kids get to work with, pet, feed and reward their dog team. We first went dog sledding in Alaska, but now it's offered in many of the colder states and countries around the world including Utah and Colorado. Here's a list of other states that offer dog sledding.
16) Camping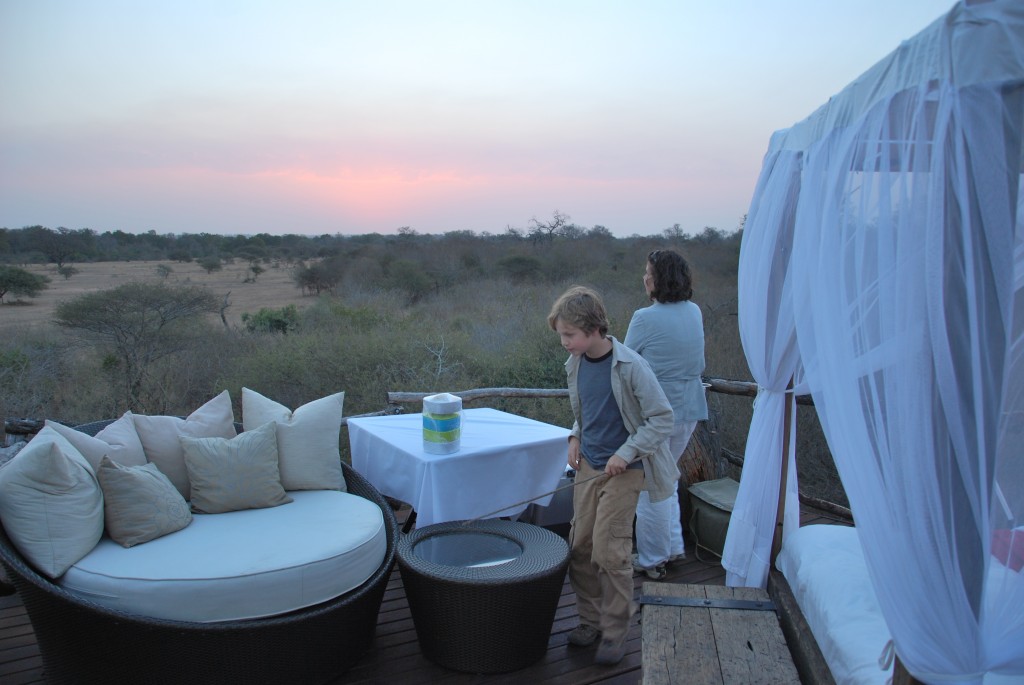 Enjoying the great outdoors together – especially in close quarters like a tent – can really bring a family together. Exploring the natural surrounds of a campground, hiking, biking, boating…these all create amazing family memories. And nowadays, you can opt out of the small family tent that you stay up until midnight on your first camping day trying to put up (although that makes for another funny family memory) as there are so many options for camping. Glamping – safari-style camping with luxury tents, cabins, treehouses, yurts, these are just a few of the options for families who want to immerse in nature together. Check with nearby national parks for options there or check out this list of family-friendly glamping accommodations.
17) Art classes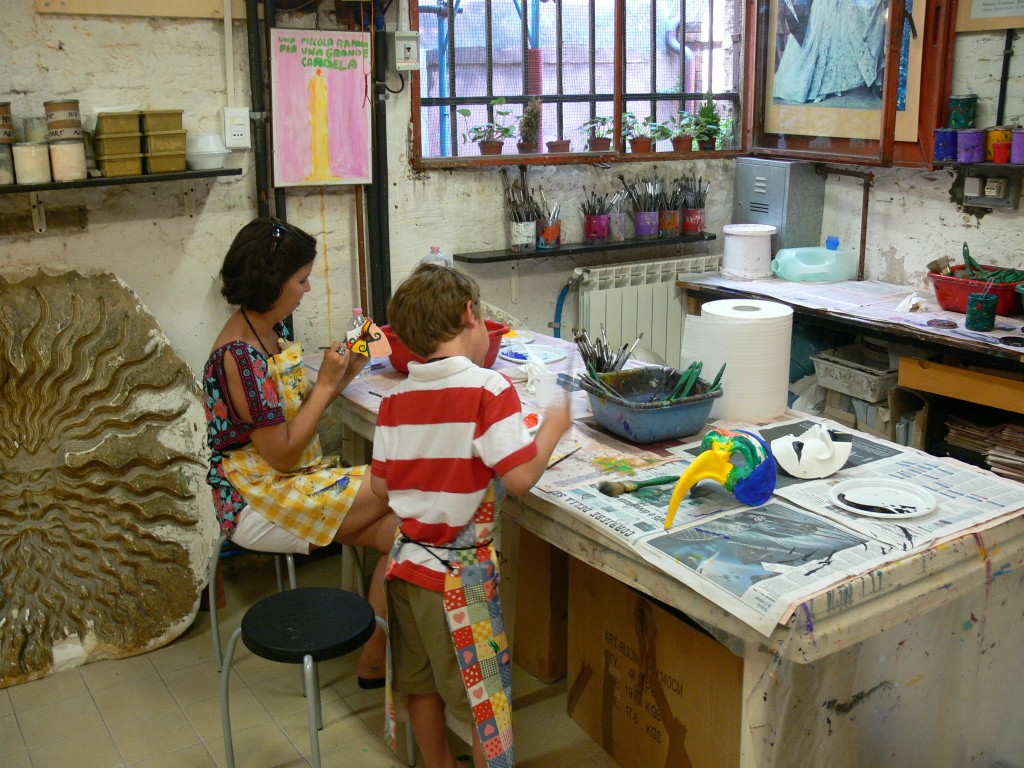 Do you have a budding Van Gogh? Join him or her in the art of expression. Whether you splatter paint like Jackson Pollock or sculpt fine statues like Michelangelo…or maybe your statues look more like a Dali painting, your youngster will enjoy learning something new together. Or if you are more of the appreciator than the artist, perhaps tickets to an art exhibit or museum where you can wander and ooh and ahh together fits the bill. Many parents are overwhelmed by the idea of taking little ones to a big art museum. When our boys were 5 and 7, we were faced with wanting to peruse the Louvre on a family vacation in Paris…not so easy with active little boys in tow. So, we printed out pictures of some of the main attractions at the Louvre and made them into cards. We gave the cards to the boys as a scavenger hunt at the entry to the museum and they had a blast. Because we picked items in rooms we wanted to see, we got to visit everything we wanted to, and the boys were kept engaged by the hunt…they even got the French guards in on it (who later gave them front row behind the rope view of the Mona Lisa because they had become "friends")
18) Let it Snow A trip to the snow is sure way to bring the holiday season to life and there are so many fun ways to explore the snowy wild. One of the favorite ways for us is on a family ski vacation. But, many people are hesitant with young kids…remembering perhaps tales from their own learning to ski moments. Ski resorts like Deer Valley Mountain Resort in Park City and Telluride have made it easier than ever to learn to ski and for families to explore the mountain together even though they may ski/snowboard at different levels. And, speaking of snowboarding,…have a teenager that snowboards while you prefer skis? Take a snowboard class and let them be the teacher for a day!
19) Jolly Good Afternoon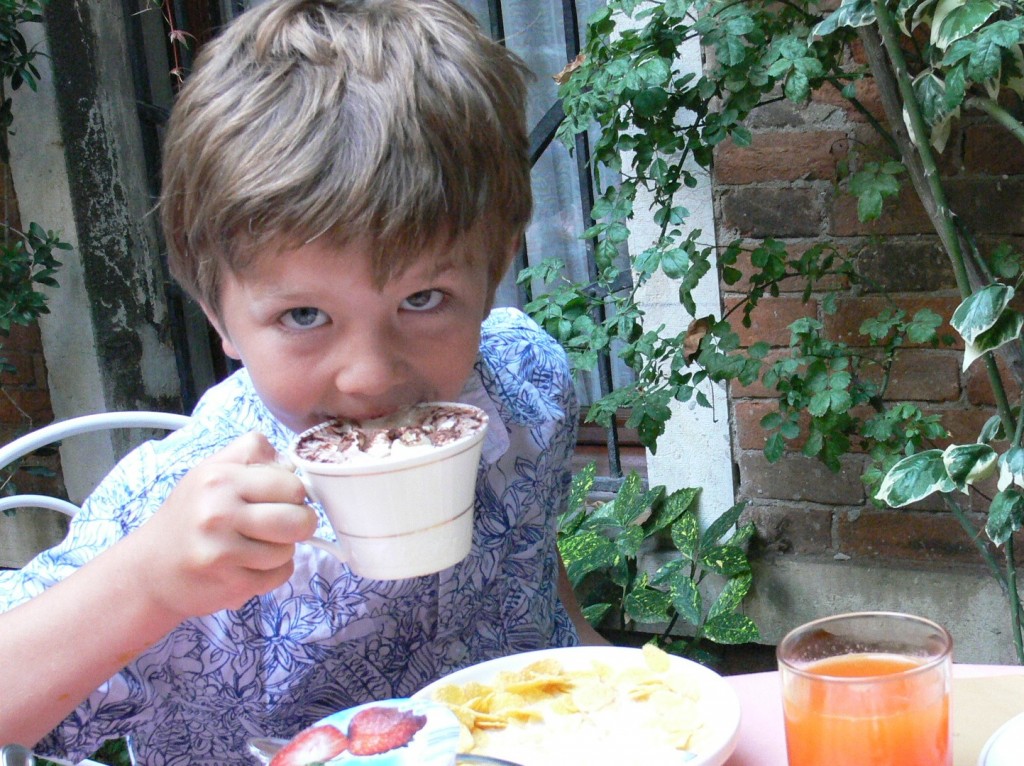 Most little kids love the idea of being princes and princesses and living the royal life and a tea party is a fantastic way to live the fantasy of being proper ladies and lords. You can set up your own spread at home (when my boys were little, we had a tea party after making king crowns, shields with our coat-of-arm and swords and they loved it!) or you can go to a tea house. Most tea houses do it to the nines with fancy china, lots of beautiful food and, if your kids are really lucky, a sweets trolley! We did high tea in London once and it was like Willy Wonka's factory on wheels…the boys were very excited!
20) Cultural Immersion A great way to combine family bonding and education is to learn a bit about the history and culture in your area. Most towns have some sort of museum with displays about the original people who inhabited the area, but sometimes a foray to a nearby historical town or archeological dig makes history a bit more exciting. We are lucky enough to live near the Navajo Nation, and a trip there means visiting a completely different culture while learning a unique history. Or, if we head south, we can visit Tombstone and learn about the wild west and the importance of mining in Arizona. Another fun way to learn history (at least for older kids) is on a ghost tour…towns with a rich history like Boston or Washington DC have some great ones!
21) Switch Places Want to immerse in a different culture, or perhaps live in the countryside, or experience life in a big city, but low on funds for travel? There are programs that can help. They allow members to switch houses. We used HomeExchange.com to enjoy beach life in Los Angeles and it was wonderful. We were very close to the beach in a local neighborhood, so kids got to hang out with local kids and we learned all the best spots for eating, renting gear and more. In addition to having a huge house or condo to spread out in, families will love having full kitchens to cook some meals (which also reduces the cost of travel) and getting to know other families in the hood…sometimes even before the trip as once an exchange is set up, the two families involved often email and/or Skype each other to show the visiting family what they can expect and even virtually introduce them around.
22) Life Below the Waves There's a reason Sponge Bob Square Pants is such a popular show, and it's not just because of its cute (and parentally annoying) host, but it's because it takes a place in a world that is so foreign to us, but so close as well. The undersea life is fascinating and exploring it as a family makes for a true adventure. While snorkeling is a great way to explore, you can still feel like an outsider looking in, but scuba allows you to truly be a part of it. Many people don't realize that kids can get their Junior Open Water scuba certification at the age of ten…and what a spectacular gift it makes! Kids not only learn about marine life, but they learn water safety and confidence, skills like CPR and responsibility. Seamus was certified through an amazing program called Kids Sea Camp, where kids get certified with other kids and/or families go to dive together. They run trips throughout the Caribbean and South Pacific and offer family-friendly scuba diving vacations with unique dive specialties like Zombie Apocalypse Diver and Sea Signs (sign language adapted for underwater use).
23) Dancing like the Stars Although you may be past those Mommy and me toddler sing-a-long type classes, it's not too late to enjoy some hip-hopping fun with your kids. Dancing is a fun family activity and kids will be so impressed when you show them you've got the "moves like Jagger". Feel like you have two left feet? Maybe instead of dance, enjoy some high-flying fun at an open gym night at your local gymnastics center or a trampoline center. Kids will love flipping and flopping or hopping and bopping with you.
24) Sweet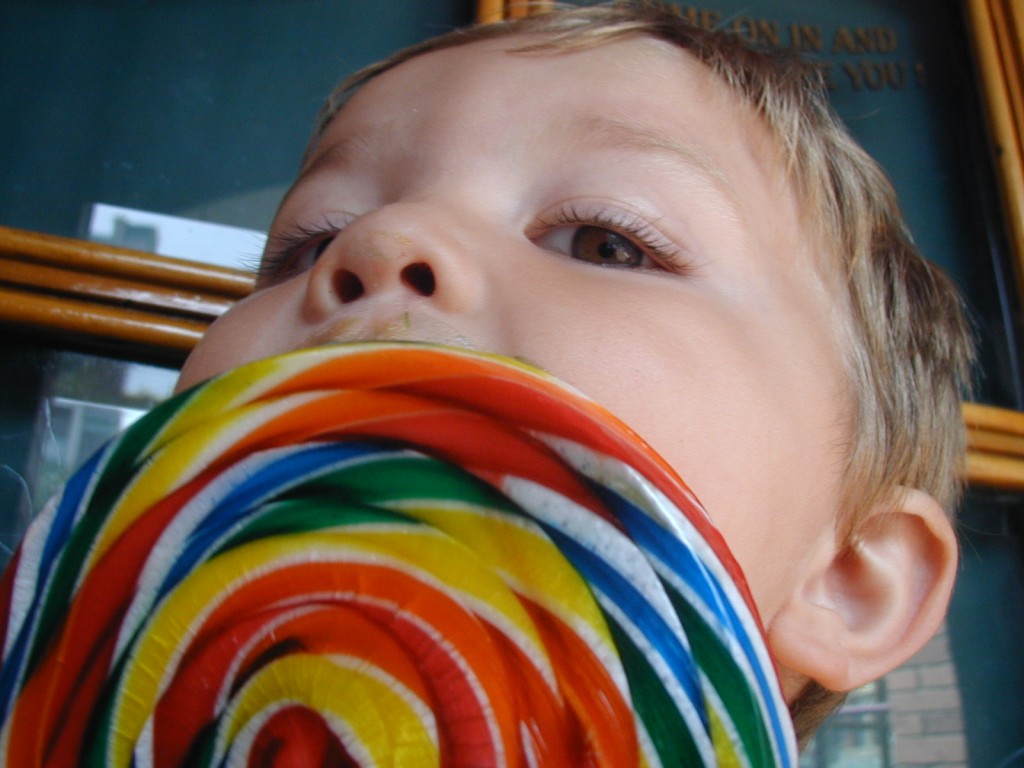 Willy Wonka is a favorite of kids around the world for a reason…I mean, who wouldn't love chocolate rivers and gardens made out of candy? Many cities offer baking classes where you can learn to bake sweet treats or make gooey confections. Cooking offers plenty of bonding time for parents and kids (after all you've got to talk while you wait for your soufflé to rise) and add in the factor of trying delicious concoctions filled with sugar and you have a family night straight out of Wonkaland.
25) Mother Earth Earth offers an abundance of geological wonders from hot springs to giant canyons to volcanoes to caves and exploring your local geographical monuments makes for family time well spent. Our kids loved exploring the volcano tubes on the Big Island of Hawaii as well as hiking the Grand Canyon in Arizona and exploring cenotes and caves in the Mayan Riviera in Mexico. Not only is it fun family time exploring, but kids learn about the earth and how it was made.
26) Blooming Fun Planting a garden is a great family experience, not only because of the end product, but because of the time and labor of love spent to get to the end product. Our kids love when we plant a vegetable garden – tomatoes, carrots, lettuce, peas – a feast every time they go out in the backyard (and even more reason to have outside time, which we love!). The great thing is kids use lots of skills to plan the garden (spacial skills and vision for future growth), watering systems, timing of when each crop will ripen, etc. Plus, the garden offers plenty of family time for weeding, pruning, picking, etc
27) Arrows of Joy Have a little Katniss or Robin Hood in your house? Encourage those little ones, and learn a new skill yourself, by visiting an archery range. With the popularity of movies and television shows based on medieval times and/or fantasy, there has also been a growth in archery ranges and lessons. Even if you don't want to spend weeks in lessons, you can visit an archery range for the day. We tried our hand in archery in South Korea and on a dude ranch in Arizona (many dude ranches and family camps offer this as an activity), and the kids loved it.
28) Animals!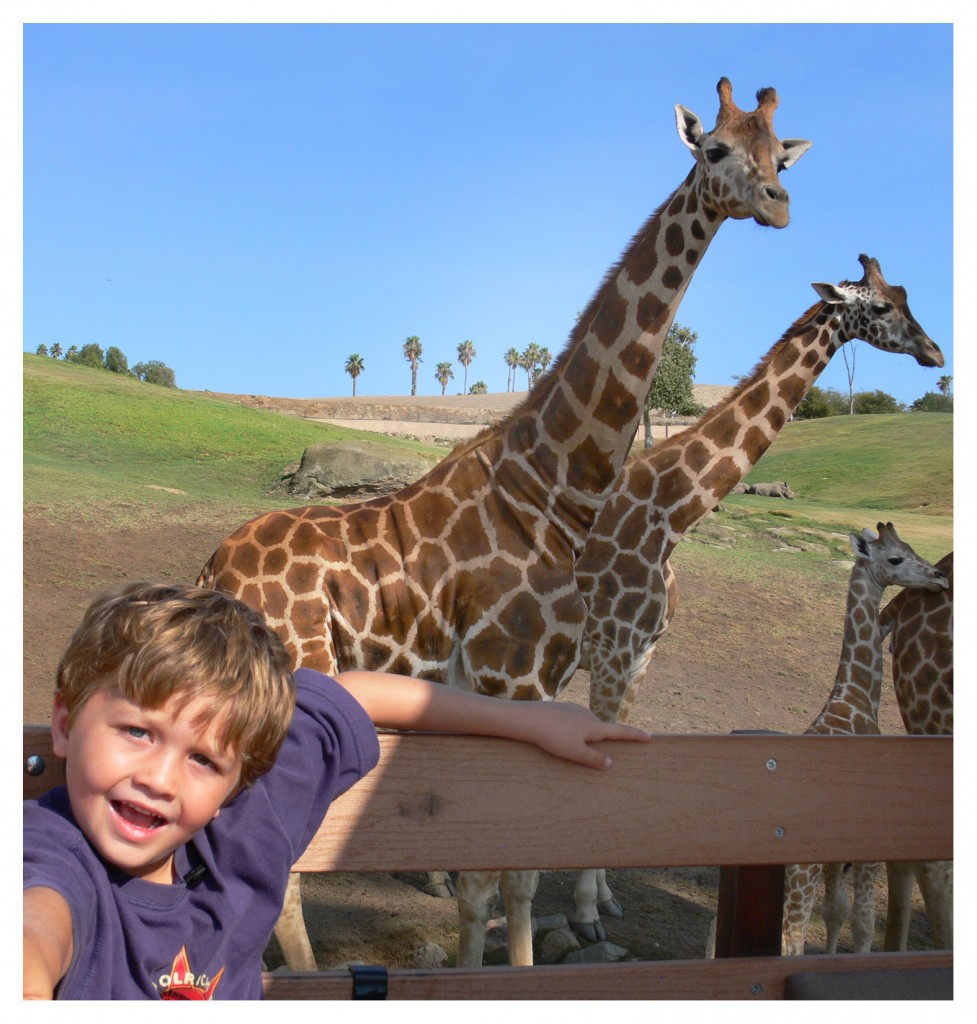 For the most part, kids love animals! From cute puppies, to slimy snakes, to enormous elephants and everything in between, most kids will be happy to visit, pet, cuddle, hold these animals. Most zoos and aquariums now offer animal encounter programs where kids not only get to see the animals up close, but get to feed and/or pet them or even help take care of them for the day…a wonderful experience for the animal lover in your family.
29) Fly like an Eagle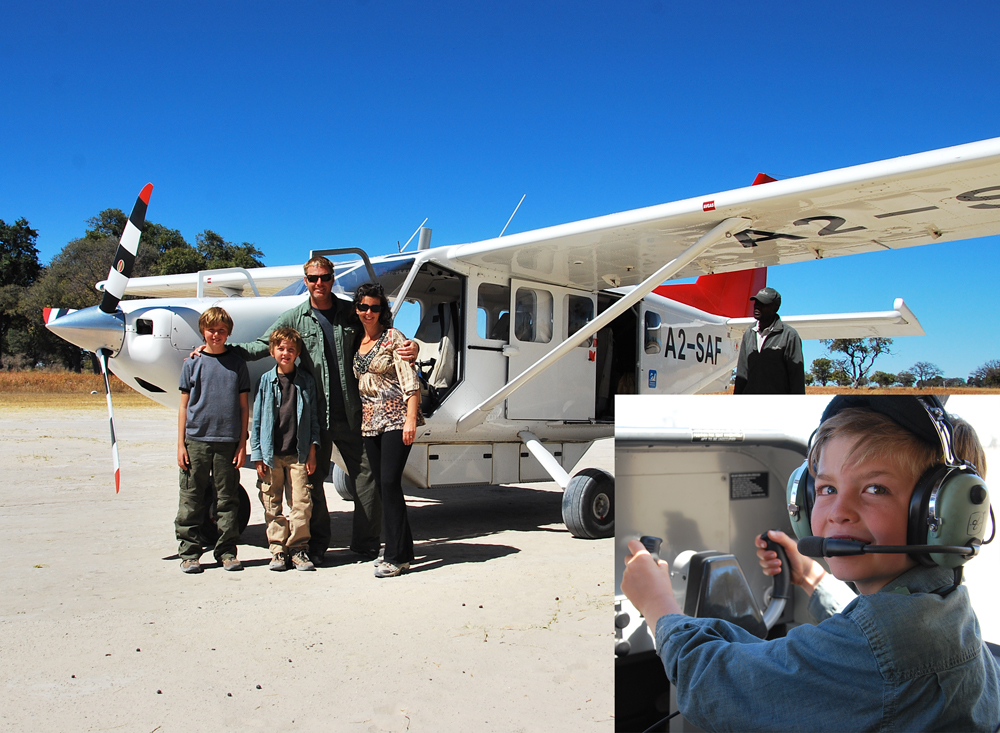 So many kids dream of being birds, why not make that dream a reality…well, sort of…this holiday? Kids can get their license to fly solo in a glider at the age of 14 and get their student pilot's license at the age of 16. Giving your kids a chance to spread their wings, figuratively and literally, will build their confidence and responsibility…and taking lessons together will build a special bond between parents and kids. When we travel by bush plane in places like Belize and Africa, they let the kids sit in the co-pilot seat and even steer the plane…such an amazing experience for them (a bit nerve-wracking for me…the nervous flyer…haha!)
30) Learn a sport together Is there a particular sport you like to watch together? Translate that into real life by learning to play it together. Golf courses are a particularly good place for family bonding in sports as there is time to chat between holes and it allows for varying degree of skill. We learned to play golf with the kids at The Breakers in Florida…it's also where we learned that Seamus is left-handed in many sports. Surfing is another good sport to learn together. Our kids love riding the waves as well as hanging on the beach in California between sets.
31) Swim with the Fishes Or…the sharks. Kids who love the ocean will love getting close to one nature's most misinterpreted creatures…sharks. Many places offer the opportunity to snorkel with sharks including California, many places in the Bahamas, Bora Bora, Hawaii, Fiji and more, but one of our kids favorite shark encounters was diving with great white sharks in South Africa. Coming in a close second: snorkeling with whale sharks near Cancun. Local dive shops are a great source of information on where to snorkel/scuba dive with sharks, turtles, sea lions and more.


on Twitter


on Facebook


on Google+