18 Vacations: Giving the Gift of Family Travel this Holiday
I was at a seminar the other day where the speaker, Charles Scott, reminded us that we only have 18 summers with our kids; 18 family vacations to enjoy and create memories together! This holiday I've been thinking a lot about that…and come up with 18 destinations you should travel with your kids before they fly the coop…organized by best destination by age! Now, of course, this list can be done in any order, and many of the locations are great for multiple age groups. But, I just wanted to give some ideas for a fantastic holiday gift for the family…time to spend together exploring the world. After all the gift of #FamilyTime far out weighs the stuff collecting dust in the corner after the holidays are over! #ExperiencesNotStuff
0 to 1 year-old
While most people think of just a small outing or beach excursion at this age, I think this baby stage is a perfect age to take to Europe. Why? Well first off you don't have to pay for their airplane ticket so it makes it cheaper. Secondly, they are still breast-feeding or drinking formula so mealtime is easier. Third, they sleep a lot so the plane ride over can be easier and they're not walking so you don't have to worry about chasing them around the plane or a town you're visiting.
We took Nathan to Spain and Morocco when he was 10 months-old and had a wonderful time. The Spanish people are very into kids and family. One of my favorite stories stems from this trip. When a chef at the seaside restaurant came out and saw us eating with a 10-month-old, he picked Nathan up and walked him around the restaurant so we could have some time to enjoy our meal in peace. On the same trip, some pre-teen children at the table next to us asked if they could walk Nathan on the boardwalk right in front of us, so we could have some time to ourselves. Family is important in Spain and it shows. Morocco was just a short ferry ride away, and we had the same reception there…kids/family opened doors. We were welcomed with open arms!
1 to 2 years-old
As they start to walk travel gets a little more challenging. Long airplane rides became more difficult as the new explorers want to get up and walk around. So, at this stage I like to stick to closer destinations like the Caribbean or Hawaii. Beach time is lots of fun with younger kids. They love to play in the sand for hours and swim in baby pools. Jamaica has a resort, Franklyn D. Resort, that assigns a nanny to your family for the whole trip. Her/his assistance makes it possible for you to enjoy family time without having to do the more mundane chores like applying sunscreen, changing diapers, etc. Want to get away? The nanny will take your child to the playground or other activities or back to the room for a nap while you enjoy some one-on-one time to reconnect.
3 to 4 years-old
This is a great age for a first trip to Disneyland or DisneyWorld. They are still young enough to be awed (and possibly intimidated by or out right scared by the characters depending on your child) by all of the characters especially if you have a little princess or pirate. If you make the trip to Walt Disney World in Florida, turn it into a Florida vacation with just a few days in Orlando. If you have a little astronaut, Kennedy Space Center is just 45-minutes away. Or head, south to Miami (about an hour drive) and then on to the Everglades and the beaches of the Keys. You could also combine this trip with a trip to the beaches of the Bahamas, a very short flight from Florida, where calm warm waters provide lots of easy fun – snorkeling and kayaking. We stayed at Fernandez Bay Village on Cat Island when they were young and it was great. Not many people around so we could enjoy the beach at our leisure. They had double kayaks we could take out to nearby islets and tidal estuaries and there was snorkeling right off the powder white beach.
4 to 5 years-old
This is a good age for a domestic adventure to Colorado or Alaska or for conquering some of the bigger cities. If your kid is still small enough to ride in a stroller. we found that walking around big cities at this age is made easy. The kids aren't young enough to want to walk everywhere on their own, but they aren't too big for an umbrella stroller. Plus, some kids will fall asleep in the stroller, which is when we would sit at an outdoor café or in a park and enjoy some quiet time!
5 to 6 years-old
This is a great age for light adventure. Costa Rica is a good jumping off point for your first adventure trip as a family! While they have class five rapids, they also offer class two "safari floats" where kids will enjoy spotting animals like monkeys and sloths. They have horseback riding, zip lining, and other activities for the more adventurous kids and the immersion in nature is fantastic! Even the museums are focused around animals like reptiles and butterflies!
6 to 7 years-old
The Mayan Riviera is great for this age group as it combines the relaxation time at the beach with the immersion in history and culture through the Mayan pyramids. It also has some amazing and easy adventure activities like snorkeling through cenotes and zip lining! Plus, it's easy to get to from the U.S. and Canada with the gateway of Cancun. I would recommend heading south of Cancun for a less-crowded experience. Of course this trip can be done way earlier (our kids were 3 and 5 the first time we took this trip) or anytime (we've taken them back several times through their school age lives and every time we find something fun for everyone!).
7 to 8 years-old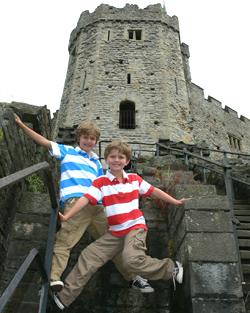 This is a great time to visit Europe with kids as they are still in awe of fairytale things like castles and knights. Making visits to historical places is interesting for the whole family at this age. We took the kids to Ireland and Scotland when they were about this age and they loved learning the legends of the Knights of the Roundtable, pirate lore at Grace O'Malley's Castle, staying in a castle, learning to the art of falconry and more! In Wales, they loved visiting coast side castles and participating in some of the adventure activities for which the region is so well known: coasteering, orienteering and more!
9 to 10 years-old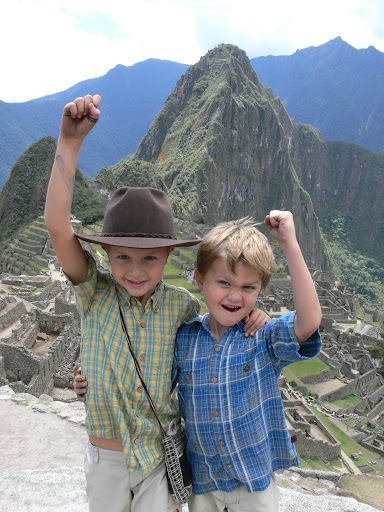 This is a good age to travel to South America as it's a bit of a longer flight but it's in the same time zone so you avoid jet lag. We loved going to Peru when our kids were younger because you get the perfect combination of history and culture in Cuzco and Machu Picchu an amazing nature in the Amazon
This is a great age for a first Asia experience! The kids are a bit older and able to handle the longer flights and more exotic destinations. Thailand makes a good first step into Asia as it has a well set up infrastructure for tourists, many people speak English, the locals are very friendly, and there's lots of cultural and nature experiences. We took our kids there for the first time when they were about this age and we stayed on a bamboo raft floating on the river and cared for injured elephants at the Elephant's World sanctuary. It's a trip they still talk about!!
11 to 12 years-old
Might be time to head back to Europe before they become teenagers who would pick adventure over museums and art! This time, I would head south to Italy, where this pre-teen set can learn about vampires and visit the ancient city of Volterra, the city featured as vampire headquarters in Twilight movies. Other things they might like to do in Tuscany include learning to cook fantastic Italian food, riding polo horses, biking through the countryside and more. Nearby, Venice is a city on water…what kid wouldn't find that fascinating? And in Rome, bring history to life with a day at gladiator school!
12 to 13 years-old
This is a good age for a first trip to Africa! A first trip could include a visit to south Africa, a country with modern amenities and a good tourist infrastructure that makes families feel at home. The rich culture and amazing nature offer something unique and amazing the kids will never forget! Seamus and Nathan were 10 and 12 the first time we visited South Africa and they still site it as their favorite place on earth (sorry Disneyland!) We stayed for six weeks filming various shows and they loved learning about the history of Nelson Mandela and the anti-apartheid movement, learning to sing and dance with different tribes, and, of course, going out on safari drives spotting animals like leopards, cheetah, lions, rhinos, elephants, and more! And for the more adventurous kids, try sandboarding and great white shark cage diving outside of Cape Town.

JOIN US IN SOUTH AFRICA IN 2018 FOR OUR TWK FAMILY ADVENTURE TOUR

13 to 14 years-old
Back to Asia we go…this time, attack the expanse of China. While there are not many people who speak English (making it more difficult to get around), there are amazing sites and things to do: Tiananmen Square, the Great Wall, Terracotta Warriors, pandas in Chengdu, Yangtze River cruise. We tooks trains all over China and it was one of the kids' favorite parts…they loved learning Chinese from locals and teaching them English, perusing the carts of the sellers, and watch the scenery go by. We had four-bunk rooms for just us and it didn't cost vey much (we booked with www.RailEurope). We even took a 3-day train from Beijing to Hanoi in Vietnam! Another highlight was the cruise down the Yangtze River through the Three River Gorges and the Yangtze River Dam.

14 to 15 years-old
Get beyond Hawaii and visit the South Pacific…Fiji is calling. The spirit of Bula is contagious and scenery is unparalleled! Of course, Fiji is really a trip for any age, so feel free to go there when your kids are younger too! The younger kids will love meeting the villagers and exploring private islands while the older kids will like hiking to remote islands and scuba diving. We took a small ship cruise to Fiji's remote islands when the kids were 10 and 12 and they loved it: Scuba Diving, snorkeling, hiking to waterfalls, meeting local kids on distant islands! We loved it so much, we are inviting other families to join us this year on this amazing journey on our TWK SMALL SHIP FAMILY CRUISE TO FIJI!

15 to 16 years-old
As these kids learn their world history, a visit to Vietnam to learn the history of the US involvement there. Combine it with a trip to Cambodia, and you've got a monumental trip! Highlights for us included a 3-day cruise aboard a traditional junk boat in Halong Bay, night markets in Hanoi, life on the Mekong Delta south of Saigon (Ho Chi Minh City) and visiting small island in Gulf of Thailand in Cambodia, and, of course, Angkor Wat!
16 to 17 years-old
If Africa is still in your soul, and once you've been you yearn to return, think about a trip to another African favorite: Kenya! The savannahs near Kenya's border with Tanzania not only hold tons of wildlife (we saw lots of lions, the famous wildebeest migrations, hippos, leopards, elephants fighting, giraffe fighting, and more!) but also are home to the rich culture and history of the Masaai people. The kids loved going out on game drives and hearing stories from our Masaai guides about growing up in the African bush. Combine this trip with a trip to Zanzibar for a unique immersion in the old world spice trade and a unique look at Muslim life on a small African island or, if you wait until the kids are 16 years-old, you can trek to see gorillas in nearby Uganda or Rwanda!
17 to 18 years-old
Antarctica! We haven't been yet, but this would round out your continent count and the cruises to this continent are adventure in a bundle! Visit out stations, penguins, ice fields and more!
Of course, as you may have guessed, I am a huge fan of travel, so any of these can be adjusted to any age group. You know your kids best. Take a look at the things in which they are interested and figure out how to work that into your travel. And remember, a successful family vacation is all about balance, make sure everyone has a say on where you are going and what you are doing while you are there.
If you'd rather head out in a group or have someone with experience plan your trip for you, check out our new branch: TWK Family Adventure Travel & Tours


on Twitter


on Facebook


on Google+